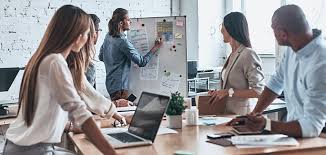 Regardless of the current climate, client onboarding and lead driving for creative agencies are never simple. Whether you are running an ad agency, a graphic design company, or a web development firm, bringing new clients on board is not a cut-and-dried process. Each firm and each approach is likely to be different – this much is true.
Creative agency execs sometimes struggle to grow client bases due to the nature of their work. They need to prove that their service is necessary, not just preferential. Therefore, the best routes towards business growth will likely vary from specialist to specialist.
However, there are a handful of golden processes that are worth following. Approaching the right clients is only half of the battle. How do you effectively grow your client base with the right people on board? Are there any sure-fire ways to build and convert on leads for years to come?
Respect the Time You Have
Creative execs may spend significant amounts of time looking for the right onboarding processes. However, many will spend months, maybe years, following channels that simply don't bring them the results for long-term sustainability.
Creative agency managers must trial different lead-finding methods. That doesn't necessarily mean dropping one system the moment it fails to convert. You need to respect the time you have available.
Use it to explore multiple options. Offer them reasonable timeframes, long enough for you to see worthwhile correlations. Stats count for a lot when it comes to B2B sales success. Don't be afraid to compare results, and to make difficult choices. You have little time to waste following impractical channels and advice.
Push for Networking
It's tempting to be polite, even in the cutthroat world of creative agencies. However, growing your base is likely to be as simple as pushing for referrals. Many experienced firms and creative specialists actively ask clients – after a few months – for networking routes to similar professionals.
Creative execs should directly request that clients recommend them to their networks. It is not a rude process. In fact, it is showing initiative, confidence, and insistence that the work they do is crucial, not optional. Ask if there are any likeminded clients who are looking for similar services right now.
How to Find the Right Contacts
Finding the right b2b sales leads and best long-term clients is an uphill struggle. Knowing who to approach and who to avoid is a balance all successful agency execs have had to manage. However, successful sales execs work on precedents. They build a firm list of attributes and priorities they look for in their clients.
Successful creative execs also understand that not all work is necessarily good work. Some clients may enforce scope creep, while others may fail to respect your process.
A further option to consider is to consult startup directories or online tools. Now more than ever, agency execs need to focus on securing business with startups that can weather the storm. Fundz, for example, will put sales execs in close contact with scores of recently funded, B2B startup clients looking for services. Tools such as LinkedIn's Sales Navigator, too, may help to fine-tune your approach.
Above all, finding lucrative sales contacts for creative businesses is all about pushing the necessity angle. What is it about your firm that makes for an essential partnership? Don't be afraid to explore this concept.
SOURCES USED
https://blog.hubspot.com/service/customer-acquisition
https://www.fool.com/the-blueprint/account-management/
https://www.business2community.com/strategy/16-agency-business-development-tools-you-need-to-thrive-in-2019-02182205
https://www.quora.com/How-do-I-start-to-go-about-getting-clients-for-a-digital-ad-agency-if-I-have-no-contacts-or-experience-in-this
https://www.cnbc.com/2020/03/27/how-firms-should-market-themselves-during-the-coronavirus-crisis.html
https://www.workamajig.com/blog/profitable-client-base-in-creative-firm
https://clientflow.com/blog/33-ways-to-get-more-clients/