What is Series A Funding?
Series A funding, (also known as Series A financing or Series A investment) means the first venture capital funding for a startup. The Series A funding round follows a startup company's seed round and precedes the Series B Funding round. "Series A" refers to the class of preferred stock sold.
Table of Contents
Series A Funding: Continued Description
Receiving a Series A round is an important milestone for startup companies. Aside from the funding being much larger than a seed round, companies need to demonstrate they have a minimum viable product (MVP) to acquire an A round - and not just a great idea or team. It is not easy for seed funded companies to graduate to a Series A funding round. In fact, less than 10% of companies that raise a seed round are successful in then raising a Series A investment. A Series A investment provides venture capitalists, in exchange for capital, the first series of preferred stock after the common stock issued during the seed round. Generally speaking, a Series A financing provides up to a couple of years of runway for a startup to develop its products, team and begin to execute on its go-to-market strategy.
Series A Funding: Average and Valuation
• Average Series A Funding Amount in 2020: The mean Series A funding round has grown steadily over the years and is currently at around $15.75 million, of October 4, 2020.[1]
It is worth noting that the mean Series A is significantly higher than the median Series A. For Q1, 2020, the median early stage financing, which includes Series A & B, was around $6.7 million. The significant disparity between the mean and median exists because of an increasing amount of "mega-rounds", particularly among biotech startups.
The forecast is for around 700-750 Series A deals in 2020.
• Average Series A Startup Valuation in 2020: Series A startups currently have a median pre-money valuation of $23 million.
The Average Series A Funding page provides weekly updated averages and more detail on the current state of startup funding in the U.S. in 2020.

Series A Funding: Investors
While there are hundreds of venture capital firms in the U.S. alone (here is a listing of hundreds of VC firms

)
,

Some of the biggest Series A investors in software startups include Accel, 500 Startups, Bessemer Venture Partners, Andreessen Horowitz and Greycroft Partners.
A list of the most active Series A round, early stage investors also includes:
Pitchbook also cites these organizations as the most active investors in European Series A investments:
How to Get Series A Funding:
1. Join an Accelerator
Approximately one-third of startups that raise Series A funding go through an accelerator[2] and the top 3 accelerators account for 10% of all Series A rounds[3]. The #1 factor evaluated for acceptance into leading accelerators is your team.[4]
2. Leverage Your Network
When fundraising, your network is critical. While joining a top-tier accelerator gives you the best statistical chance for success in ultimately getting a Series A funding, these groups only accept about 2% of applicants[5]. Startups that successfully raised a Series A without going this route often did so by networking early and often with influential investors, whether they are Angel Investors or VCs from leading venture capital firms.
3. Extend and Nurture Your Network
Continue to nurture and leverage angel and micro-VC connections before even thinking of pitching them. Take As many new meetings as You can. Building and nurturing genuine relationships before starting the Series A tour can dramatically improve your odds.
Series B Funding: Description
Series A vs. Series B. While a Series A funding round is to really get the team and product developed, a Series B Funding round is all about taking the business to the next level, past the development stage. Tomasz Tunguz, a well known Venture Capitalist at Redpoint, says a Series B funding is the most challenging round for a startup company.
Typically before Series B funding rounds occur, the company has to have shown some strong achievements after its Series A round. Series B is therefore to pour the gas on for growth with a larger investment round.
Series B Funding: Average and Valuation
• Average Series B Funding Amount in 2020: An analysis of 38 Series B deals in June, 2020, showed the mean Series B in the U.S. to be $33 million; the median was $26 million.
• Average Series B Startup Valuation in 2019: In 2019, Series B startups had a median pre-money valuation of around $58 million.
Series B Funding: Investors
A list of some of the top Series B investors includes:
Series C Funding: Description
A Series C Funding Round generally occurs to to make the startup appealing for acquisition or to support a public offering. This is the first of what are called "later-stage" investments. This can continue into Series D funding, Series E funding, Series F funding, Series G funding, private equity funding rounds, etc. While there is a lot of capital ready, a lot of companies don't even make it to Series C. The reason for this is because Series C investors are looking for breakout companies that have already demonstrated significant traction. Thus, the deal size of Series C funding rounds has continued to increase.
Series C Funding: Average and Valuation
• Average Series C Funding Amount in 2020: An analysis of 14 Series C deals in the U.S. in June, 2020 showed the mean Series C round to be $59 million; the median was $52.5 million.
• Average Series C Startup Valuation: The median pre-money valuation of a startup receiving a Series C funding is currently $118 million.
Series C Funding: Investors
Some of the most common investors in Series C funding include late-stage VCs, private equity firms, hedge funds and banks.
Seed Funding: Description
Seed funding is the first investment in a startup company in exchange for equity/partial ownership of the company. Seed funding can come from a variety of sources, such as friends and family, Angel Investors, Crowdfunding and startup accelerators. The reason for seed money is to help startup founders test an idea to see if they can demonstrate some product/market fit. To get seed funding, it is really about networking as well as selling the dream and team. Seed funding varies widely from just tens of thousands of dollars to up to around $10 million. The equity given up in exchange for the seed funding is generally in the range of 10% - 25%.
Seed Funding: Average and Valuation
• Average Seed Funding Amount in 2020: $2.2 million.
• Average Seed Funding Startup Valuation: The pre-money valuation of a startup receiving seed funding is currently $7.5 million.
Seed Funding: Investors
Some major sources of seed investors (beyond friends and family) include:
1. Angel Investors (Here is a listing of hundreds of Angel Groups around the world)
2. Accelerators like YCombinator and TechStars
3. Micro-VC's
4. Seed Funds from large corporations such as Intel, Google and FedEx, offer seed funding to promising startups working on innovative technologies which might be good acquisition candidates later.
A list of of the most active seed investors includes:
How to Best Track New Funding Rounds
News of funding rounds can be found from a combination of company press releases, disclosure documentation filed with the Securities & Exchange Commission and websites covering the same. However, there are limitations with both of these sources if you are looking to quickly learn about and connect with just funded startups that just raised money, ahead of your competition.
First, many companies don't issue a press release regarding new funding. Even when a company does, they only provide limited if any direct contact information.
Second, companies don't provide contact emails or domain information in SEC filings about new filings, plus these filings consist of a high percentage of investment funds raising money, which are not of interest for most people.
Fundz has created a solution for these challenges. The Fundz application (available to Fundz Pro customers) is a powerful, easy to use and inexpensive approach to track all new startups fundings. There is a searchable database of over 100k startup fundings, which you can filter by industry, location and funding range. You also can leverage the Fundz Chrome extension for real-time browser alerts of startup fundings matching your filters. Fundz is also mobile friendly, so you can view your stream on any device.
Finally, the Fundz application adds in important contact emails, company info and website URL when able to be verified and you can download all of this information with unlimited CSV exports, up to 500 deals at a time, making it a great source for b2b sales leads.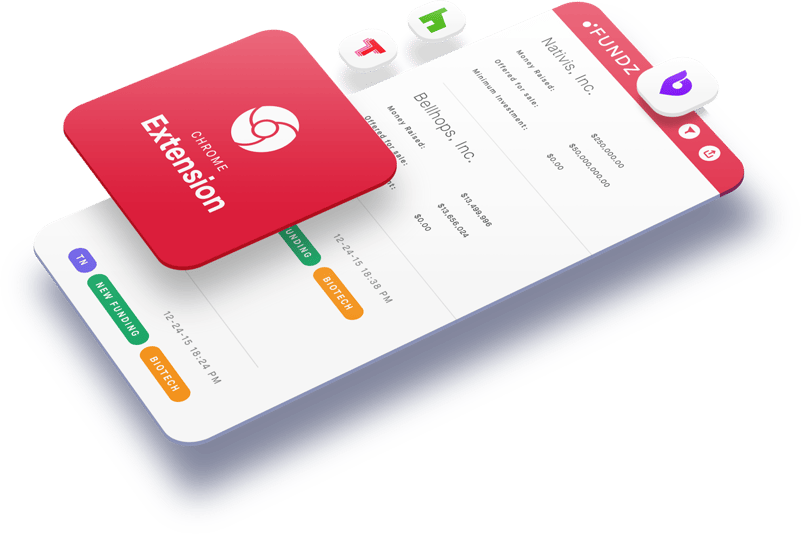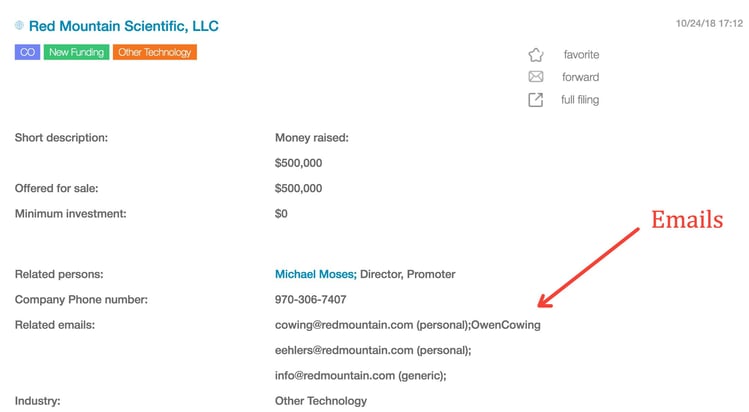 Related Resources:
Average Series A Reaches New Record of $15.7 Million (June 29th, 2020)
References:
Our Quickly Growing Customer Base
Fundz has customers around the world, from small startups to professionals at leading organizations, such as: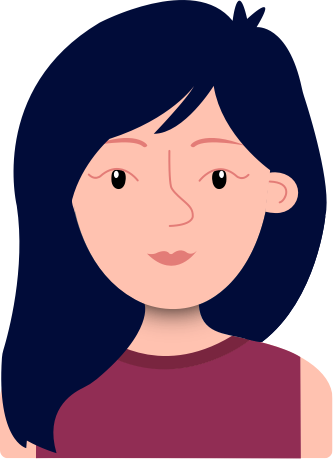 Fundz is terrific. It allows me to keep updated on new fundings with real time alerts right on my browser! It provides me with valuable information that I have used in my sales process and helped me close more deals!
Julie R.
Fundz is amazing because I receive alerts via my Chrome extension and not only that, I can save and filter territory-appropriate alerts so that I'm not wasting my time looking at funding outside of my region. This thing is awesome!!
Kristen K.
I'm really enjoying Fundz so far, and it's been exactly what I've been looking for in terms of finding startups with funding. Every other source is just incredibly expensive. I've already found a list of great companies to prospect using Fundz.
Josh Y.
You folks have a great service and provide it for a fantastic price!
Jen C.