17 Best Sales Intelligence Software Tools for 2023
Table of Contents
How to Leverage Trigger Events for Sales Intelligence
Much of the buzz today is about buyer intent data; however, there is an opportunity to be one key step ahead of this by effectively leveraging business trigger event data.
Indeed, some kind of internal or external trigger event is behind most all B2B purchases. While many internal trigger events can be hard to measure, such as the dissatisfaction with a current vendor, external trigger company events can be monitored.
Examples include companies receiving new funding, mergers & acquisitions and hiring of new executives. Each of these examples often provide excellent opportunities for limited windows of time to prospective vendors.
Moreover, Harvard & Berkeley research has shown that the first salesperson representing a particular product or service that connects ultimately wins more of the deals, even after alternative vendors have been brought in for evaluation!
The reason for this is based on neuroscience and specifically how our brains are genetically biased to choose the first in a series of options presented. So, if you can connect right after a business trigger event, research shows that even if they don't buy right away, you are stacking the odds in your favor to ultimately win a new customer.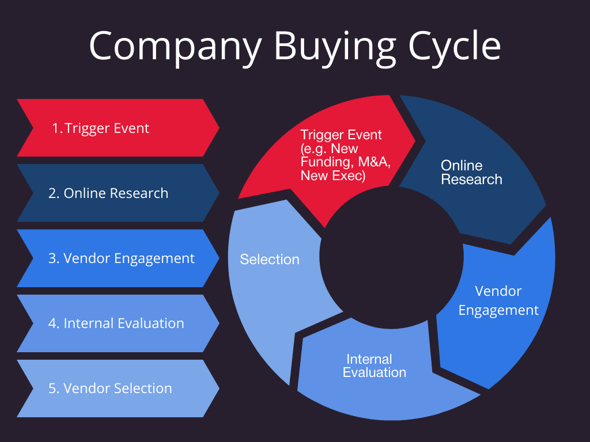 Fundz has developed a platform that is built from the ground up for this, so you can much more effectively discover, connect & close more deals with companies that have just announced a business trigger event, including companies that have just raised funding or were part of an acquisition.
Fundz' super efficient layout, integrated executive contacts and other helpful other features make it the best sales intelligence platform for this critical part of your outreach strategy. Fundz is also very competitively priced and you can get started for just $19/month. If you are looking to export the data to CSV and/or integrate with your CRM, check out Fundz Pro.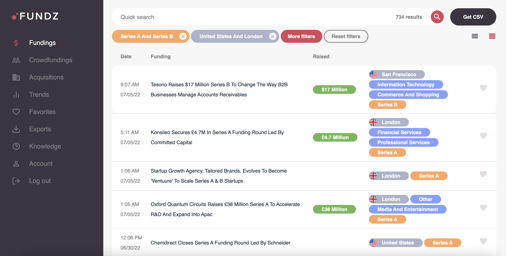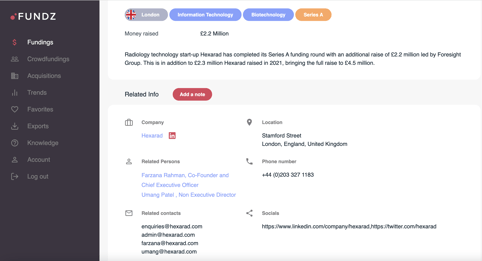 What are the 17 Best Sales Intelligence Software Tools for 2023?
Here's G2's Best Sales Intelligence Software in 2022 compared to peer review site Trust Radius' List of Top Sales intelligence Software 2022. Point to a company name to learn a little about them, or click on the home icon to go to their website.
Sales intelligence, as a market, is expanding rapidly. Indeed, the sales intelligence market is expected to grow at a compound annual growth rate of over 10% by 2027. Intriguingly, much of this growth is inspired by increased artificial intelligence adoption.But, how is AI impacting actionable sales intelligence today, and what to expect from it in the future? In this guide, we will analyze all the essential statistics and movements you need to know about AI in sales.
What is Sales Intelligence?
Sales Intelligence is a topic that generally refers to the technologies, methodologies & data leveraged to increase to increase b2b sales more efficiently. Sales intelligence software helps companies use internal and external data to increase sales and improve sales processes. Sales intelligence tools often monitor millions of data points to identify sales triggers, such as a new funding rounds or mergers & acquisitions.
How AI Might Impact the Future of Sales and Marketing
Various sources and studies claim that AI has a firm place in the future of sales intelligence. Ultimately, AI and machine learning have the power to reduce time and expense wasted on human error and effort. Sales data pooling and outreach require intensive manual oversight - this could be time and effort better delegated.
AI sales data pooling and forecasting, too, may arguably be more accurate. Therefore, firms may rely on more precise and complete data to make more confident decisions. This results in clearer insight, a sharper focus on the most important targets, and little need for assumption.
According to a series of studies, these potential enhancements are already recognizable:
Harvard Business Review suggests over half of all large firms expect automation for manual tasks within three years. (

Link

)

HBR also finds that over eight out of ten surveyed companies see a future in AI blending sales with marketing.

Gartner's research (2020) previously suggested at least 30% of B2B brands would use AI in some form of sales strategy. (

Link

)

Demandbase statistics show AI already provides sales closing improvements and higher traffic-to-conversion ratios. (

Link

)
Crucially, large companies are starting to notice enhancements in productivity across the board through AI sales intel. Further potential improvements to sales funnels may include
Clearer customer journey mapping and guidance

A reduction in the need to 'upsell' products and services

Clearer and more concise staffing arrangements with precise predictions

Greater insight into product impacts

Greater insight into potential new territories and demographics




Ultimately, with AI streamlining and clarifying sales processes, unlimited growth, and quality assurance improvements are attainable. But, what does this mean for sales staff - and the potential for machines to 'replace' human personnel?
How is Artificial Intelligence Impacting the Sales Role?
Given AI's increasing role in sales, it is reasonable for there to be some concern regarding the future of human support. However, promising statistics show that employees find AI beneficial to everyday productivity. SnapLogic data shows that over 60% of workers feel AI improves their output.
It's also claimed that up to 25% of sales teams use AI in their daily roles. Therefore, in the here and now, AI is helping to make life easier - not make work obsolete.
Will AI Replace Sales Representatives?
While an increase in jobs like a Sales Intelligence Analyst is happening, AI is unlikely to replace human sales representation outright. However, it may consume some aspects of such positions. Data from CRM Magazine suggests that up to 80% of all sales work (at entry level) is almost administrative.
This would primarily cater to:
Lead qualification
Calendar scheduling
Data pulling
Report building and filing
Direct outreach, and prospecting
Therefore, it is clear why such tasks face AI delegation. Services such as sales chatbots, too, are likely to remove the need for some sales personnel tasks.
Further research and anecdotal claims suggest that the 'human approach' is unlikely to evaporate from sales. Up to 69% of customers agree that needs-meeting is the most important aspect of deciding upon a deal. While AI will pull and collate accurate data for clearer customer journeys, the emotional aspect of sales is missing.
HBR, as far back as 2015, advised that customer emotions are key to sales success. Rather than be manipulative, however, this approach ensures that customers receive the service they require. AI will help human resources to narrow down prospects and improve lead efficiency but will struggle with emotion and context.
There is also a firm assertion that sales staff displaced by AI will still have roles to play. AI is still in an infant stage that requires some oversight. Therefore, confidence in machines fully delegated to manage is unlikely to be achieved anytime soon.
There are, too, further customer reservations about AI and experiences. The following Salesforce data shows how specific types of consumer respond to AI and sales in differing ways.
AI: Consumer vs. Business Opinion Survey
| | | |
| --- | --- | --- |
| | Everyday Consumers | B2B Clients |
| I'm happy to trust AI | 56% | 77% |
| AI will transform my relationship with brands | 53% | 74% |
| I use AI every day | 33% | 60% |
| I know when companies are using AI services | 32% | 58% |
Therefore, it is clear to see that there is some distrust of AI from everyday consumer perspectives. It is markedly higher with business buyers - perhaps as they may have seen direct improvements within their own services.
Arguably, this means there will still be a firm demand for human sales for some time to come. At the same time, companies may rely more and more upon AI to increase efficiency and productivity. Customer opinions matter.
Salesforce has further data we can use to define customer journeys, which we will cover below.
Are Sales Jobs Declining?
Beyond the general worry over AI replacing sales staff outright, there is some evidence to suggest a shift in available roles. However, data may vary. For example, ZipRecruiter, a leading job recruitment platform, confirms that sales roles available increased by almost 300,000+ in Q1-Q2 2021.
Forrester previously led with analysis to suggest up to a million B2B salespeople would lose roles to AI by 2020. But is there any weight to this moving forward?
However, predictive analysis from BLS suggests that the rise in AI will see a decrease in some specialist sales roles. Overall, their data predicts a 5.2% rise in employment between 2018 and 2028. However, it's the niching down into different roles where interesting information arises.
Here's a selection of the data available:
AI Employment Trends by Job Title



| | |
| --- | --- |
| Occupation | % Change in Employment Numbers (2018 - 2028) |
| All Sales Representatives | 5.2% |
| Cashiers | -3.8% |
| Retail Salespeople | -2.3% |
| Sales Representatives (Technical and Scientific) | 3.7% |
| Sales Representatives (All Others) | 1.7% |
| Sales Engineers | 5.6% |
| Telemarketers | -16.6% |
| Door to Door Sales | -7.2% |
This data shows that there can be some solace in mainstream sales representation. Interestingly, however, traditional sales roles such as door-to-door approaches are set to plummet. Most of all, tellingly, is telemarketing - which is likely to be offset by AI's help in refining funnel data.
Therefore, while physical or increasingly outdated sales roles are under threat, in-house reps may rest easy.
How Can AI Increase Sales?
AI can potentially increase sales by:
Refining more accurate and complete data for prospective new clients

Freeing up additional resources to find new leads and connections

Improving customer experiences based on available data

Preventing human error

Reducing reliance upon assumptions
There is a further argument that suggests AI may help to enhance personalization in sales. Revieve notes, for example, that using AI to boost personalized outreach may have helped Starbucks boost customer spending by 300%.
Therefore, AI can help us understand our customers closer, without the need for extensive manual research.
In What Capacity is AI Improving CRMs (and Sales Intelligence)?
AI is helping to improve CRMs by fine-tuning the customer experience and journey. By using set parameters in your business intelligence plan, AI can search for hyper-specific data to help refine leads.
Research shows that lead qualification and administration can take up to 20% of CRM usage time. Such checks, analysis, and report processing can delegate directly to AI, providing more time for analysts to pitch actively.
CRMs in the modern era, boosted by AI, benefit from wide-sweeping data pooling from various sources. AI may find this data from publicly available media or records. However, they may also obtain data through direct communication with customers (via chatbots).
Improving CRMs with AI is also conducive to growing expectations amongst younger people. Journey demands and innovation expectations are growing, according to data from Salesforce.
Here are some of the data in question to help us understand why CRM enhancement is so beneficial. Below, select information from Salesforce identifies the percentage of people surveyed from different generations and their responses to customer-based questions. Each category identifies how many agree with select statements relating to customer journeys (and AI).
Innovation Sentiments by Demographic
| | | | |
| --- | --- | --- | --- |
| | Millenials & Gen Z | Gen X | Boomers & Silent Gen |
| Companies should produce more products, more frequently | 73% | 68% | 57% |
| Companies should be more innovative | 73% | 70% | 59% |
| Companies who don't adapt, don't care | 62% | 61% | 58% |
| Companies should use technology to create better services and experiences | 78% | 76% | 65% |
| I'd like AI to help improve my experience | 70% | 63% | 49% |
| I'll pay more for first-to-market products | 50% | 41% | 23% |
Stark differences in data here show that journeys between older generations of buyers and younger people require dedicated insight. What's more, younger buyers care deeply about the quality of their journeys. Therefore, it's reasonable to argue that AI's place in enhancing CRMs is justified.
CRMs make up a considerable fraction of the intel market. Generic intelligence software accounted for over 85% of revenue in 2019. CRM integration is likely to be a major facet of this - which is why improving and enhancing its potential is vital.
The AI Sales Assistant
AI sales assistants, therefore, are becoming increasingly popular in helping sales teams create more precise journeys. But, what does the technology actually do?
What is an AI Sales Assistant?
An AI sales assistant helps manage all aspects of sales data pooling and lead pitching. It can largely help to support task automation and pipeline management. However, there are often crossovers with services such as chatbots that help derive information from potential leads to feed into CRMs.
Crucially, sales teams use AI assistants to help derive data and create automated reports they can act upon. This actionable data would, traditionally, arise from the 20% of administration time mentioned above.
AI Sales Assistant Software Market
Therefore, deducting this 20% of human processing time is likely a popular prospect. Thus, the AI sales assistant software market continues to expand on a global scale.
Research shows that the CAGR for AI sales assistant software will likely peak at 11.4% between 2022 and 2032. That equates to a total market size of just less than $93 billion by 2032.
Lucrative areas for growth in this market revolve around assistants' adaptability with diverse software solutions. For example, assistants can help to support CRMs, intelligence software, and conversational marketing platforms. Therefore, it is a multi-faceted solution for many businesses.
AI Sales Assistant Tools Comparison
As the market grows, numerous solutions arise. Here is a quick rundown of leading AI sales assistant tools available on the market and what they offer.
Leading AI Sales Assistant Tools
| Software | Description |
| --- | --- |
| | This Sales Intelligence CRM offers sales engagement, analytics, and CPQ functions. |
| | This tool helps to support a 'go-to-market' approach, pulling valuable data in line with emerging technology. |
| | Specialized for revenue teams. This tool helps track sales drivers and competition statistics |
| | This assistant tool provides a bare-bones, intuitive workplace solution for speedy, simple solutions. |
| | This tool focuses on global market connections through a simple, scalable workspace. |
Key Sales Statistics & Advice for 2022
In a recent survey, HubSpot found more than 40% of salespeople say that prospecting is the most challenging part of the sales process.
What are some of the reasons for this - beyond the obvious one of rejection? One big reason has to do with data issues. Even with the best of today's platforms, reps struggle with missing data, outdated data, lack of context & lack of a compelling reason to call. Not surprisingly, sales reps can spend up to a whopping 40% of their time looking for somebody to call. (Inside Sales)
So let's look at two of the biggest statistics that people, in general, are perhaps not looking at closely enough:
Gong says only

1% of customer data makes it to a CRM.

A recent

Gartner report estimates that every month, around 3% of data decays around the globe. When we look exclusively at B2B data,

the decay rate is estimated to be 70.3% per year.
Reason one explains a lot of the hesitancy in sales outreach. For example, a rep in a new territory, taking over a group of new accounts, has to decide who to call first. But the reality is that previous notes, if they exist, miss so much of the context of previous conversations. In the end, many reps waste a lot of time trying to figure out what to say and how to approach the company.
Reasons two is maybe an even bigger problem, that has arguably just become worse with the pandemic. Companies and personnel are changing faster than ever.
To help meet these challenges, in 2022, sales teams might want to focus more on two things:
Wherever possible, leveraging real-time contact and company data streams from the most trusted sources - company websites, company issued news, company filings. Think about it - this is where companies are sure to provide the most updated information on their business and personnel, followed next by LinkedIn.

Allow reps and teams to leverage sales trigger event data in the way that produces the best results and works for them. Meaning - having a funding round updated as a data point in the traditional, research the contact/company first approach doesn't cut it. Often, new fundings or acquisitions involve new or renamed companies or companies that were in stealth mode and not in even the best of traditional databases. By leveraging a sales trigger event first platform such as Fundz, new opportunities will be spotted that would've otherwise have been missed. What's more, real-time event software surfaces fundings faster than relying on a database that is waiting on an API update from another data provider. Indeed, connecting first ahead of your competitors is a research proven way to win more deals.
Sales Intelligence Research: Why B2B Sales Opportunities Fall Apart & How to Avoid it
According to a 2021 study of 400 sales reps conducted by Sales Insights Lab, budget is the most common reason that stronger sales opportunities fall apart. The second reason is timing. Establishing more value earlier in the sales cycle, combined with prospecting tools that can help you identify prospects less likely to have budget or timing issues, are critical to minimizing these challenges.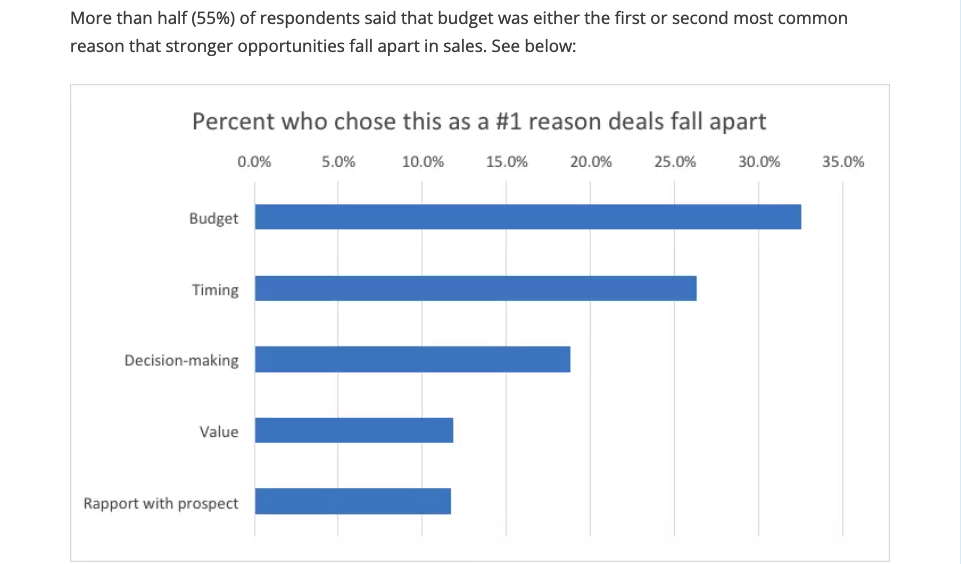 Emerging B2B Sales Intelligence Tools & Trends
Increasingly, sales intelligence tools are incorporating machine learning and others aspects of artificial intelligence, which collect and analyze millions of data points. Indeed, the race is on to create the most clever algorithms which need to analyze more and more raw data to keep up.
As mentioned above, sales trigger event software, such as software tracking new funding rounds, executive/director level job changes, mergers & acquisitions & strong or weak financial performance reports, can be extremely helpful in sales prospecting. For example, connecting with just funded companies helps you often avoid losing a deal for the two most cited reasons - budget and timing.
Let's illustrate this point further. Say that your company provides software and/or a service that is essential to many startups. You've probably been told more than once a prospect didn't have the allocated budget and or the timing was off for them to consider what you were offering.
But now imagine you saw a real-time update of a company that literally minutes ago announced a funding round to the world and you reached out to them right away to at least make an introduction. If your product or service is of real value for most startups, chances are they've already planned for spending in your area before they received the funding.
What's more, since it's quite essential for their business to grow, you know the timing can't be far off. Of course, they may not buy immediately, but you've positioned yourself very well and are not spending time on deals that will likely fall apart in the end due to budget or timing.
Not only that, but if you connect with these just funded companies ahead of your direct competitors, you have an ever greater chance of winning a deal because of the way the brain works. In a series of experiments, Harvard & Berkeley researchers demonstrated people have an implicit preference to buy goods from the first salesperson encountered, even when the difference in encounter is merely seconds. (Study)
So while it's unrealistic to expect immediate results after reaching out to a company that just received funding or experienced another sales trigger event, research shows making this a regular part of your prospecting strategy vs. doing it sporadically, and doing it and ahead of your direct competitors, can really increase your success and income over time.
B2B Sales Intelligence Market Data
Research firms sales intelligence generally predict a 10%-12% compound annual growth rate for the sales intelligence market from 2022-2027.
According to a report entitled Global Sales Intelligence Market

,

published by KBV Research, the Global Sales Intelligence Market size is

expected to reach $3.8 billion by 2025, rising at a market growth of 12.3% CAGR during the forecast period.




Grandview Market Research

says forecasts t

he global sales intelligence market to grow at a

compound annual growth rate of

10.5% from 2020 to 2027 to reach USD $5.03 billion by 2027.




Databridge Market Research

predicts the

sales intelligence market will reach USD $4.89 billion by 2027 witnessing market growth at a rate of 11.85% in the forecast period of 2020 to 2027.
Recent Fundz Articles on Sales Intelligence
Will AI Replace Salespeople? A Comprehensive Analysis with Statistics
Maximizing Sales Intelligence with MacBook Technologies: Tips and Tricks for Sales Professionals
Leveraging AI and Machine Learning for Next-Level Sales Intelligence
How to Leverage the Power of Sales Trigger Events
How Sales Intelligence can Enhance the Remote Buyer Experience
Our Quickly Growing Customer Base
Great product! I got a few sizeable contracts through Fundz, so made a video to recommend your service for my followers.
Caleb Lai, Alphaio
Just wanted to let you know I love the product and leverage Fundz along with the chrome extension every day - love it!
Caroline White - Sales Process & Productivity, Cloudflare
Fundz has been a great tool that I recommend to others.
Tony Mai - Corporate Account Executive, Snowflake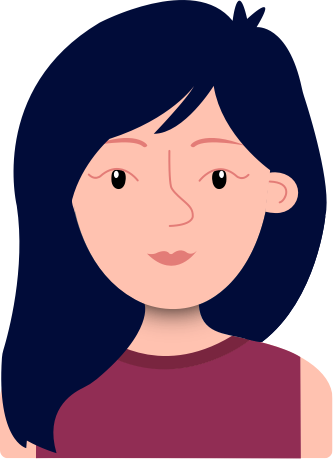 Fundz is terrific. It provides me with valuable information that I have used in my sales process and helped me close more deals!
Julie Rosenberg - Channel Account Manager, HubSpot
Great platform!
Jacob Klister - Account Executive, Oracle NetSuite
"I wanted to thank you and let you know some of my best deals have came from accounts I have found on Fundz! I consistently get new funding updates faster than any other place I've tried."
Bryce Rubin, LinkedIn