Sales Trigger Events - The Ultimate Guide
Introduction: Some Critical Stats on Sales Trigger Events
Selling is hard. Prospecting is harder. Some 40% of salespeople [Source: @HubSpot] reported that prospecting is the most challenging part of the sales process. It takes, on average, 18 calls to connect with a buyer. Then, you still need to qualify them to turn them into business leads.
Salespeople are always looking for new and better ways to contact prospects. Contacting a prospect at the right time is crucial. This is what makes prospecting easier. When you reach out to a prospect based on a trigger event, it increases conversion rate by a whopping 400%. Companies that has been recently funded are 8x more likely to buy [Source: @CraigElias].
It all comes down to when you contact your prospect. As InsightSquared says: If you're not using trigger events for prospecting calls, whether they are internal or external trigger events, your entire team is missing out on a valuable sales technique.
If you happen to contact at the right time with the right offer, you won't have issues generating sales. As much as 75% of prospects respond to a well-timed email or call.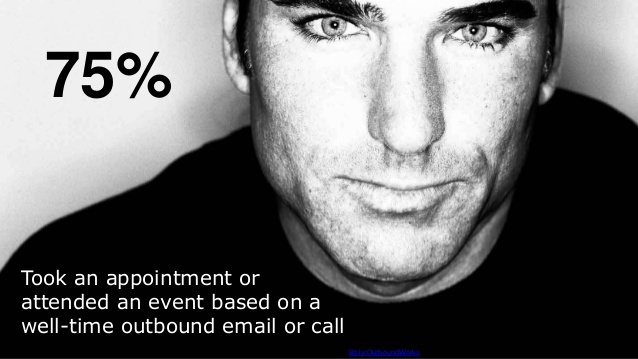 This is what's known as trigger event selling. If you don't know how it works or if you want to improve your sales trigger event game, this is the guide for you.
What are trigger events?
HubSpot defines a trigger event as an occurrence that creates an opening for a marketing or a sales opportunity. A sales trigger event is, therefore, an event that specifically creates an opportunity for sales.
Craig Elias, who is the author of Harness the Trigger Events That Turn Prospects into Customers, calls trigger events 'silver bullets' in sales. Why?
Because trigger events let you get your product (or brand) in front of the right person at the best time - when they are most likely to buy.
A sales trigger event is also defined as a change in the status quo that compels a prospect to take action and change the current situation. For instance, your prospect's competitor launching a new product that turns out to be a huge hit may require a change in their marketing strategy.
Statistics show that 8 out of 10 B2B purchases are unplanned. These unplanned purchases are a result of trigger events. For instance, if a business gets funding, it might make several unplanned purchases such as project management app, marketing automation tool, analytics tools, etc. Whether you're in B2B or B2C industry, you'll find several trigger events that will provide you with an opportunity to contact a prospect. This calls for constantly analyzing external as well as the internal environment for any trigger events that might help you generate sales.
How to use trigger events for B2B sales lead generation
The best thing about trigger event marketing is that it makes your timing perfect. According to Craig Elias, trigger event selling is all about timing and salespeople who are the first respondents after a trigger event happen to win a sale 74% of the time. When it comes to sellingp nothing beats timing.
Bill Gloss, the founder of Idealab, helped more than 100 startups since 1996. He said in a TED talk that timing is the most critical factor that makes any startup a success. Z.com, for instance, was a video streaming website that was launched way before YouTube back in 1999. But it failed badly. Why? It was launched at a bad time. When Z.com was launched, people were unable to stream online because broadband wasn't common and there were some major codec issues. In 2005, YouTube was launched which happened to be the perfect time for an online streaming site because 50% of the US population was using broadband and codec issues were solved by Adobe Flash. YouTube, launched at the right time, was a huge success. We all know it.
Same goes true for selling. Brian Carroll, CEO and the founder of Markempa, worked with a SaaS company that was selling management software to businesses. He discovered an event trigger when a CEO talked about innovation or improving innovation publicly on social media, blog posts, annual report, conference, etc. All such companies were tracked and pitched whenever their CEO talked about innovation. These companies had 400% higher profitability buying the software. This specific trigger event was key to the software's success because it was a clear indication that the company had a motivation for change and the CEO is all into it. Generating leads and converting those leads gets a whole lot easier if you understand what triggers your prospects. It all comes down to tracking all the critical events.
Here is a 3-step process to use sales trigger events for lead generation, which will yield much better results than you'll get from lead generation services.
1. Review recent sales
2. Identify trigger events
3. Devise a plan of action
Step #1: Review recent sales
Review most recent 15 to 20 sales and look for patterns and common events.
Are there any life events that resulted in sales?
Did sales rise after a recent funding?
Do sales decline when prospect's competitor launched a new product?
How was customer's interest created in your product?
How did the relationship start?
What was the primary motivation behind the purchase?
You might not find any trigger events at all, and it is absolutely fine if you don't find any pattern. In this case, it is best to conduct a short survey with your recent customers. Ask them what triggered them to buy your product at this point in time.
Step #2: Identify trigger events
The whole point of reviewing recent sales and conducting surveys and interviews is to identify all the trigger events, then List all the trigger events you can think of. You can read more about most common trigger events in the next section, keep reading.
Step #3: Plan
What should you do when one of the identified trigger events happen? That's where you generate leads. You need to devise a complete plan of action which should define how you pursue prospects, how often to make contact, who is to make the contact, etc. (More on this coming shortly) For instance, "left the company" is a common trigger event that your business should capitalize on. If you received an email like this, it means you need to get in action and generate b2b sales new leads.

If you have devised a plan, things will get easier. You'll quickly update CRM, add Jenni as your new contact, and proceed. But there is more you should plan about. You cannot leave Pamela because she was your current customer and you should get in touch with her too. She might become a customer at her new company and bring new clients.
At the same time, you should get in touch with Jenni to ensure you don't lose business with this company.
You can also dig a bit deep and get in touch with the person who replaced Jenni at her old position and who Pamela replaced at her new job. These will be people who share similar positions, and since this position is your lead, getting in touch will be a good idea.
To achieve this type of in-depth prospecting, you need to create a plan for every trigger event that you identified. This will semi-automate lead generation process and every time a trigger event will happen, your sales and marketing team will know what they have to do.
This is what makes lead generation super-easy.
Triggering events in strategic management, sales and marketing
Trigger events work for both B2B and B2C. But they're mostly used for B2B sales and lead generation. Triggering events in strategic management, sales, and marketing can take any form but they're mostly related to financial changes, new hires, growth, funding, change in tactics and strategy, market growth, increase in sales, new product, and increase in growth.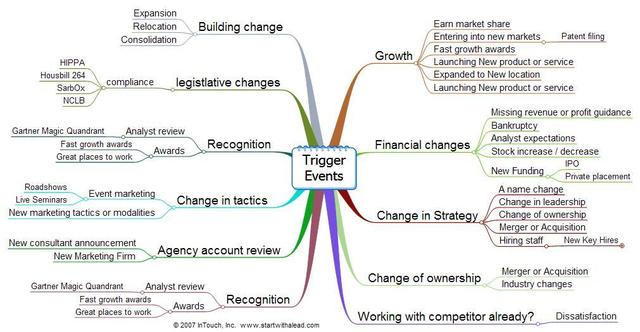 Here are a few B2B strategic management, sales, and marketing triggering events that you should never miss.
Strategic management: New executive, merger, layoffs, relocation, new office, change in strategy, restructuring, resizing, etc.
Sales: Increase/decrease in customer-base, sales team bonuses, sales team training, new product, increase/decrease in sales, etc.
Marketing: Increase/decrease in the marketing budget, new CMO, new target marketing, new target segment, change in the marketing channel, etc.
As soon as one of these trigger events happen, you need to be the first one to capitalize on it, get in touch by following your plan, generate a lead, and convert it.
The whole point is to get notified well before others so you get a chance to set up a phone call, send an email, or arrange a meeting. The earlier you take action, the better.
You don't have to act on all these trigger events instead stick with the ones that impact your business. You have to identify and link trigger events with buyer personas to ensure you don't end up tracking useless trigger events. (More on this coming soon, keep reading)
Sales trigger event examples
If you're not sure what you should talk about with your prospect on your next call, a good idea is to talk about one of the following sales trigger events. These trigger events provide you with a solid reason to get in touch with your client/prospect.
Here are 18 leading sales trigger event examples and how to track them:
1. Funding rounds
When private companies announce they have raised money from investors, a significant opportunity opens up for a limited window of time. In fact, companies that have recently raised funding are statistically much more likely to buy from you.
However, while its widely known funding rounds are an important sales trigger event, Harvard & Berkeley research shows you need to be first person representing your particular type of product or service to greatly tilt the odds in your favor of winning the business.
How to track: Track every funded startup in the U.S. with Fundz .
2. New executives
Whenever a company hires a new executive, you get a chance to reach out to him or her and establish a relationship.Why does it work? Because new executives are charged and eager to prove their value. And they are more likely to purchase your product as compared to an executive who has been with a company for years.
How to track: LinkedIn, Google alerts, Twitter, press releases, and leading news sites.
3. New customer announcements
Did your prospect announce a new customer? New customer means your prospect just received a lot of money and this is the right time to help your prospect use money for the right purpose. Watch out for new customer announcements.
How to track: Industry news, Google alerts, press release, and relevant hashtags.
4. Company expansion
Whenever your prospect's company is expanding, you have a great chance to join hands because expansion means it will need equipment, supplies, furniture, new hires, and so on.
How to track: Google alerts, prospect's social accounts, press release, and news sites.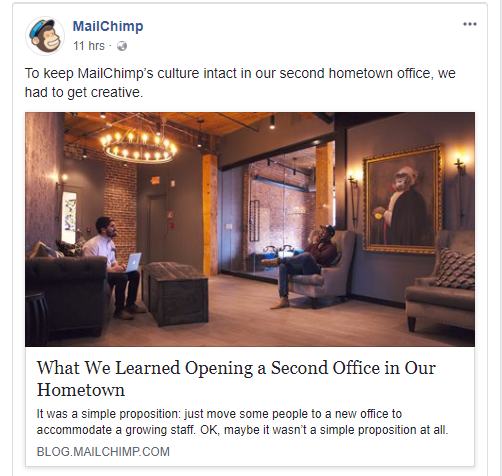 5. Company relocation
When your prospect moves to a new city, that's where they're in need of products and services. Reaching out when your prospect's company relocates have a high chance of getting a sale.
How to track: Company website and social accounts, press release, and news sites.
6. New product/service announcement
Did your prospect launch a new product in a new target market? This means business. Depending on what you sell, a new product or service announcement means that the company will look for new vendors, equipment, services, and that's where your product can fit.
How to track: Company website and social accounts, press release, and news sites.
7. Competitive product/service announcement
When your prospect's competitor announces a new product, your prospect needs to make its move too. If you or your product can help at such a moment, don't hesitate to reach out.
How to track: Industry news, press release, and social media.
8. Bad quarter
Is your prospect had a bad quarter and is losing money? You can contact and offer your product at a discount or if your product/service has the potential to help a company that's losing money, count yourself in.
How to track: News, Google alerts, and social media.
9. Good quarter
When your prospect's company is making money, you know what you have to do. This is the best time to contact and pitch because they have the money.
How to track: Company website and social media accounts, news, and Google alerts.
10. Mergers & acquisitions
A new industry development could either mean an opportunity for your prospect or it could be a threat. Depending on how your product can help, reach out to your prospect as soon as you get the news.
How to track: Industry news.
11. Major industry development
A new industry development could either mean an opportunity for your prospect or it could be a threat. Depending on how your product can help, reach out to your prospect as soon as you get the news.
How to track: Industry news.
12. New legislation
New legislation can pose threat or bring new opportunities and if your product can be of any help to a prospect, get in touch immediately. This is one of the best moments to reach out with a helping hand.
How to track: News sites.
13. Increase in expenses
Is your prospect's expenses on the rise? You can push your message and offer your product at a hefty discount.Or, if you offer a product that helps businesses reduce their expenses, you have your day.
How to track: Local security exchange commission website.
14. Awards
A new award won by a prospect company means it is moving in the right direction. This could be your chance to pitch your message. Provide your prospect all the information and resources it needs to stay ahead of the competition.
How to track: Company website and social media.
15. Analyst Reports
There are analysts in every industry that analyze and rank companies. Look for analyst reports in your prospect's industry and find a way to reach out. For instance, if your prospect is ranked high, it might be interested in maintaining the same position. Or, if it was ranked low, it might be interested in products/services that will help it improve ranking. In any case, you get a chance to close a deal.
How to track: Analyst website and social media accounts.
16. Entrance into new markets
Is your prospect entering a new target market? This sounds to be a perfect trigger event that can help you land a sale. New market entrance isn't easy and your prospect will need several resources. That's where your product/service can fit.
How to track: Industry news.
17. Event Announcements
There isn't any better sales trigger event than your prospect making a new event announcement. If your product is related to the event management, you can jump in.
How to track: Company website and social media accounts.
Our Quickly Growing Customer Base
Great product! I got a few sizeable contracts through Fundz, so made a video to recommend your service for my followers.
Caleb Lai, Alphaio
Just wanted to let you know I love the product and leverage Fundz along with the chrome extension every day - love it!
Caroline White - Sales Process & Productivity, Cloudflare
Fundz has been a great tool that I recommend to others.
Tony Mai - Corporate Account Executive, Snowflake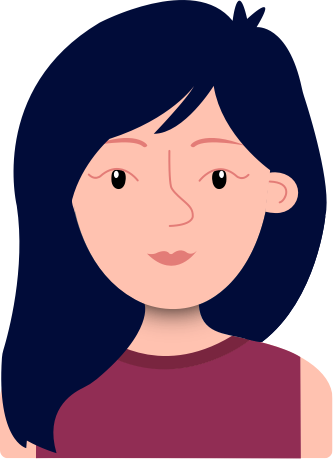 Fundz is terrific. It provides me with valuable information that I have used in my sales process and helped me close more deals!
Julie Rosenberg - Channel Account Manager, HubSpot
Great platform!
Jacob Klister - Account Executive, Oracle NetSuite
"I wanted to thank you and let you know some of my best deals have came from accounts I have found on Fundz! I consistently get new funding updates faster than any other place I've tried."
Bryce Rubin, LinkedIn