Startups: 100 Best Startup Companies 2023: Jobs, Invest, Lists
Discover the Next Big Startups, First
Get real-time alerts and insights on the latest funding events and connect directly with their key executives. With Fundz, you're always a step ahead.
Table of Contents
Startups Jobs: What are the 100 Best Startups to Work for in 2023?
Here's is LinkedIn's 50 Hottest Startups to Work for in 2023 & Forbes America's Best Startup Employers 2022. Hover over the home icon to learn a little about them or click it to go to their website. You may also wish check out to also check out Wellfound's Top Startups.
| | |
| --- | --- |
| Forbes (2022 List) | LinkedIn (2022 List) |
| | |
| | |
| | |
| | |
| | |
| | |
| | |
| | |
| | |
| | |
| | |
| | |
| | |
| | |
| | |
| | |
| | |
| | |
| | |
| | |
| | |
| | |
| | |
| | |
| | |
| | |
| | |
| | |
| | |
| | |
| | |
| | |
| | |
| | |
| | |
| | |
| | |
| | |
| | |
| | |
| | |
| | |
| | |
| | |
| | |
| | |
| | |
| | |
| | |
| | |
Startups List: Hows to Create the Best List of Startup Companies
Looking for customized, on-demand lists of just funded startup companies for business development, investment or research?
Fundz combines the industry's fastest, real-time reporting of new startup fundings, customized to your filters & integrated with executive contacts. This combination provides a compelling competitive advantage for customers to connect ahead of their competitors with the right company at the right time. Harvard & Berkeley researchers have shown connecting ahead of your competitors significantly tilts the odds in your favor to win the business.
Fundz is also the only platform with real-time chrome extension alerts of new fundings & acquisitions matching your filters, so you never miss an opportunity and learn about new fundings matching your filters ahead of your competitors.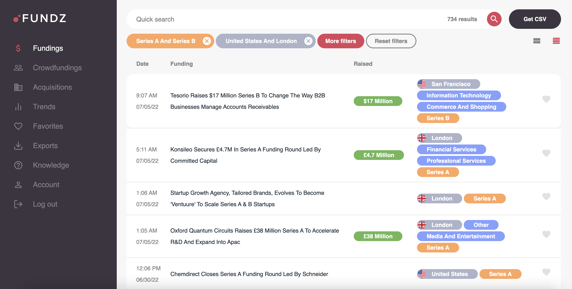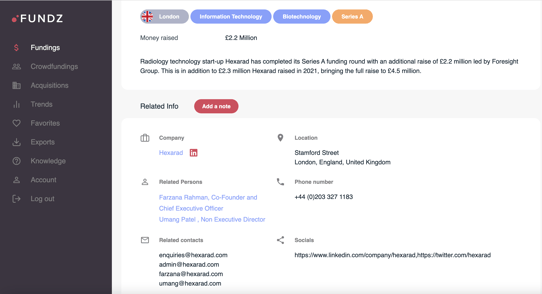 Startup Companies to Invest In
When it comes to startups to invest in, the vast majority of money invested in startup companies comes from Angel Investors (Accredited Investors), Venture Capital Funds, Institutional Investors and Corporations.
While only a small percentage currently comes from non-accredited investors, (<$200k income or $1mm net worth) this area continues to grow via what are called equity crowdfunding portals. Fundz customers get unlimited real-time updates of all new crowdfundings that are filed with the SEC under form C, including key information about the company looking to raise money and where to go to get more details & invest. Snapshot:
Accredited vs non-accredited investor startup investments
If you're looking for top companies to invest in outside of the public markets and are an accredited investor, you have a wide range of options. To be an accredited investor, a person must have an annual income exceeding $200,000, or $300,000 for joint income, for the last two years with expectation of earning the same or higher income in the current year.
If you don't meet the criteria of an accredited investor, you can still invest in startup companies through certain equity crowdfunding portals, but your options are more limited.
If you are considering startup companies for investment, some of the top unaccredited investor platforms to invest in include:
Some of the top Accredited investor platforms regarding startup investment opportunities include:
Best Startup Companies with Open Jobs
If you are looking for a sales related jobs at a startup, you may want to consider getting your free sales trigger event certification from Fundz and adding to your LinkedIn profile.
AngelList, LinkedIn & Indeed are also great sources to leverage if you are looking to look. Here are hundreds of thousands of startup jobs currently listed on their respective websites.
For startups looking to hire, Savant Recruitment is a great company to help you find talent.
Startup Layoffs: Tracking Tech Company Layoffs:
The chart below from Layoffs.fyi shows the number of tech company employee layoffs and tech companies with layoffs since 2022. As of May, 2023, the numbers are looking much better than earlier in the year.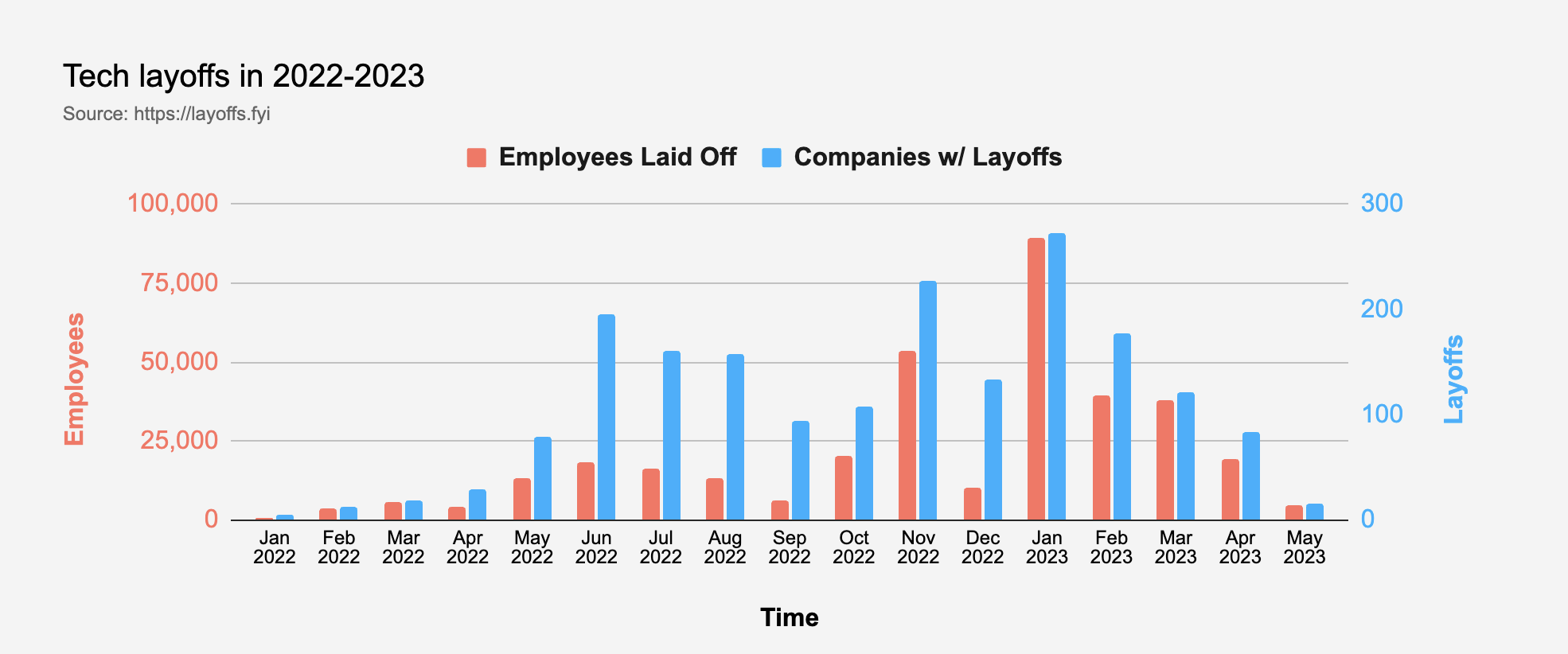 Startups: Ideas
There are several ways to come up with startup ideas, such as:
Identify a problem or pain point: Start by looking at your own experiences, or those of people around you, and identifying areas where there's a gap in the market or a problem that needs to be solved.
Combine two unrelated industries: Consider combining two seemingly unrelated industries to create a unique and innovative solution to a problem. If you have experience in two or more unrelated industries, know that many great businesses were started by Entrepreneurs combining these experiences into an innovative solution.
Follow trends: Keep an eye on the latest technology trends, market trends, vc funding trends and consumer behavior trends to identify areas where you can introduce a new and innovative solution.
Look at your skills and experiences: Think about your own skills, experiences, and passions, and identify areas where you can use them to create a new and innovative solution.
Conduct market research: Conduct thorough market research to validate your ideas and identify opportunities. Look at the total addressable market, competition, and resources required to bring your idea to life.
Brainstorm with others: Collaborate with others and brainstorm ideas. You can work with a team of co-founders, friends, or family members to come up with ideas and validate them.
Participate in startup events: Attend startup events, such as startup hackathons, pitch events, and networking events, to meet other entrepreneurs and get inspired by their ideas.
Remember, coming up with a startup idea is just the first step. It's important to validate your idea and make sure there's a market for it before you invest time and resources into building a business around it.
Angel Investors & Startups
In the world of startup funding, it's good to know about Angels. Angel investors are individuals who provide financial capital to startup companies in exchange for ownership equity or convertible debt. They often invest smaller amounts of money compared to venture capital firms and provide support beyond just funding, such as mentorship and access to their network.
Startups benefit from angel investment by receiving early stage funding, valuable advice and resources, and the potential for follow-on funding from these investors or through introduction to other potential investors.
On the other hand, angel investors take on a high level of risk, as most startups fail, but also have the potential for high returns if the company becomes successful.
Many angel investors go in with their eyes so wide open that most start-up businesses will not succeed and take a risk-weighted approach, with the expectation that a 'unicorn' investment will recoup any losses incurred and be hugely profitable," comments Ruban Selvanayagam, property investment book reviewer.
Startup Company News
Here are some leading sources for startup news and to create a list of business ideas.
Startups Programs: Startup Company Accelerators
In the U.S., one third of top startups that receive a Series A Funding came from an accelerator. Here are portfolios of some of the leading accelerators.
Y Combinator is a well-known startup accelerator program that has funded many successful startups such as Airbnb, Dropbox, and Reddit. Techstars is a global startup accelerator program that focuses on mentorship-driven seed investing. Regarding Europe, Seedcamp is a European-focused startup accelerator that invests in early-stage startups and provides mentorship, resources and connections.
500 Startups is a very well known global venture capital firm and startup accelerator that provides seed funding, mentorship and resources to early-stage startups. Startupbootcamp is a global startup accelerator that provides mentorship, funding, and resources to startups in various sectors such as FinTech, Smart City & IoT, and HealthTech. For tech startups specifically, AngelPad is startup accelerator that provides mentorship and funding to startups in the technology industry. Another interesting example is Entrepreneur First, which is a global startup accelerator that invests in individuals to help them build technology startups.
These are just a few examples, and there are many other startup accelerator programs around the world, each with its own focus, resources, and investment philosophy.
Startup Companies in the U.S.: Numbers
While there are no exact numbers on the number of organizations that can be strictly considered "startup companies" at any one point in time, outside financing, beyond friends & family, is a milestone that most startups will look towards achieving.
If we only qualify a company as a startup upon reaching this milestone, between 10k - 20k new startup companies in the U.S. reach this criteria every year.
What is a Startup Company? When are Startup Companies no Longer Considered Startups?
If you are interested in defining a startup company, a broad startup

definition is a young organization in the early stages of development. More specifically, startups are often formed by one to three people, created to either offer something new or to offer something in a fundamentally different way. Startups ideas are focused on innovative concepts. How long startup companies remain known as startups varies widely from industry to industry.
Though the terms startup and small businesses are often used interchangeably, a startup company is quite different from a small business.
Generally speaking, those that have seen the startup movie before agree a start up business moves from being known as a startup to an enterprise when it has:
A scalable, repeatable business model

A product that is ready to serve a large addressable market

The resources and team to succeed in serving a large addressable market
As you can imagine, the bigger the opportunity, the longer a company may still be called a startup, even if they are no longer that small tech startup they once were known as. For example, in the transportation industry, it may take years and billions in funding for a company to be able to ready to take market share away from major competitors.
Conversely, some companies with disruptive technology have scaled to Enterprise status in a fraction of the time and with far less capital.
Startups vs. Small Businesses in 2023
Though sometimes they are similar in headcount, small businesses are quite different from Startups. Unlike the startup meaning described above, small businesses
are driven by profitability and stable long-term value. They aren't looking to disrupt the universe, but to operate a cash-flow positive business for the long-term, with minimal risk.
A small amount of startups start operations as a typical small business, then transition to ultimately become a startup company. However, this transition is not typical and usually requires significant changes in go-to-market strategy, financing and team. In regards to outside funding, only about one half of one percent raise funding from venture capital firms.

At the same time, Lendza states that the majority of its customers consider

startup loans

as a good funding option for their startups.
Number of startups in the U.S.
The exact number of startups in the U.S. is difficult to determine as startups can be newly created businesses or established businesses that have recently shifted focus. According to the Small Business Administration (SBA), in 2020 there were approximately 30.7 million small businesses in the U.S. Some of these businesses could be considered startups.
How many small businesses are there in the U.S.?
There were about 33.2 million small businesses in the U.S. in 2022, according to the Small Business Administration. Slightly more than 80% have no employees (called "nonemployer firms") and slightly less 20% percent have paid employees (called "employer firms"). For reference, there are only slightly more than 20k large businesses.
The number of small employer firms has increased after a decline during the Great Recession. The number of nonemployer firms has gradually increased, from 15.4 million in 1997 to 26.5 million in 2018 (Figure 1).
Employer businesses trends:
Over the last 15-20 years, there are only around 30k net new, employer businesses added per year. However, there are about 225,000 employer businesses closing their doors each year and a slightly higher number starting up each year.According to the 2021 Annual Business Survey (ABS), which covers reference year 2020, approximately 1.15 million or 19.9% of employer businesses in 2020 were minority-owned; 320,864 (5.6%) were veteran-owned; and around 1.24 million (21.4%) were owned by women.
Non-Employer businesses trends:
According to the U.S. Census, in 2019, the number of U.S. nonemployer businesses increased to 27,104,006, up 2.3% from 2018. 2019 is the most recent non-employer data available.
From 2010 to 2019, the number of non-employer businesses has grown at an average annual rate of 2.5%


Best U.S. & International Startups to Watch:
Several other organizations have created lists of startup companies to watch in 2020, including:
Startup Tech Companies
If you're looking for tech startup ideas or upcoming tech companies, check out this startup tech companies guide.
Recent Fundz' Articles on Startups
External References:
https://advocacy.sba.gov/2022/08/31/advocacy-releases-2022-small-business-profiles-for-the-states-and-territories/
https://www.census.gov/newsroom/press-releases/2022/annual-business-survey-characteristics.html
https://www.fortunebuilders.com/equity-crowdfunding/
https://www.investopedia.com/terms/a/accrenaissancereditedinvestor.asp
https://www.bloomberg.com/graphics/startup-barometer/
https://www.fundera.com/resources/startup-funding-statistics
https://www.lawnstarter.com/blog/statistics/small-business-statistics/
Our Quickly Growing Customer Base
Great product! I got a few sizeable contracts through Fundz, so made a video to recommend your service for my followers.
Caleb Lai, Alphaio
Just wanted to let you know I love the product and leverage Fundz along with the chrome extension every day - love it!
Caroline White - Sales Process & Productivity, Cloudflare
Fundz has been a great tool that I recommend to others.
Tony Mai - Corporate Account Executive, Snowflake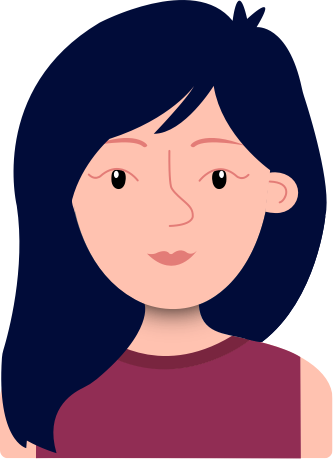 Fundz is terrific. It provides me with valuable information that I have used in my sales process and helped me close more deals!
Julie Rosenberg - Channel Account Manager, HubSpot
Great platform!
Jacob Klister - Account Executive, Oracle NetSuite
"I wanted to thank you and let you know some of my best deals have came from accounts I have found on Fundz! I consistently get new funding updates faster than any other place I've tried."
Bryce Rubin, LinkedIn