8 Best B2B Sales Leads Databases for 2022
What are the Best B2B Sales Leads Databases for 2022
The following is a list of some of the best b2b sales leads databases. In order of cost, from lowest to highest.
| | | |
| --- | --- | --- |
| Name | Specialties | Pricing |
| Fundz | A real-time database of just funded startups around the world, with integrated company, contact info, websites, LinkedIn URLs. | Unlimited exporting & views for just $10/month. *Get grandfathered into current pricing now, before platform upgrade with higher pricing in early 2022.* |
| Adapt | Finding LinkedIn emails; 100mm contacts | $39/mo. 12k views/12k downloads |
| LinkedIn Sales Navigator | Making targeted one to one connections | $79.99/month |
| Uplead | Low cost alternative to ZoomInfo for small business | $99/month |
| InsideView Sales Acceleration | Depth and quality of information | $99/mo. 100 contact/company exports month |
| ZoomInfo | Breadth & Depth of database; ratings | $4900/year for 5k contacts |
| Cognism Prospector | GDPR Compliant European Database | $750/mo. |
| DiscoverOrg | Accuracy, detailed info, enterprise focus | $25,000/year |
B2B Sales Lead Databases Targeting Startups: Fundz
Landing a deal with the right startup at the right time can mean a lot more than just another customer. It can mean income for your business for years as that company scales.
However, being able to source for this objective in an efficient & effective manner in the past meant paying at least hundreds of dollars for a company database subscription and even then, the platform wasn't designed specifically for those looking for an efficient startup prospecting solution.
Now there is a much better solution. Fundz, which you can access by signing up for a Fundz Pro account, has developed a very cost effective (just $10/mo.), efficient, real-time updated database of thousands of funded startups, integrated with director/executive level contacts and other information. Essentially, its built from the ground up for companies of all sizes looking to do business with startups.
Having both the real-time updated database of just funded companies with the executive/director level contact information is key, as fascinating Harvard research has shown you need to connect with companies ahead of your competitors to win much more of the deals.
Fundz lets you do all of this and with some of the most promising future companies, right after they've raised funding. For only $10/month, this is a must have platform for anyone looking to win deals with startups.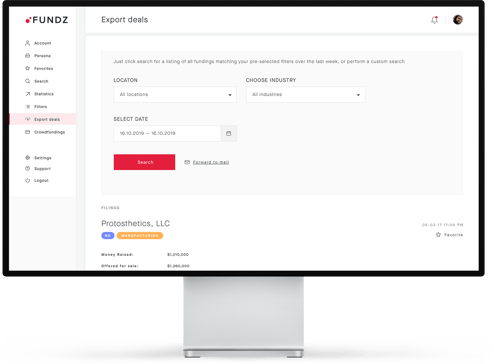 B2B Sales Leads Database: Adapt
The best part about Adapt is the way it integrates into LinkedIn and finds the associated email. The chrome extension provides quick and immediate access to contact information. The pricing model is also well suited for individuals and small businesses.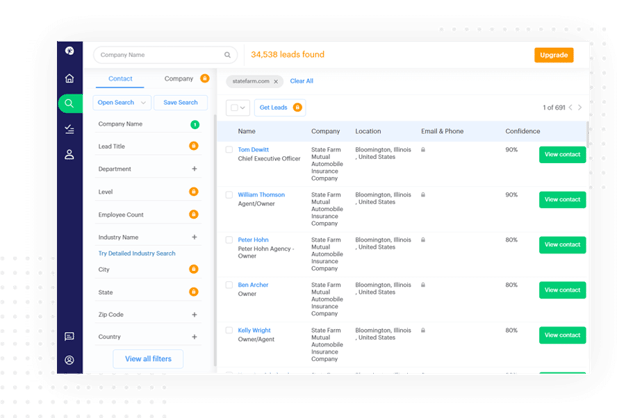 Our choice for the best sales leads database to find and be able to connect with the one to one relationships you want is LinkedIn Sales Navigator. LinkedIn is the standard and most widely used business relationship platform. Navigator lets you tap into this huge network with advanced filters for leads and accounts, plus the ability to send one-on-one messages. For finding and following the people and companies you need with data you can trust - since its updated by these entities - LinkedIn Sales Navigator is the place to go.
LinkedIn's defacto status as a networking tool for professionals allows you to receive more updates on job changes for companies and contacts you care about than anywhere else on the web. With now over 500 million members, there is no company close for monitoring this sales trigger event. The drawback for Sales Navigator is very limited mass outreach capabilities and lack of list exporting.

B2B Sales Leads Database: Uplead
An up and coming much smaller competitor to ZoomInfo is Uplead. The company has a contact database with 46 million contacts and 45 million companies. Uplead has strong data accuracy and attractive pricing, though the size of the database and breadth of data points is smaller than the others. With month to month plans without a contract or annual commitment, Uplead offers a strong alternative that is ideal for very small businesses or companies new to sales intelligence.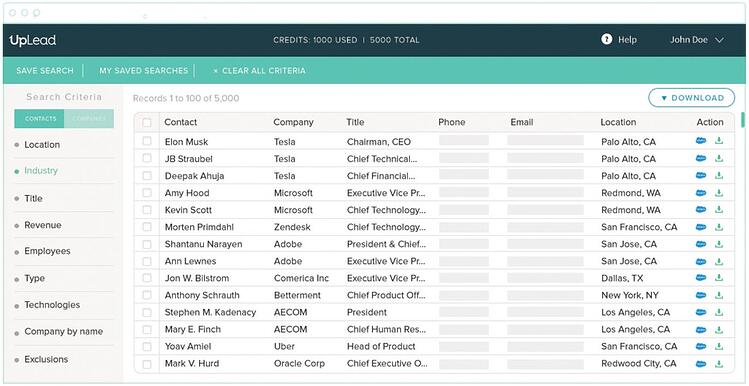 Provides real-time data and intelligence from 40,000+ sources. Not inexpensive, but once again, the detailed information available, overall user satisfaction ratings and easy integration with multiple CRMs make this a leading b2b sales leads database.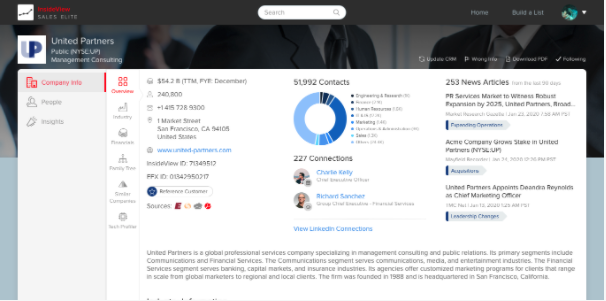 B2B Sales Leads Database: ZoomInfo
ZoomInfo made a name for itself by selling access to its growing database of contacts, which is now over 100 million. ZoomInfo is now one of the most widely adopted b2b sales leads databases. It grew its database by its proprietary web crawler. ZoomInfo makes it easy to prospect at scale and has added features such as org charts and projects, pulling intent signals from across a variety of sources directly into the platform. ZoomInfo was acquired by DiscoverOrg in 2019.

Cognism's global database has 400 million business profiles and 10 million companies. It also allows you to access Europe's largest b2b contact dataset. Combined with updated company, people and event data, Prospector helps you to contact the right person at the right time. While higher priced that many alternatives, the support, technology and updated trigger event date consistently deliver strong ratings.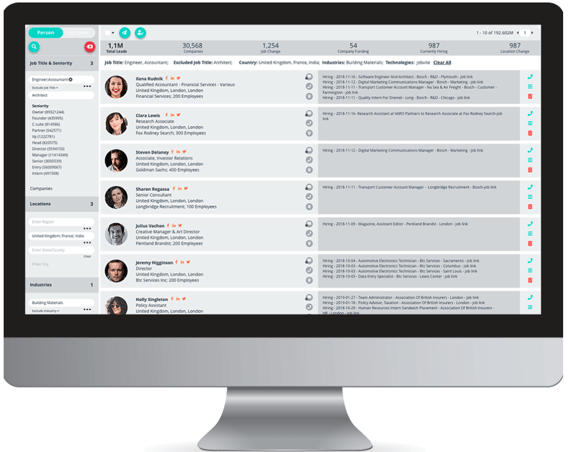 B2B Sales Leads Database: DiscoverOrg
DiscoverOrg is a cut above when it comes to data accuracy, organizational charting, detailed account information and sales intelligence. Indeed, the company distinguished itself in the industry early on for both the accuracy and the breadth of data it collected on both contacts and accounts. While subscriptions are not inexpensive starting at around $25k a year, what LinkedIn does for one-on-one relationship building, DiscoverOrg does for prospecting for b2b sales leads at scale, particularly with enterprise level accounts.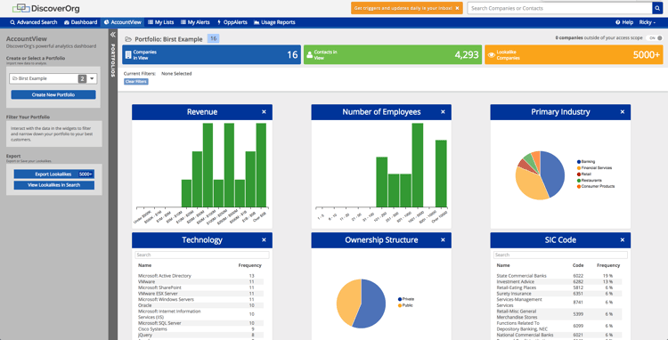 Our Quickly Growing Customer Base
Fundz has customers around the world, from small startups to professionals at leading organizations, such as: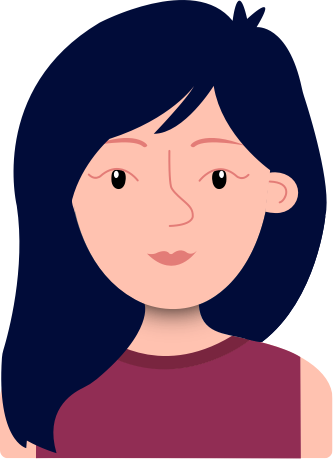 Fundz is terrific. It allows me to keep updated on new fundings from anywhere via Chrome extension! It provides me with valuable information that I have used in my sales process and helped me close more deals!
Julie R.
Fundz is amazing because I can save and filter territory-appropriate alerts so that I'm not wasting my time looking at funding outside of my region. This thing is awesome!!
Kristen K.
I'm really enjoying Fundz so far, and it's been exactly what I've been looking for in terms of finding startups with funding. Every other source is just incredibly expensive. I've already found a list of great companies to prospect using Fundz.
Josh Y.
You folks have a great service and provide it for a fantastic price!
Jen C.