The Best B2B Sales Leads Database
Never miss a sales opportunity. Fundz Pro customers get access to a database of all startup fundings in the U.S. with real-time alerts, search, exporting & contact info. Learn More.
Most B2B professionals ultimately leverage a variety of data sources to find b2b sales leads. Rightly so, there is no solution that provides the best of all worlds, so multiple data sources are required to drive the best results for most people.
In terms of sales leads databases, there are many to choose from, though with recent mergers and acquisitions, the field has narrowed quite a bit among the top contenders. Some sales leads databases mainly provide new contact and company data by providing a license to their database; others provide mainly enrichment to some data you already have and still others provide a combination of both.
In this guide, we'll review our choices for the best overall sales lead databases, along with the best sales lead databases for sales trigger events.


Best Overall B2B Sales Leads Database
The Best B2B Sales Leads Database Overall: LinkedIn Sales Navigator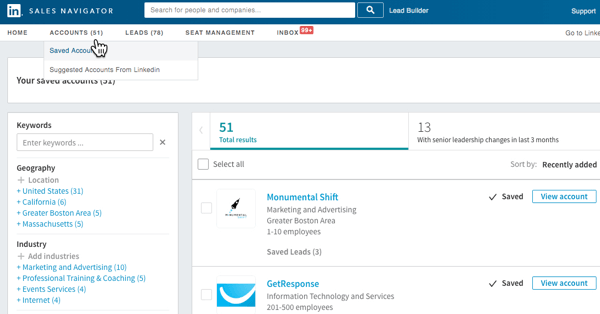 Our choice for the best overall B2B sales lead database is LinkedIn Sales Navigator. LinkedIn is the standard and most widely used business relationship platform. Navigator lets you tap into this huge network with advanced filters for leads and accounts, plus the ability to send one-on-one messages. For finding and following the people and companies you need with data you can trust - since its updated by these entities - LinkedIn Sales Navigator is the place to go.
However, there are some major limitations to LinkedIn Sales Navigator and that is because its really just made for finding and following the leads and accounts you want, then one on one outreach.
For example, you can't export the lead and account information you need and you are limited to the information provided by the person or company. Thus, while an amazing tool to find and follow accounts and leads, keeping track of changes and making the relationships you want, other sources are necessary for any type of mass campaigns and to supplement information not provided by the person or company.
The Best Sales Leads Database For Running Campaigns: ZoomInfo & DiscoverOrg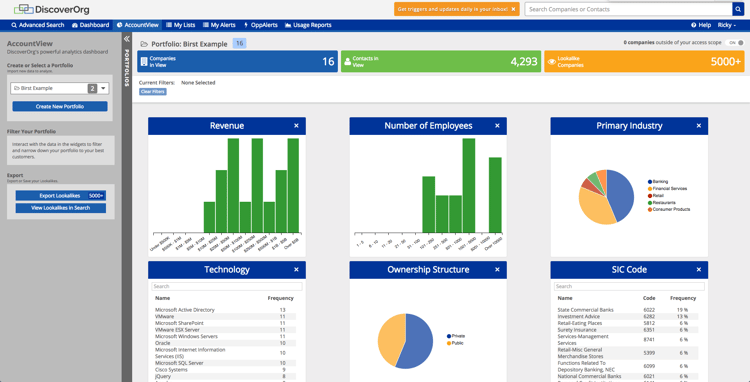 With the 2019 merger of two of the leading players, ZoomInfo/DiscoverOrg take second place. While LinkedIn is the best for filtering for the connections you want to make, DiscoverOrg/ZoomInfo provides the supplemental data, exporting, tools and integrations needed to get a broader view of people and accounts and then run mass campaigns from the data.

ZoomInfo made a name for itself by selling access to its growing database of contacts, which is now over 100 million. It grew this list by its proprietary web crawler. DiscoverOrg distinguished itself by the accuracy and breadth of its data. Realizing that leveraging technology alone couldn't solve the need for more accurate and complete data, DiscoverOrg has a team of researchers for quality assurance.

Today, the two companies are in the process of creating a combined database which leverages the strengths of each platform. Until then, the ZoomInfo an DiscoverOrg are both strong b2b sales leads databases, with the latter a more expensive and broader data set, ideal for account based marketing.
The Best Alternative Sales Leads Database: Clearbit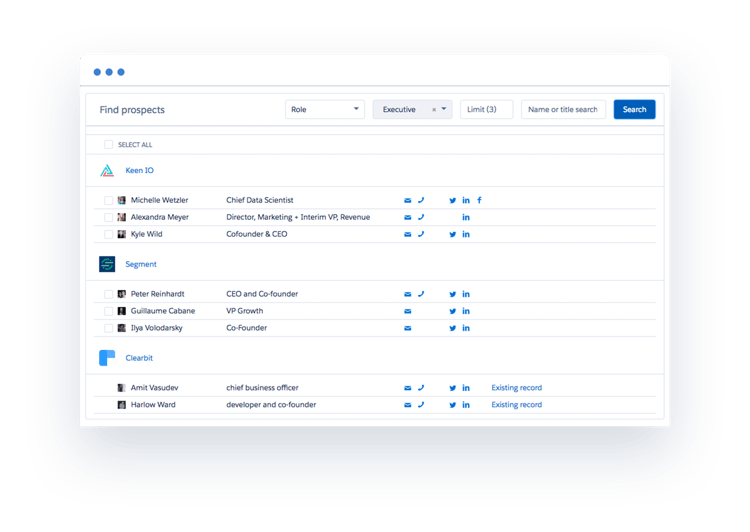 With access to over 200 million contacts, Clearbit combines over 250 public and private data sources and acquires business intelligence from social presence, company websites, legal filings, crowdsourcing and other sources. You can search over 20 million companies and 200 million contacts to easily build targeted account lists. Clearbit is noted for its intuitive UI, integrations with databases like Salesforce and its Chrome extension.
The Second Best Alternative Sales Leads Database: Uplead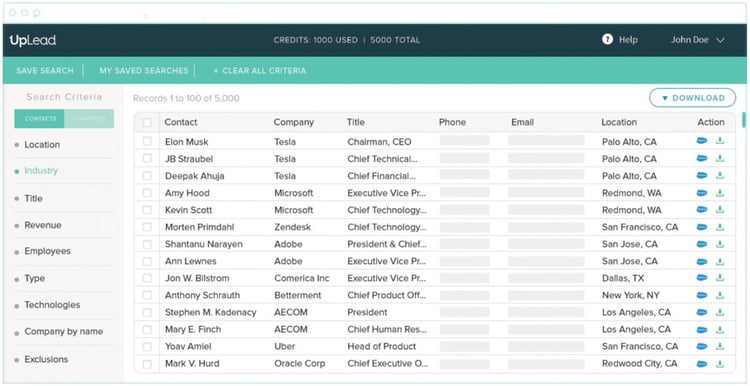 An up and coming much smaller competitor is Uplead. The company has a contact database with 46 million contacts and 45 million companies. Uplead has strong data accuracy and attractive pricing, though the size and breadth of the database is smaller than the others. With month to month plans without contract or annual commitment, Uplead offers a strong alternative that is ideal of small businesses or companies new to sales intelligence.

Best Sales Lead Databases For Sales Trigger Events
The Best Sales Leads Database for Connecting with Just Funded Startups: Fundz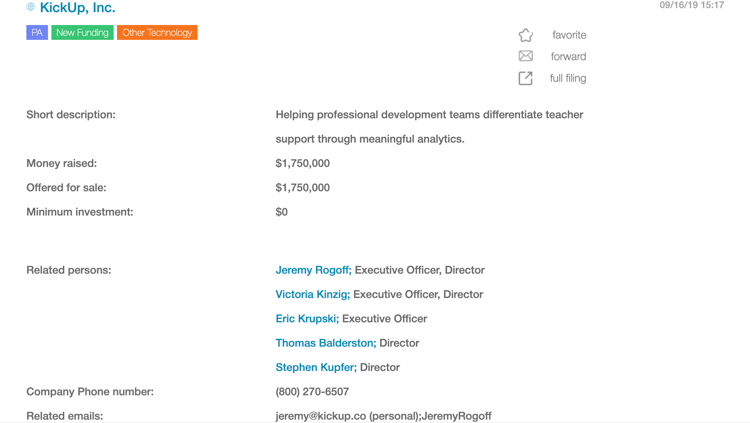 If you're part of a company that sells to startups, you probably already know that finding a database of startups with accurate information on the companies and any associated contacts can be quite a challenge. This is due to the transient nature of startups and the often rapid change in personnel.

Fundz has just one kind of company in their database - companies in the U.S. that received funding from outside investors. By focusing here, Fundz' database is not only comprised of some of the most promising startups in the U.S., but the database is more lasting than a typical databases of startups, since investors have scrutinized and invested in these companies. In addition, Fundz pulls most of its company and contact information directly from a company's own filing with the SEC, an agency of the U.S. government - so you know when its filed, it is accurate information.

Finally, Fundz then looks up domain and email contact info and adds in this information when its able to be verified, often making Fundz the first and only place you'll find contact info for startups that just filed about a new funding they received. You can get access to Fundz' database through a Fundz Pro Subscription or through the Fundz API.
While Fundz' much more expensive competitors will sometimes have more supplemental information associated with the higher profile fundings, for many small startup fundings, this information is simply not available. Instead, Fundz focuses on serving up all the startup fundings in real-time as they happen, with an amazing Chrome extension which comes in super handy. Thus, Fundz provides customers the ability to be notified and connect first with just funded startups matching their filters, which Harvard & Berkeley research has shown to be critical to winning more deals.
All of this combined with exceptional pricing (just $10/mo., no commitment) make Fundz a great tool for anyone looking to win business with startups.
The Best Sales Leads Database for Targeting Job Changes: LinkedIn Sales Navigator

LinkedIn's defacto status as a networking tool for professionals allows you to receive more updates on job changes for companies and contacts you care about than anywhere else on the web. With now over 500 million members, there is no company close for monitoring this sales trigger event.

The Best Sales Leads Database for Uncovering Companies Undergoing New Projects: ZoomInfo

ZoomInfo researchers regularly uncover hundreds of projects happening across all industries and classifications throughout the country. The company pulls intent signals from across a variety of sources directly into the platform.