B2B Sales Leads 2023: Best Ways to Generate More Leads
Table of Contents
How to Generate B2B Sales Leads from Sales Trigger Events
Instead of reaching out to companies and hoping that they have both the need and the budget to purchase to what you are offering, a much smarter strategy is to reach out to a database of target companies that have a higher likelihood of having both the intent and budget to be able to purchase what you are offering.
For sure, B2B lead generation targeting companies that have undergone a recent business trigger event, such as receiving a new round of funding or that were part of an acquisition, is a well proven approach to secure new customers. These are limited windows of time when new budgets are assigned and new strategies are created.
However, until recently, doing this at scale and being able to connect ahead of everyone else was very inefficient. All existing platforms were created more for top down company or contact research vs. event first prospecting, or they lacked key contact information integrated with the funding information.
Now there is a much better alternative. Fundz combines the industry's fastest, real-time reporting of new fundings, acquisitions & executive hiring, customized to your filters & integrated with executive contacts. This combination provides a compelling competitive advantage for customers to connect ahead of their competitors with the right company at the right time. Harvard & Berkeley researchers have shown connecting ahead of your competitors significantly tilts the odds in your favor to win the business.
Fundz is also the only platform with real-time chrome extension alerts, which is a huge advantage over any other platform. Best of all, you can get Fundz for just $15/month with an annual subscription, half the cost of the closest competitor and including executive contacts. Choose Fundz Pro for exports to CSV, Salesforce & HubSpot CRM integration.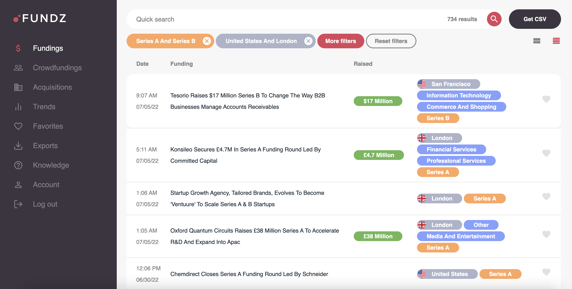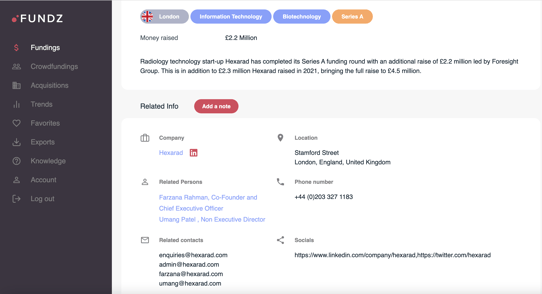 What is a B2B Sales Lead?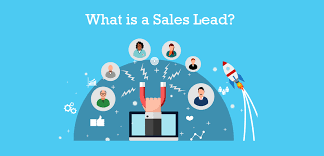 In addition to wondering how do you get B2B sales leads, you may first be curious as to what a B2B sales lead actually is. It's quite simple - business to business, or B2B sales leads, are contacts or companies that might be interested in purchasing your company's products or services, based on one or more predefined characteristics.
Business leads can be broken into two types - sales qualified leads and unqualified leads.
A sales qualified lead has shown near-term interest in buying your product or service and has undergone some qualification. Unqualified leads could be a good fit, but still need to vetted by a member of your sales team or an outside lead generation company.
There are many ways to generate more b2b sales leads and many b2b sales channels. Another approach is to leverage outsourced sales teams. In this guide, we'll cover some common concepts and ideas related to b2b sales leads and lead generation, as well as tips and advice related to lead generation and b2b sales in 2023.
What is B2B Lead Generation?
As described by HubSpot, lead generation is the process of attracting and converting strangers into persons that have indicated interest in your company's product or service. There are many types of lead generation programs and b2b lead sources. Among other factors, lead generation tactics and strategy will depend on what type of industry or vertical your business is part of. The lead generation process is also something that is quite different for someone in the role of a marketer vs. that of a salesperson. However, in both cases, most effectively obtaining qualified and targeted business leads is usually not an easy task.
In addition to what makes sense for your type of business, factors such as budget, resources & commitment are important to examine. Most successful lead generation campaigns take months or years of iteration to obtain desired results. Beyond b2b lead databases, some of the most common sources to develop b2b sales leads from include current customer referrals, inbound marketing efforts, social media, online ads, email marketing, and networking.
So, while there is no one size fits all answer on how to generate leads, there are quite a number of ways to generate leads that are commonly recommended. Here is a list of the 8 best b2b sales leads databases for 2023.
B2B Lead Generation After COVID-19
While proven B2B lead generation methods will remain as important as ever now and after the crisis is a memory, some things will be changed for a long time, if not permanently and history tells us that the ones that make the right moves now will benefit for years.
For example, Pre COVID-19, a significant amount of lead generation would occur for companies via networking, conferences and other in-person meetings. However, the crisis has impacted millions of people on a deep, personal level and this will follow many into their work lives for years. This means some people will be inclined to indefinitely reduce or limit some traditional venues, (whether as a buyer or seller) previously important for B2B lead generation.
Whether it be a marketer deciding on a webinar vs. physical event, or a salesperson opting to push a Zoom vs. an in-person meeting, there will inevitably be changes that last for a long time. The result: a lasting increase in dependency on digital interactions and processes for b2b lead generation.
Action Step #1 for Marketers:
Double down on your content creation/organic SEO efforts.
Why? Beyond the increased time your customers are spending online vs. in-person meetings, the increased reliance on digital channels for lead generation by marketers around the world means the cost of paid clicks are likely to increase. Now more than ever it is important to improve your brand's organic visibility when people search online. Here are 20 lead generation ideas to get you started.
While total marketing budgets are being cut on an absolute basis, smart marketers are already planning on investing more in organic SEO, see the image below:
Action Step #2 for Marketers:
Invest in the right tech stack.
Why? Easy to use, all-in-one, sales, marketing and customer service technology and will be more important than ever to both reduce friction in the buyer's journey as well to make sure your remote workers are as efficient as possible.
For example, some of the largest technology names have already announced a permanent move to a more remote workforce. Think of how many companies, big and small, will follow their lead. This means more reliance on a seamless, end to end buyers journey. Your marketing, sales and service groups need an all-in-one suite to deliver the most personalized, efficient experience, without depending on face to face interactions either internally or externally.
What is B2B Sales & How To Do it Effectively in 2023
B2B sales is the process of selling products or services to other businesses and there are many types of b2b sales. According to Copper, the five crucial stages of a B2B sales process include:
Lead Generation
Lead Nurturing and Qualification
The First Meeting
Closing the Sale
Retention and Referrals
This ultimate guide to b2b sales provides some great insights and processes for b2b sales reps and these 25 tweetable tips will make you or someone else a better salesperson. In addition, b2b salespeople may want to focus on these three action steps in 2023:
Action Step #1 for B2B Sales Reps in 2023

: Lead with empathy; build stronger trust.

Everyone has been impacted in some way by COVID-19. This means leading with empathy and building trust are more important than ever. Truly understanding a buyer's challenges and goals will help both the customer and you in many ways. First, great sales reps genuinely want to help their customers and don't just care about making a sale. Knowing that you helped another human being is very gratifying and will give you the inspiration and confidence to help others. Truly helping someone in the most powerful way starts by building trust and one way that is established is via active listening.
Action Step #2 for B2B Sales Reps in 2023

: Carefully choose target industries and companies.
Stay on top of which industries have been hit the hardest and which ones are doing better. Practically every company and industry in the world has been impacted in some way. While many have faced severe challenges and had to cut back, other companies are growing stronger now. Both of these scenarios means
change

is happening. B2B sales often happen soon after times of organizational change, arguably making it more important now than ever to connect, assess the situation and try to create a plan with the prospect for next steps.
Action Step #3 for B2B Sales Reps in 2023:
Always be helping.
Even before the crisis hit, B2B sales was already changing. First, successful reps today are much more focused on always be helping than always be closing. The reason for this is twofold. First, smart reps understand b2b buyers have most or all of the information they need to purchase software - often without even talking to them. (If a company isn't transparent about pricing and offerings on the website, buyers will often move to the next vendor.)
Second, with globalization and the ease of creating new businesses via technology improvements, companies can usually find a similar alternative to what their company is offering. So, smart reps realize the customer service they provide along the buyer's journey is more important than ever. During the COVID-19 crisis, sales reps and managers should also consider new b2b sales practices.
Action Step #4 for B2B Sales Reps in 2023:
Prepare for a permanent "new normal" in % time spent working from home.
A recent article from Harvard Business Review estimates 20–30% of workers could end up working from home a meaningful amount, 4 -6 times what it was just a few years ago. This is base on analysis of a consumer pandemic study from The Cambridge Group.
Recent findings from McKinsey show many decision makers will promote these actions:
Remote selling is now the norm and perceived to be effective:

96% of B2B companies have shifted their GTM model during COVID-19; 64% believe the new model is just as effective or more than before (up from 54% in early April)
Sales model changes are expected to stay:

32% are "very likely" to sustain these shifts 12+ months after COVID-19 and another 48% are "somewhat likely" to do so.
B2B Lead Generation Marketing
If you're new to B2B lead generation marketing, one of the more specific differences between B2B sales and B2C sales are the methods of marketing which are most effective. In general, unlike traditional B2C sales, guerrilla marketing doesn't work nearly as effectively for most business to business sales.
Leadership teams don't often just decide to purchase products after seeing a catchy Twitter or Facebook ad. B2B sales are a lot more customer relationship intensive. As a company undertaking lead generation marketing, you'll therefore want to approach businesses that you feel could derive a benefit from your product or service. Persona development is one aspect that is crucial for attracting the right b2b marketing leads.
A key to remember is to establish credibility within your industry, among your target personas. When businesses look to purchase goods from a company, they want to know the firm they are working with is both respected and knowledgeable. Creating valuable content in your field of expertise places authority in your company's name. Become more than just a company – become a resource. Leads will generate themselves if you become the go-to source for information in your niche.
All B2B marketing tactics, strategies and techniques should employ a multi-faceted approach. Regardless of the industry you're in, it's important to utilize as many lead generation ideas and resources as possible that will get your brand found by potential clients.
How To Get Your Content Found in Google in 2023 & Generate B2B Leads
Implementing topic clusters is essential for content marketing success in 2023. Google's algorithm wants to serve up the most accurate and authoritative sources in the top results. This means you need to create a pillar page covering all aspects of a topic, then connect this pillar page to more detailed cluster blog posts/pages.
Once you've create these topic clusters, you then need to build relationships either directly or indirectly with authoritative blogs and websites, so they will link back to the relevant pillar page with appropriate anchor text. Your topic clusters will not rank or will not rank nearly as well if you don't obtain do-follow links from respected, industry related websites. Don't take shortcuts here though - make sure you are obtaining links through methods such as proper guest blogging, from high quality, relevant website or these links could waste a lot of time, money and perhaps even land you a penalty from Google.
Why Is Timing So Important in B2B Sales?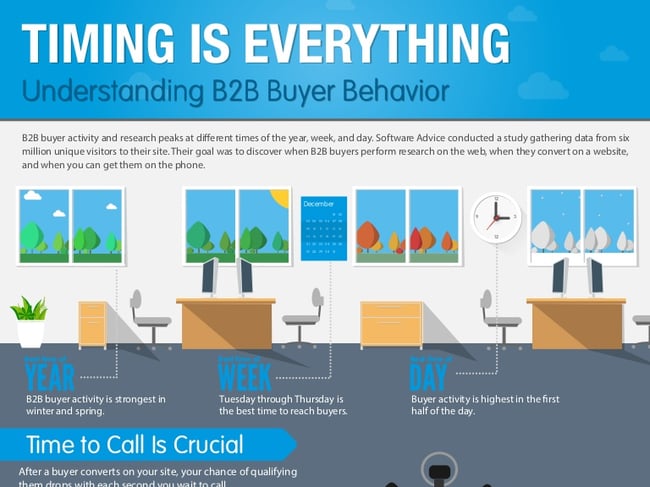 Timing is critical when it comes to B2B sales. Beyond the importance of time of year, week and day for buyer activity, consider these statistics:
How to Generate B2B Sales Leads
If you are in b2b sales and don't have much marketing help, there are various ways you can generate your own sales leads.While sales reps consider prospecting the hardest part of the job, leveraging essential tools such as b2b sales leads databases can be a game changer here in
developing and closing some high-quality b2b leads.
If you are new to marketing, it is worth noting that for most businesses, there are three primary ways companies develop leads: organically, through lead generation companies, and through lead generation software. We will expand on each subject below.
Organic B2B Lead Generation
Organic B2B lead generation can come in a variety of forms. Normally, you will organically generate leads by making people aware of your firm and its services.
Companies may then approach you to make inquiries. At this point, you have information on prospective companies and can begin the process of trying to sell them products or services. For example, you may attend an annual industry expo in which various companies come and view a variety of products within your niche. If you have a stand at this expo, you may take down some information from people who have inquired about your products. Each one of these companies is then a sales lead which you follow up on through your sales team.
Other forms of organic generation are simply referrals from other clients or a company inquiring after seeing a traditional advertisement you have placed in a publication or online. You may even do intensive research within your firm to find companies that are viable clients. Contacting them through calls, emails, or other forms of communication is considered generating a sales lead.
Organic Search Engine Optimization or SEO, refers to the process of strategically creating website content, then optimizing this content to be found in search engines, through both on-page and off-page SEO efforts. The top five results for a search get 67% of all clicks.
B2B Lead Generation Companies
Although companies have focused purely on organic lead generation in the past, companies of the modern era have the benefit of various lead generation companies. So, what lead generation services do they offer?
A lead generation business oR B2B lead provider is a firm that helps find and qualify B2B leads. They take the hassle out of finding leads and provide some level of qualification. The better lead generation companies do extensive research into specific industries to help companies find perfect targets to approach. They should have insight into your industry or vertical, to helps them pinpoint, connect with and qualify appointments for you.
Here are lists of top lead generation companies from Clutch & QuickSpout.
B2B Lead Generation Software
Recently, comprehensive lead generation software has also emerged. These lead generation tools don't just help you find sales leads, they help you nurture them from start to finish and even turn customers into promoters. Indeed, they are a complete lead generation system. This technology advancement has been monumental in revolutionizing the way companies approach relationships with prospective buyers and customers.
HubSpot is the best rated all-in-one marketing, sales & service platform. Through platforms like HubSpot, organizations able to leverage an all-in-one, inbound marketing approach.
Related Resources
How Startups Can Generate More B2B Leads with ChatGPT
8 Best B2B Sales Leads Databases for 2023
17 Best Lead Generation Tools for Marketers in 2020
B2B Sales Leads: The 32 Best Ways to Generate More Leads
Top 30 Proven Techniques to Generate B2B Sales Leads in 2020
How to Generate More B2B Sales Leads for Your Sales Team
21 Evergreen Ways to Generate More B2B Sales Leads
B2B Lead Generation: How Will COVID-19 Change The Playbook?
How to Generate B2B Sales Leads for IT Services
The Ultimate Guide to B2B Marketing in 2020
The Ultimate Guide to Sales Prospecting
G2 Crowd Best Marketing Automation Software
G2 Crowd: Best Lead Capture Software
G2 Crowd: Best Lead Intelligence Software
G2 Crowd: Best Lead Mining Software
G2 Crowd: Best Lead Scoring Software
References
Three Behavioral Trends Which Will Reshape Our Post-Covid World, Harvard Business Review
Survey: Global B2B Decision-Maker Response to COVID-19 Crisis, McKinsey
The Kids Are NOT Alright: Winning With Millenials During and After COVID-19, The Cambridge Group
New B2B Sales Practices to Adopt in the Middle of a Global Crisis, Forbes
A Beginners Guide to Generating Leads the Inbound Way, HubSpot
20 Lead Generation Strategies and Ideas That Brought Us 200,00 Leads, Close.io
Guest Blogging for SEO, Ahrefs
10 Bad Links That Can Get You Penalized by Google, Search Engine Journal
A Straightforward Guide to B2B Lead Generation, Entrepreneur
How to Generate More Leads for Your Sales Team, HubSpot
SEO Made Simple, a Step-By-Step Guide for 2020, Neil Patel
2019 Sales Study, Marc Wayshak
First is Best, Dana R. Carney & Mahzarin R. Banaji
Our Quickly Growing Customer Base
Great product! I got a few sizeable contracts through Fundz, so made a video to recommend your service for my followers.
Caleb Lai, Alphaio
Just wanted to let you know I love the product and leverage Fundz along with the chrome extension every day - love it!
Caroline White - Sales Process & Productivity, Cloudflare
Fundz has been a great tool that I recommend to others.
Tony Mai - Corporate Account Executive, Snowflake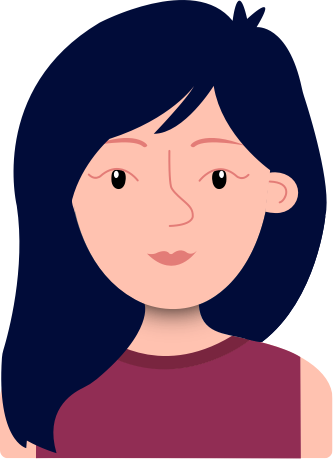 Fundz is terrific. It provides me with valuable information that I have used in my sales process and helped me close more deals!
Julie Rosenberg - Channel Account Manager, HubSpot
Great platform!
Jacob Klister - Account Executive, Oracle NetSuite
"I wanted to thank you and let you know some of my best deals have came from accounts I have found on Fundz! I consistently get new funding updates faster than any other place I've tried."
Bryce Rubin, LinkedIn