Getting into the energy space with oil, gas, and electricity may be a big ask for any startup. When it comes to renewable energy, things are a lot less daunting. With global demand for cheap and sustainable electricity, wind energy startups are becoming increasingly common and evermore successful.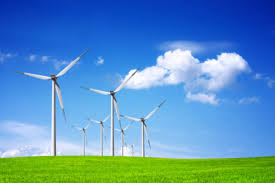 Gone are the days when wind energy was something for the new-age hippy. Today, innovative thinkers are applying technology and business savvy to one of the best-known energy sources on the planet.
Startups are Interested in Wind
According to the US Energy Information Administration, 7.3% of electricity in the US is produced from wind power. Therefore, wind energy is a prime area of startup interest, growth, and funding. With small businesses focusing on niche areas of improving conventional wind generation efficiency, startups in this space are diverse in their operation.
Furthermore, despite the Coronavirus pandemic's impact on both local and global economies, the appetite for investing in renewable energy startups, including wind energy, has not slowed. These examples demonstrate this.
Halo Energy
This Boston based company produces innovative small microturbines that generate power from wind energy. Capitalizing on the demand for energy in remote areas off the grid and in inaccessible locations, this inventive business raised $750,000 of seed capital. The primary investors were SeedInvest and Rainmakers.
Comprising of two members Vincent Loccisano and Charlie Karustis, Halo Energy is implementing its simple yet in-demand wind energy technology. Viable growth is anticipated from a small company with a big idea for a small solution that can impact millions. The company is using the initial seed investment for product development and testing. The company is in the early stages of life will likely be seeking further funding.
Altaeros Energies
Wind Energy has been around for many years. Companies playing in this space today are focused on optimizing energy generation rather than merely generating. New entrants into the industry, such as Altaeros Energies, focus on low-cost wind-generated electricity.
They have seen significant success since their initial funding in 2010. Having raised sums circa $7.5M for various new solutions all in the wind and renewable energy space, the company has been a consistent performer.
Altaeros Energies is remarkable in terms of bringing new products to different markets globally. The company remains small and agile with five team members. They are achieving continuous growth in an industry sector where demand for clean energy will always remain high.
Is investment in Wind Energy Worth it?
Both examples used above are proof that wind energy is a smart investment. As with any investment, there is a degree of risk. While investing in Wind Energy has that risk, it does seem risk-free due to the massive demand for cheaper, cleaner energy. As such, the industry is becoming highly competitive, and it does have a balance of non-starters and overnight successes.
It is the people in these businesses that make the difference between failure and success. It is also about finding the little nuances that make one solution or business better than the other.
So, is it worth it? The answer is yes, and for investors and third-parties who are looking for startups through databases such as Fundz, wind energy could be a very rewarding medium to long-term proposition.
SOURCES
https://www.altaeros.com/about/
Energy Information Administration
https://www.energystartups.org/startup/altaeros/
https://www.seedinvest.com/halo.energy/seed
https://www.eia.gov/tools/faqs/faq.php?id=427&t=3
https://www.power-technology.com/features/five-renewable-startups-getting-funded-despite-coronavirus/