While there are thousands of startup companies in the world, a very small percentage will ultimately reach the status of being called a unicorn. But what exactly is a unicorn startup and what separates them from the pack?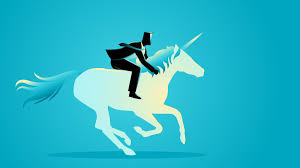 Understanding Startup Unicorns
The term Unicorn traditionally applies to those startups which achieve private valuation of more than $1 billion. These are sometimes secretive and exclusive projects, particularly as they don't have any kind of stock exchange presence.
The term emerged in 2013 after Aileen Lee explained the sheer rarity of high-value software firms starting up. A unicorn is a startup that achieves an incredible private value early on. What's more, there are super unicorns and hectocorns, which are worth even more money.
Lee further explained that unicorns have been emerging since the 1990s. However, few from the past decade have grown beyond the $100 billion mark. Mark Zuckerberg's Facebook, in fact, is a good example of a startup that has evolved far beyond initial expectations.
Recent Examples
Some of the biggest app creators and household gaming names are unicorns. A great example in recent years is AirBnB, the holiday home rental program. Even more interesting in recent days is the emerging startup company Lilium.
Lilium is a German firm that specializes in flying taxis... While driverless taxis and cars are still emerging, flying taxi services appear to have gained enormous investor appeal. Lilium recently became a unicorn thanks to a huge injection from Bailie Gifford.
Bailie Gifford's $35 million investment means that Lilium is now worth more than $1 billion. They will be seeking to build their first flying taxis for release by 2025.
Are Unicorns Becoming Increasingly Common?
As startup innovations become more interesting and increasingly invested in the greater good, we could be seeing more unicorns emerge in the wild. That said, statistics show that there may only be as many as 400 companies with this status right now.
The highest-valued unicorns operating now include Uber, the ride-sharing app, SpaceX, Elon Musk's pioneering intergalactic research brand, and Epic Games, creators of Fortnite. Therefore, it is clear to see that the biggest and strongest unicorns are those with Earth-shattering concepts and ideas.
Tech startups are, perhaps, more likely to have unicorn status in their sights than most. However, becoming a unicorn could be a one in a million opportunity.
Key Ways for a Startup Company to Become a Unicorn
However, there are a few steps and crucial behaviors which drove leading unicorns to their high-value status. The core to all of them is intensive research, and persistence to move ahead. Unicorns in the tech industry, for example, must grow as quickly as technology evolves around them.
They must also be precise in their demographic-seeking. The most influential unicorns are those which fit tightly into some of the most appealing niches. To get this far, you're going to need to intensively research the markets you intend to reach.
On the way, investors and stakeholders of startup companies may reach out to each other through databases such as Fundz. Finding that first investor is vital. However, growing the brand and the concept quickly, and precisely, is even more crucial to unicorn success.
SOURCES
https://www.rocketspace.com/tech-startups/how-to-become-a-startup-unicorn-in-4-steps#
https://www.statista.com/statistics/407888/ranking-of-highest-valued-startup-companies-worldwide/
https://www.inacademy.eu/blog/whats-a-unicorn-startup-company/
https://www.forbes.com/sites/amyfeldman/2020/05/28/next-billion-dollar-startups-2020/#6a2a86513f9f
https://www.ig.com/en/news-and-trade-ideas/what-are-the-world-s-unicorn-companies--200415
https://www.investopedia.com/terms/u/unicorn.asp