Virtual reality, or VR, is nothing new. However, modern technology is making it more accessible at home, work, and during play. What are innovative startups doing to work VR to their advantage, and what can we expect from them across 2021 and beyond?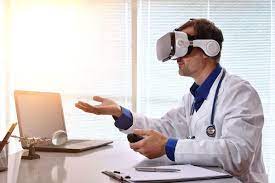 Virtual Reality: More Than a Fad
It's easy to forgive people without VR experience to think it is all still a 'fad.' However, virtual reality has grown massively since the 1980s and 1990s. Along the way, concepts such as AR (augmented reality) have grown popular, too.
However, we need to consider the growth potential for VR in general. Simulated experiences are predicted to grow in value from $5 billion today to $12 billion-plus by mid-decade. VR seeps into the mainstream both through console games and through marketing experiences.
Around six million VR headsets have been sold at the time of writing, up to Q2 of 2021. This is, perhaps, partially thanks to Facebook's adoption of the popular oculus technology. However, it is the founders of VR startups who will push this technology to the next innovative level.
US VR Startups You Need to Watch
We need to consider some of the leading players in modern VR innovation – and VirtualSpaces is a great place to start.
VirtualSpaces is a team of innovators with offices split between Cleveland, OH, and Bangalore, India. Specifically, VirtualSpaces offers real estate investors an immersive depiction of potential property purchases. Taking 3D home visualization one step beyond, VirtualSpaces allows buyers and investors to physically 'walk through' prospective project endgames.
It's a company that is continuing to pick up steam and will certainly be worth watching by the year's end.
Vivid Vision, meanwhile, is a Bay Area firm that brings VR into the healthcare sphere. Worth almost $3 million in funding at Series A, the company produces innovative lazy eye treatments through virtual reality. Eye clinics can use their technology to help diagnose and treat patients through fun, interactive programs.
Most will agree that seeing an eye doctor is more routine than enjoyable. Therefore, Vivid Vision is another VR-focused firm set to gain more momentum by Q4 of 2021.
Niantic is a name in VR innovation many people will likely already recognize. The firm's value went astronomical in 2016 as a result of their Pokémon Go mobile app. This free-to-play game allows users to 'catch' and 'trade' creatures from the popular Nintendo series while walking around.
In 2021, Niantic's most significant success is still riding high, despite social distancing. The company continues to develop real-world AR and recently revealed plans to focus on sustainability.
Could Virtual Reality Ever Go Mainstream?
We are far closer than we have ever been before when it comes to VR going 'fully mainstream.' Niche applications are no longer the only channels for this technology.
Could virtual reality startups make even bigger breaks by mid-decade? Investors can always use online databases (such as Fundz) to find the latest movers and shakers worth watching.
SOURCES
https://www.oberlo.co.uk/blog/virtual-reality-statistics
https://www.statista.com/topics/2532/virtual-reality-vr/
https://www.crunchbase.com/organization/diplopia
https://themanifest.com/virtual-reality/companies
https://blog.hubspot.com/marketing/vr-startups