As you may already know, New York City is a genuine hotbed for startups growing in many spheres. The Bay Area may be leading the chase - but there are plenty of tech startups across NYC worth watching. It was a fantastic year for tech ventures in the city, including the growth of branding agency in New York City, contributing to the success of around 10,000 niche brands. Let's consider why the tech ecosystem in NYC is so burgeoning.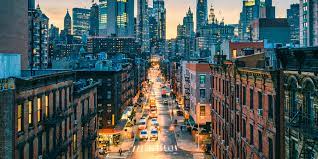 All Eyes on NYC
While Silicon Valley is still the tech startups capital of the world, NYC made considerable strides in 2021. It was a fantastic year for tech ventures in the city. For example, sources suggest that there are around 10,000 brands in the niche.
This past year, big brands making strides for New York include Spring Health and Maven. Both outfits have interested many people thanks to their female-led unicorn statuses. However, they are only two examples of hard-working ventures building up a robust ecosystem here.
With more people retaking notice of the Big Apple in 2021, 2022 promises to be a huge year ahead. Let's examine some ventures you may wish to look out for.
Tech Startups in NYC Making a Stand
Firstly, let's focus on fintech and real estate. Better.com has fast become one of the most prominent NYC home ownership support names. Since setting up in 2016, Better has grown almost 4x its size. The brand primarily helps people find profitable mortgage deals and insurance rates.
Funded to over $900 with 26 different investors on board, Better has grown to employ thousands. It's actively changing how people buy and invest in property with ease. It's all thanks to the fintech boom - and the company being at the edge of innovation when it started.
CommonBond, while running with fewer employees, is another big NYC name to watch in 2022. Already worth more than $1.5 billion in funding, their fintech focus lies in debt solutions. Specifically, it's all about student debt. CommonBond's main aim is to help fund willing students struggling to pay for their education with ease.
Roivant Sciences, meanwhile, will celebrate its 8th year in the trade and is continuing to top tech charts in NYC. Their focus is on biotech, helping to treat patients suffering from complex diseases and conditions. Specifically, they strive to provide top-up research and development for condition areas that may be struggling for aid.
Roivant is skyrocketing - they even have public stock via NASDAQ. A Series B round in November 2021 saw the company earn more than $30 million alone. This pushed them above the elusive $2 billion mark. That's certainly not all, however - as 2022 promises to be an even bigger year for the brand.
What's Next for NYC Tech?
With 2021 being such a massive success for NYC's tech scene, it stands to reason that 2022 should follow suit.
Thus, now may be the time to start researching some of the more intriguing NYC startups. Fundz can help - with a wealth of insight and real-time data.
SOURCES USED
https://www.builtinnyc.com/2021/11/30/nyc-tech-sectors-to-watch-2022
https://thetechtribune.com/10-best-tech-startups-in-nyc/
https://www.thefarmsoho.com/magazine-blog/the-43-hottest-startups-in-nyc/
https://startupstips.com/fintech-startups-in-nyc/
https://annualreport.technyc.org/
Topic: NYC Startups