While plenty of startups succeed without them, accelerators provide a wealth of incredible support. The work of an accelerator is, as you may expect, to help propel ventures forward to success. But on the whole, how does this work?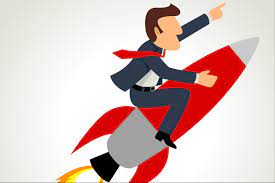 Startups and Accelerators: How They Work Together
Ultimately, accelerators provide entrepreneurs and ventures with lucrative support. This may arrive in the form of funding, mentorships, even access to specific networks. An accelerator effectively headhunts the most promising companies and helps them grow.
Typically, an accelerator will have a stringent set of criteria that companies will need to adhere to. What's more, to get on board an accelerator, founders must expect only limited timeframes for help. This could be months, but it may be even shorter depending on the accelerator.
Accelerators can make money by working with the best startups. They may choose to buy stakes in a company, for example, and then grow the said brand. This, as you can imagine, will result in higher returns for the accelerators.
Crucially, accelerators build up existing firms to help them stride ahead of the competition.
What's the Difference Between Accelerators and Incubators?
The main difference between an accelerator and an incubator lies in the journey stages. You'll likely find that accelerators work with companies and entrepreneurs that are already established. Effectively, an accelerator works on growing what's already there.
An incubator, meanwhile, works to help businesses get off to a great start. They help ensure that their brands and applicants have the best conditions to get to the pre-accelerator stage. Additionally, incubators won't have as stringent timescales or entry requirements as accelerators.
Ergo, a company can travel via incubator before heading to an accumulator. Both may be extremely useful in building and growing enterprises.
Successful Examples of Accelerators
Some of the biggest brands on the planet came to prominence through accelerator programs. What's more, you may have heard of some of the bigger accelerators still supporting smaller companies to this day.
Y Combinator, for example, is likely to be the biggest name in venture acceleration. They trade a healthy cash injection for a relatively small equity exchange. They only selectively work with a few hundred companies each year. However, brands such as Reddit, Dropbox, Twitch and Airbnb have all worked with YC.
TechStars is something of a multi-accelerator brand. The body's seen launches to pull back more than $8 billion worldwide. They dabble in around 50 different accelerators the world over.
Plug and Play, meanwhile, has an impressive portfolio of brands, including PayPal. Plug and Play avoid the equity route, instead focusing on helping others. They've helped to make more than $9 million globally for their firms.
Not all startups need to travel via accelerator. However, it can be a considerable boost to long term growth. The competition is fierce - meaning that innovators really have to be out to impress. VCs and Angels may find ventures heading towards accelerator success via Fundz, too.
SOURCES
https://www.affinity.co/blog/top-accelerators
https://www.nexea.co/5-ways-accelerators-make-money/
https://www.kolabtree.com/blog/top-15-startup-incubators-and-accelerators-worldwide/
https://www.beauhurst.com/blog/what-is-a-startup-accelerator/
https://betaboom.com/blog/best-startup-accelerators/
https://www.techrepublic.com/article/accelerators-vs-incubators-what-startups-need-to-know/
https://masschallenge.org/article/ways-corporations-benefit-from-startup-accelerators
Topic: Startup Companies