Micromobility is quickly becoming a viable solution for helping to reduce congestion and pollution in our cities. Statistics show that, by 2030, 60% of the world's population will live in city settings. With the global population set to tip 8.5 billion by this time, congestion will only keep growing. So – are micromobility startups providing the answer in the US?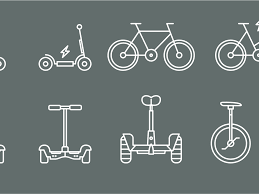 Micromobility's Place in the US
Statistics and research show that micromobility is worth as much as $300 billion in the US by 2030. As a term and concept, micromobility refers to transport that is small, light, yet powerful enough to cover long distances. For example, such transportation or technology might include electric scooters.
It's interesting to see that, already, around 60% of all transport trips in the US take place over fewer than five miles. What's more, with investors putting more than $5.5 billion into the industry, it's clear that micro-transport has a strong future.
Micromobility is a popular concept thanks to its sheer energy-saving potential. Not only that but saving energy, of course, means saving money. This also means cutting back on hassle and time expenditure too.
Which US Startups Are Helping to Make Modern Micromobility a Reality?
To better understand the place of micromobility in modern US society, we need to look at startups hoping to change the game.
We can hardly continue discussing micro-mobility in the US without mentioning Bird. Bird is a unicorn venture that's broken all kinds of records. This company focuses on scooter-sharing, helping to free up traffic on the roads.
Bird is perhaps the benchmark example here for many reasons. In 2017, the company was the quickest in the world to reach unicorn status. That's not just in the niche but across all industries globally.
However, we also need to keep looking to the future. Tortoise is helping to change the game excitingly. They pioneer what's referred to as a hybrid scooter solution. Specifically, they work through teleoperation. It's now entirely possible, too, to arrange a grocery delivery through a Tortoise scooter via remote control.
Lime, too, is a big name that's made significant strides in recent years. This company offers mobile app support for users to find local smart bike resources. Thus, the aim is for everyday people to unlock local EV solutions to help cut down on pollution and congestion.
Are Micro Vehicles the Future?
Should investor support and predicted city living levels be anything to go by, it seems micromobility has a strong future. Innovations in anti-congestion measures are likely to pick up interest for many years to come. But where will technology lead us by 2030? Will innovators look beyond simple scooter and bicycle transport?
There's lots of time for us to find out. In the meantime, investors keen to get into this sphere can consider online company databases such as Fundz. They may find the next prominent micro-transport innovator to partner with for the years to come.
Sources
https://www.cbinsights.com/research/report/micromobility-revolution/
https://www.startus-insights.com/innovators-guide/discover-5-emerging-micromobility-startups/
https://www.smartcitiesdive.com/news/7-mobility-startups-to-watch-in-2021/592206/
https://medium.com/swlh/the-future-of-micromobility-2d4d96d4e2dd
https://www.futurebridge.com/industry/perspectives-mobility/future-outlook-of-micro-mobility/