With around 10 billion business cards printed each year, entrepreneur Giuseppe Milazzo found a sustainable gap in the market. Contapp, one of the few startups tackling this type of wastage, aims to reduce this figure worldwide.
Contapp's main focus lies in digitizing business cards, via app scanner, to reduce paper wastage. It's an innovative digital app shift that Milazzo hopes will go global very soon.
Fundz interviewed the startups' founder to discover more about his brand and the future of Contapp.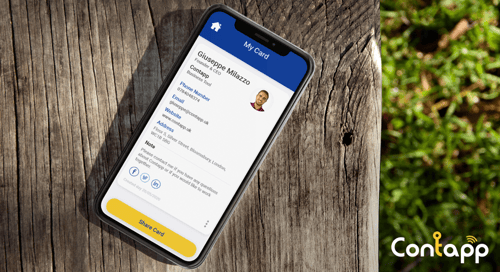 Where Did the Idea for Contapp Come From?
"Paper business cards were the bane of my life," states Milazzo. "I searched for business card scanner apps and found them extremely difficult to use."
"I built a streamlined solution," he continues, referring to Contapp. "Our team has created a user-centric business tool that not only brings added value but is also helping to save the planet."
"88% of the 10 billion business cards printed every year are thrown away within a week. This raises many alarm bells."
Does the Business Have Investors?
"We're a privately owned, limited UK company," Milazzo confirms. "We're proud to be self-funded. Building startups is a marathon, not a sprint."
The founder's focus, therefore, has been on budget discipline, as much as it has been on developing the brand.
"We've proven that strategic planning can lead to comfortable growth."
While around 77% of ventures relying on their savings to fund themselves initially, Contapp is bucking trends by further subsiding on its own wealth.
Is Contapp Growing as Planned?
"Contapp is growing steadily," Milazzo states. "Our user base grows at around 15% per week. Our largest user shares are based in the USA, UK, and India. In fact, they contribute to more than 80% of our iOS and Google Play downloads."
Milazzo is, notably, aware that growth might be slow – but it's steady. "We're taking a more conservative approach than most," he confirms. "We've invested much of our base wealth into ASO and organic growth to get this far."
What Are Contapp's Long-Term Goals?
"The infrastructure is in place for the app to go global," Milazzo states. "We aim to offer an all-in-one business hub, including a CRM for small businesses."
"We'll be expanding language capabilities for our business card scanning features. We are also keen to consider integrations with known, leading businesses."
Ultimately, Milazzo is keen to hear what users have to say to help grow the brand. "Our community is at the heart of everything we do."
What Sets Contapp Apart from Other Startups?
63% of people throw business cards away because they feel they no longer serve a purpose. Will Contapp tackle this side of consumer thinking?
"Contapp's contactless approach is hygienic, convenient, and a huge time saver," Milazzo states. "It's going to bring value to business people tired of manually handling and filing conventional business cards."
The appeal of Contapp, therefore, lies in its dual-prong approach. To reduce waste and to increase convenience.
Conclusion
Tech startup companies such as Contapp continue to rethink the way in which we use everyday items. Many startups continue to network through databases such as Fundz to find VC support. Contapp is bold in its self-funding approach – and it will be interesting to see how its innovations progress.
SOURCES
https://www.creditdonkey.com/business-card-statistics.html
https://www.b2bdigicards.com/business-card-statistics-you-may-not-know/