Video streaming has quickly become the global standard for entertainment. While many people still use traditional media, streaming video is quick, convenient, and adaptable. Therefore, it's hardly surprising, so many video streaming startups are making waves. Here are some of the biggest streamers in the sphere.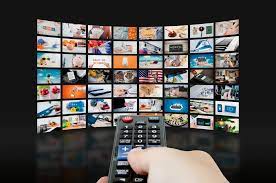 Caffeine
Caffeine pivots as an alternative to services such as Twitch and Instagram. Effectively, it's a streamlined platform that allows creators to easily stream their content live on-demand.
While there may be some market saturation, Caffeine has already made $146 million, plus, since its founding. Focusing on gamers and art lovers, this venture is fast finding a niche thanks to dedicated VCs.
Gotmy
Gotmy offers an intriguing premise to a specific corner of video creation. Specifically, the platform provides monetization to creators showcasing live events and instructionals. These may be group chats, cookalongs, or keynote speeches.
Crucially, with much of this content available through free streamers, monetization is a big draw. It's one of the reasons why Gotmy is still growing in 2021.
Peloton
Peloton is a company that's quickly become a household name. Soon celebrating its tenth anniversary, the fitness streaming service aims to bring gyms home to you. The brand has raced into unicorn status, revolutionizing home fitness across the US.
Peloton is more than just a simple video streaming service. It connects to treadmills and exercise bikes to provide an instructional service. It aims to bring a busy spin class into the relative peace of your lounge or bedroom.
Conviva
Conviva moves away from streaming itself and into analytics. Specifically, the company innovates using artificial intelligence to help gain insights into audience behavior.
Broadcasters and networks unsure about moving into streaming may worry about the shift from traditional TV. Advertising, metrics, and viewerships are wildly different from streaming standpoints.
Conviva, therefore, works with big brands such as Cisco and HBO Max to develop intelligent analytics. Its main driver is a one-platform approach to streaming profitability.
CuriosityStream
Meanwhile, there will always be startups that continue to innovate purely in content. Boasting more than 16 million regular viewers globally, CuriosityStream has helped remarket documentaries to a streaming audience. Thus far, the project is working, with more than $39 million revenue last year.
CuriosityStream partners with broadcasters such as the BBC to help build its library. Amid concerns that once-traditional documentary channels are veering more towards reality TV markets, CuriosityStream fills a lucrative gap.
What Will Video Streaming Startups Bring Us in the Future?
It is clear that traditional TV and home entertainment media are now predominantly streaming-focused. While many households will still enjoy watching DVDs, the content available through streaming is broader and more convenient to access. Therefore, it will hardly be surprising to see video streaming ventures evolve further in the years to come.
Fundz provides information on a broad cross-section of entertainment and technology startups waiting to breakthrough. Investors keen to 'tune into' video streaming tech may do well to take a close look through!
SOURCES
https://techacute.com/10-biggest-video-streaming-startups/
https://www.forbes.com/sites/ilkerkoksal/2019/11/23/video-streaming-platforms-and-the-benefits-of-cloud/?sh=5600c3002064
https://www.ventureradar.com/startup/video%20streaming
https://en.wikipedia.org/wiki/Caffeine_(service)
https://techcrunch.com/2019/08/27/peloton-files-publicly-for-ipo/
https://en.wikipedia.org/wiki/CuriosityStream
Topic: Startups