Yoga, while an ancient practice, is still seen as a rather modern path to enlightenment. The concepts of yoga and wellness in the west have grown hugely in recent years. These startups across the US make it easier for people to stretch and pose from home, too!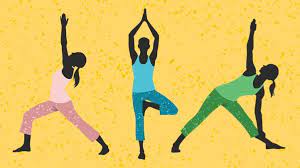 Chakra 5 - LA-based Yoga
Chakra 5 is an LA-based yoga service started by McKenna Rowe. The service offers mobile yoga - and not necessarily how you might expect. Rowe's enterprise is literally mobile - in that the instructor visits you, not the other way around.
Chakra 5 has several big clients in its roster, such as the Hankey Investment Company. They have even helped to support workplace wellness for brands such as Disney and New Balance.
While app-based practice may still be convenient - and popular - Chakra 5 is helping to reinvent 'workplace yoga'. Groups of employees can bond together over expert-led sessions on-site.
Jade Yoga - Conshohocken Pensilvaynia
Jade Yoga, meanwhile, focuses on the tools we need to practice yoga comfortably on a daily basis. The Conshohocken-based firm has produced mats, props, and even cleaning products since 2000.
The company's roots stretch further back than its inception date, but they continue to look forward. The brand's famous 'buy a mat and plant a tree' program, in particular, is inspiring many customers and investors.
Simple Habit - Beyond Pure Yoga
Moving beyond pure yoga, it is important to consider the growth of meditation apps and services across America. Simple Habit is one of several apps helping people find time to breathe in their otherwise hectic lives.
Worth around $13 million total, and with $10 million sourced at Series A, Simple Habit is growing. As the name suggests, its appeal primarily lies in simplicity. The app provides users with refreshingly easy ways to breathe and relax. The goals, of course, are to help reduce stress, improve overall wellness, and improve quality of sleep!
Playbook
Playbook, meanwhile, supports the experts and yoga masters themselves. This innovative app and marketplace enable content creators to build apps from scratch. Therefore, anyone seeking to get fit or meditate from home can easily access a wealth of different instructions.
Playbook currently boasts more than 250 different wellness gurus and fitness guides. Based in NYC, it's one of several startups that took advantage of a home fitness boom in 2020. Specifically, in October of that year, Series A funding took Playbook from $3 million to $12 million.
What's Next for Yoga and Wellness Startups?
While the world has gone mobile, yoga ventures are thinking more and more outside of just creating apps. Wellness and meditation are important daily checkpoints for many people all over the world. Therefore, it stands to reason that innovators will always seek to make these practices easier. But, what's next?
Keep track of real-time data on wellness and yoga startups via Fundz. This is a sphere that is only ever likely to grow as the years go by. Could the path to true enlightenment be close at hand?
SOURCES USED
https://tracxn.com/d/emerging-startups/fitness-&-wellness-tech-startups-2021
https://www.builtinla.com/2018/10/31/namaste-la-3-startups-bringing-yoga-website-near-you
https://www.zoominfo.com/c/jadeyoga/354448958
https://www.businessnewsdaily.com/759-yoga-businesses-success-stories.html
https://www.entrepreneur.com/article/253007
https://fortune.com/2021/06/06/startup-year-one-the-well-spa-wellness-salon/
https://yourstory.com/2019/06/international-yoga-day-yoga-startups/amp