The way we design and build homes and business premises is constantly changing. Thanks to advancing technology, it's getting easier and easier to bring real estate to life. But, what are some of the more intriguing construction startups focused on tech offering right now?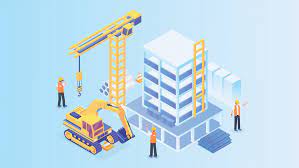 Drone Technology is Helping Construction Topography
Previously, planning and drafting topographical surveys has been extensive and complex. Thanks to startups deploying the latest in drone technology, however, oversight and planning are getting simpler. Drones can launch and scan wide areas to collect live visual data for careful public planning.
Companies such as DroneDeploy, for example, work hard to provide flexible technology across broad uses and needs. The San Fransisco firm's $142 million in funding stretches into industries as diverse as mining and agriculture, too.
Drones get up into the air to take detailed topographical surveys without human error. There is also zero need for expensive and extensive human support.
Artificial Intelligence is Helping Us Plan Ahead
Artificial intelligence, or AI, is emerging rapidly across a variety of spheres and industries. This is all the more so in construction, for example. AI is helping construction experts and firms to automate and manage their workflows and map out previous strategies. Crucially, machine learning is helping construction teams to manage their supplies and safety levels.
Ventures in this sphere in the US include the likes of Indus.ai, another San Francisco innovator. This company primarily revolves around the deployment of IP camera technology. From here, the AI service actively recognizes and organizes real-time control for users to manage.
AI and machine learning are fantastic resources in construction where data and project handling is large and complex. Time is tight - and human error, too, can result in additional costs and stresses.
3D Printing Changes the Game Completely
3D printing is helping to change the game massively as far as resources and materials are concerned. Construction firms previously needed to reach out for specialist parts and resources - 3D printing removes this completely. It's now possible for construction teams to design and print what they need on-site.
This effectively cuts down time and expense across the board. Teams working to tight deadlines can now produce what they need to get started under their own steam. That's excellent news for both large-scale real estate development as well as for commercial redevelopment and refurbishment.
What's more, 3D printing technology available through innovative ventures is becoming more efficient and more flexible. For example, AI can work hand in hand with 3D printing. Could we be entering an era of automated part and material printing?
Will Startups Change Construction for The Better?
All signs point to the fact that modern construction is set to scale up and improve as years go by. Whether artificial intelligence, 3D printing, or otherwise, construction is set to get more efficient and affordable.
Take a look into real-time data available on startups in the sphere now - Fundz has various options ready for discovery.
SOURCES USED
https://www.procrewschedule.com/12-tech-startups-powering-construction-site-with-artificial-intelligence-ai/
https://tracxn.com/explore/Drones-Startups-in-United-States
https://www.bigrentz.com/blog/construction-trends
https://constructionexec.com/article/the-2021-top-construction-technology-firms
https://www.devicemagic.com/blog/6-types-of-construction-technology-you-will-use-in-the-future/
Topic: Construction Startups