When someone decides to start a business, one of the first things they think about is investment. There is nothing wrong with this, but many Startups choose not to go down that route. Many successful companies have started out lean and grown through cashflow.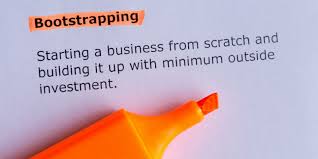 Businesses that do this are often referred to as Bootstrapped, and there are many benefits in working this way.
The Downside of a Bootstrapped Startup
Before looking at why Bootstrapping a new business is a good thing, here are a few weaknesses in the process.
Outside investment brings several benefits to the table for a new business. Going the self-funded route can deny a company of professional expertise. That can cause an entrepreneur to have concerns about growth, business success, and sustainability.
Furthermore, the bootstrapped approach is often hard work. However, all things considered, if you are confident in your business, abilities and have access to a small amount of money to sustain yourself, there should be no worry.
The Freedom of a Bootstrapped Company
Having decided not to take on an investor or debt and gone it alone, there are many benefits to bring a bootstrapped new business.
Firstly, you remain in control, and the company is yours; this lets you make the decisions plot a course. Because you are in charge and you want to succeed, you have to make things work. Things may be a little slower, but anything done is done so with meticulous care and oversight.
Those who found success relying on themselves claim they feel a tremendous amount of achievement with no regrets.
MailChimp: A Bootstrapped Success
One of the best-known names in email marketing, Mailchimp, was a Bootstrapped Startup. Founded by Ben Chestnut in 2001, the company was profitable from day one.
Entering a relatively new market with limited competition, its simple annuity model created strong cashflow. Having developed a system on easy to use yet powerful technology, the company grew fast.
Today the company has recently turned over $700 Million (2019) and remains free of investors. Mailchimp has made several acquisitions in the last few years, notably Reaction Commerce for $16.1M.
SparkFun Electronics: Bootstrapped Geekiness
As online retailers go, SparkFun Electronics is, specialist and niche. It is not a company everyone has heard of, but this Bootstrapped business has become the leading online source for circuit boards.
Founded in 2003 by Nathan Seidle, he saw a gap in the market for hobbyists looking to buy hard to get circuit boards and hardware tech. SparkFun electronics was started and appealed to those interested all over the United States. Sales snowballed from the outset, and today the company achieves sales in excess of $30 million each year.
Selling to Bootstrapped vs. Funded Startups
While bootstrapped companies may make admirable success stories, selling to this group is often not an easy task, as by they certainly must be much more careful with expenses.
Funded startups, on the other hand, have relinquished some control and freedom to grow quickly and therefore by definition, have some available resources to help grow the business.
A database of funded startups, such as Fundz, is a powerful tool in anyone's hands looking to market to this latter group.
Sources
https://techcrunch.com/2019/05/13/mailchimps-ben-chestnut-on-bootstrapping-a-startup-to-700m-in-revenue/
https://www.sparkfun.com/about_sparkfun
https://www.uschamber.com/co/run/business-financing/bootstrapping-success-startups