Aquaculture is, at its simplest, all about fishing. It is effectively the farming of aquatic creatures and thus feeding the wider populace. However, aquaculture is under significant strain due to never-ending demand. What are startups doing to help make the industry more sustainable and profitable?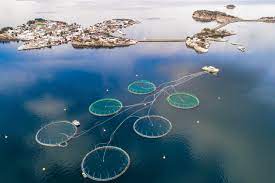 What Do Aquaculture Startups Do?
Startups in the aquaculture sphere are concerned with the entire fish-to-consumer cycle. Some ventures may strive to make fish production healthier by fighting common diseases. Others, meanwhile, may use artificial intelligence to help ascertain how sustainable specific fishing processes are.
The market for fishing in the US alone has been growing steadily again since a bounce in 2017. Statistics show that, post-2020, there has been sizeable industry growth of up to $500 million nationwide. The industry is heading back towards its peak of $11 billion in 2011, but there are set to be challenges along the way.
Whether it's a case of relieving pressure or enhancing nutrition, innovators in this sphere work in and out of water. The global fishing industry is enormous - and, by and large, individual fisheries need extensive support.
Innovators Working to Change the Industry
Let's consider a handful of aquaculture ventures striving to make matters more efficient. What are fish farming engineers doing to change the game?
Firstly, NovoNutrients is a US-based enterprise working to provide healthier food to fish we consume. The company offers sustainable solutions to provide food without carbon emissions. Effectively, the company creates protein for aquatic life from waste resources. Therefore, the impact of animal waste on the environment is minimized.
NovoNutrients made $9.3 million in the latest funding round, with 12 investors backing thus far. This impressive total is after just four years of innovation led by the California creators.
Molear, meanwhile, is working to help improve water quality and make food production more sustainable. Founded in 2016, the company operates mainly in nanobubbles. In fact, the CA venture secured $9 million alone for nanobubble innovation in summer 2021. Its thousands of installations work to help make water healthier for fish, and therefore for consumers, too.
VakSea, further to the health angle, protects fish against specific diseases and conditions. Specifically, the company produces an oral protein that can help prevent aquatic life from illness.
Based in Maryland, the Baltimore insect technology firm recently claimed $40,000 at pre-seed. They are only at the start of their journey to helping keep fish, and therefore people, healthy.
Aquatic Angles Worth Watching
Billions of people worldwide are dependent on global fishing innovations. Unfortunately, it is an industry under considerable strain. Therefore, it is hardly surprising that venture founders are increasingly popular with food production and shipping giants. The route towards healthier, more efficient aquaculture lies just ahead. The US industry is just starting to bounce back, too.
For more information on potential aquaculture startups, Fundz's real-time data can help. Take a closer look at seabound startups making big splashes right now.
SOURCES USED
https://venturebeat.com/2021/06/14/moleaer-raises-9m-for-nanobubbles-that-enable-sustainable-food-production-and-better-water-treatment/
https://www.statista.com/statistics/1174479/fishing-industry-market-size-us/
https://pitchbook.com/profiles/company/228735-46#overview
https://techmonitor.ai/leadership/innovation/is-aquaculture-sustainable
https://www.nationalgeographic.com/foodfeatures/aquaculture/
https://www.asc-aqua.org/aquaculture-explained/why-is-aquaculture-important/what-is-aquaculture/
https://techcrunch.com/2019/09/05/theres-an-ocean-of-opportunity-for-startups-targeting-the-seafood-industry/
https://agfundernews.com/a-guide-to-seafood-aquaculture-technology-startups-raise-193m-in-2016-but-more-innovation-needed.html
https://thefishsite.com/articles/seven-aquaculture-startups-that-are-set-for-success
https://www.startus-insights.com/innovators-guide/5-top-aquaculture-and-wild-catch-startups-out-of-400-in-fishtech/
https://thefishsite.com/articles/four-aquaculture-startups-to-watch
Topic: Acquaculture Startups