Some of the biggest stars in music got their starts not in a studio but in their bedrooms. Thanks to startups in music technology, self-starting musicians and industry professionals are finding hit-making easier than ever. Let's consider how and why ventures are blazing trails for music in the New 20s.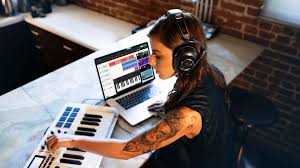 Connectivity and Branding
Success in the music industry is no longer reliant on genre or style. Talent and originality are just as important as connectivity and brand power in the modern age. Successful startups such as Jammcard, for example, are helping to prove this.
Jammcard is a venture with origins in 2017 and operates to the tune of $2 million in funding. It is a professional network for musicians, sometimes referred to as a LinkedIn variant for musicians. Since 2017, it has built up a community of around 10,000 users, with partners as large as Sony reportedly coming into view.
Pex takes technology available to help spread the word of music to another level. This Los Angeles firm uses data indexing to help musicians find where they are playing across the globe. The information helps them to track potential takedown concerns as well as to reach new audiences.
Startups Making Music – and Money
When it comes to actively making music, many small companies are striding ahead, too. Splice is a recent example of a niche app with a userbase explosion in recent times.
The app specializes in providing samples and loops to producers on a subscription basis. The company's model is helping people find samples to work with and supporting sample creators. Effectively, it breaks down problems where loop creators may lose access to royalties and rights in the music-making wilds.
SongClip, too, is a recent discovery that's helping creativity differently. This popular platform allows users to create their memes and messages by sifting through musician databases. Partnered with the likes of Universal Music Group and Sony Music, the brand helps create everyday fun for mobile users. Not just that, but artists and creators get the representation they deserve.
Gold Rush Vinyl, finally, looks at music creation and imprinting in an entirely different way. With there still being a keen market for vinyl records in the New 20s, the company streamlines these traditional singles and LPs' production.
GRV operates on a faster, more environmentally friendly vinyl production system. Data shows it helps listeners find vinyl easier, with production times three times as quick as industry expectations.
The Future in Music
Music will always be a component of our modern culture, in the US and beyond. Music tech startups offering tech innovations and musician rights representation are just the beginning.
Investors looking to change the music game may find the next big thing in a startup database such as Fundz. Knowing where music will go next is not an exact science. However, the innovation potential for listening pleasure is unlimited.
Sources
https://www.linkedin.com/pulse/20-new-musictech-startups-watch-2019-stuart-dredge/
https://dot.la/music-startups-2647008629/particle-2
https://www.complex.com/pigeons-and-planes/2020/04/music-startups-quarantine/resonate-streaming-co-op
https://www.fastcompany.com/90457855/music-most-innovative-companies-2020