The top salespeople spend an average of 6 hours per week on prospecting. It's vital that your team have the right tools to help improve the quality of their work and boost their productivity.
In this guide, we'll look at some of the best sales prospecting tools on the market to help you identify and reach out to the best prospects for your business.
Before committing to any new tool, make sure to test them with a free trial to see if they're suitable for your needs.
Let's dive in.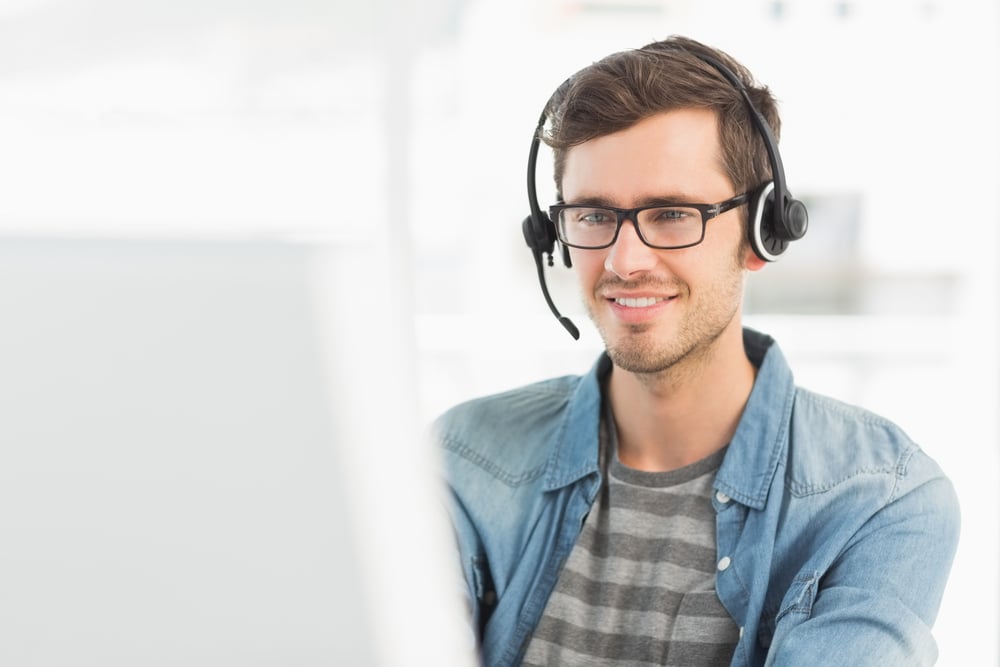 What are Sales Prospecting Tools?
Sales prospecting tools are any tool, software, or platform that helps you improve the quality and efficiency of your process.
With the right tools in place you can build your prospect lists faster, identify more qualified prospects, and send outreach campaigns that get replies.
Why Use Sales Prospecting Tools?
There are prospecting tools that fit into different parts of your sales process.
Some of the options we'll look at can help with:
Identifying qualified prospects at the right time

Sourcing verified email addresses for each prospect

Automating manual sales-related tasks such as syncing data between tools

Sending personalized

cold email outreach
The list goes on, but we've focused our prospecting software recommendations on areas that, once automated, can deliver a high ROI on your time and effort.
Next, let's take a look at the tools.
6 Powerful Sales Prospecting Tools to Level Up Your Sales Process

Fundz is the best way to identify qualified prospects based on significant events in their business, such as new funding rounds, new hires, or acquisitions.
One of the hardest parts about sales is knowing if it's a good time to reach out. With Fundz, you'll immediately know if a company is in a growth phase, suggesting that it will be investing more budget into new products and services.
The platform includes a live feed of companies receiving funding which you can filter by location or funding round. You can click through to each company profile and see contact details for key decision-makers, then automatically add prospects to your Salesforce or HubSpot CRM.
This means you can quickly move from identification to reaching out and starting a conversation with them
Pricing: From $15 per month
Key features:
Real-time updates of companies that just announced funding, are crowdfunding, or hiring new executives

Unlimited exports to CSV to stay organized

Profile view includes contact information and links to company accounts to do further research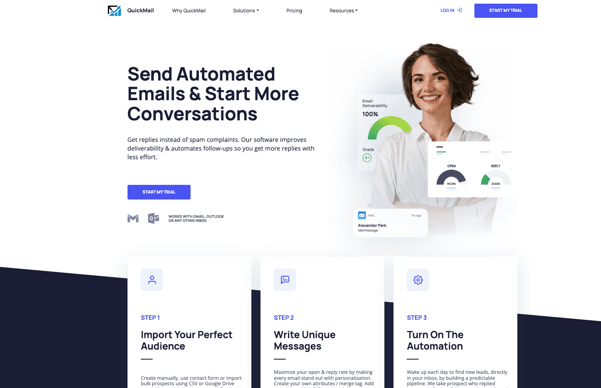 QuickMail is a cold email platform to help sales teams send personalized emails, automatically follow up, and manage campaigns at scale.
Once you import your prospect list, you'll be able to write out personalized email campaigns with multiple follow ups. Each email is personalized based on information from your prospect list, which will ensure your emails stand out in the inbox and that every prospect knows you've done your research into them.
Your team can track every conversation inside QuickMail, saving you from having to switch between QuickMail and your inbox all day.
There's also an automatic email verification system built-in, which will reduce your email bounce rate and improve deliverability.
Pricing: From $49 per month
Key features:
Send personalized

cold emails with automatic follow-ups if prospects don't reply

Detailed analytics to track your open, reply, and click-through rate

Send emails from one or multiple team email inboxes at once

Gong is a sales intelligence tool that improves how you collect information on prospects, allowing you to tailor your sales process to every individual in your pipeline.
Gong connects to other tools in your business, such as your inbox, CRM, cold calling tools, video conferencing platform, and more. It will then use AI to process information from the conversations you're having and make intelligent suggestions about what actions to take next.
For example, if it notices that you haven't mentioned pricing in the last two interactions, it will suggest that you address it early on in the next conversation to avoid your prospect having objections.
You can use the information Gong provides to improve every conversation your team has with prospects and boost your overall sales conversion rate.
Pricing: Custom, based on team size and needs
Key features:
Automatically capture and transcribe customer interactions

Alerts notify you if leads are at risk of losing interest

AI-based sales coaching gives tips on what to bring up or avoid in sales calls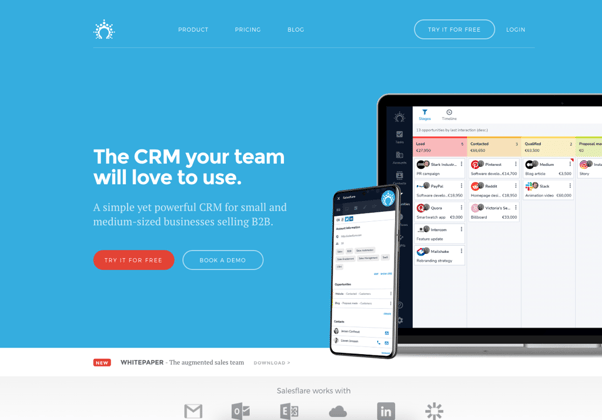 Salesflare is a lead management and CRM platform to help your team track every opportunity in your pipeline.
After you connect it to your sales tools and inbox, it will store your conversations and information on prospects in CRM records. Your emails, calls, and any notes you make will be automatically synced so everyone on your team can easily gather context on any prospect.
There's also a browser extension that allows you to save prospects on LinkedIn directly to Salesflare, helping you avoid the need to switch between multiple tools and platforms while prospecting.
Every sales team needs a CRM, and this is a capable option.
Pricing: From $29 per month
Key features:
Automatically sync data from emails, calls, and LinkedIn with your CRM records

Add details on potential detail size to prospect records so you can forecast revenue

Create custom dashboards to track your deal flow and sales activity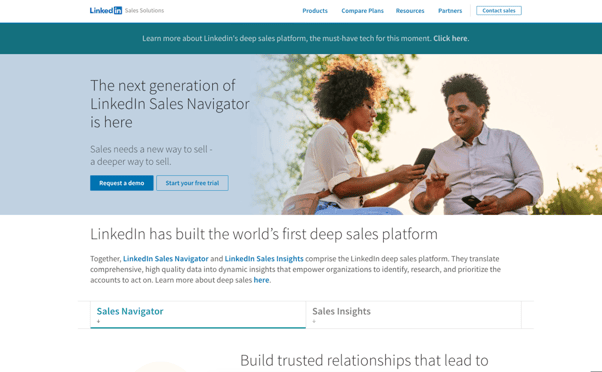 Every sales team knows the power of LinkedIn for prospecting.
Millions of B2B decision-makers use the platform to inform purchase decisions. You can use Sales Navigator to add new functionality to LinkedIn that's perfect for your prospecting needs.
Firstly, you will get access to 40+ advanced search filters to help you narrow down your search for prospects. On top of that, you'll be able to save prospects to lists inside LinkedIn, or export leads directly to your CRM.
When you're ready to start a conversation, you can use InMail messages to reach out to prospects. Data shows that personalized InMail can see a reply rate of 48%, so it's worth testing in your sales team.
Pricing: From $99 per month
Key features:
Monitor qualified prospects with real-time alerts for job changes, posts, or news mentions

Easily identify prospects based on a wide range of criteria

The social media network is used by a large number of B2B professionals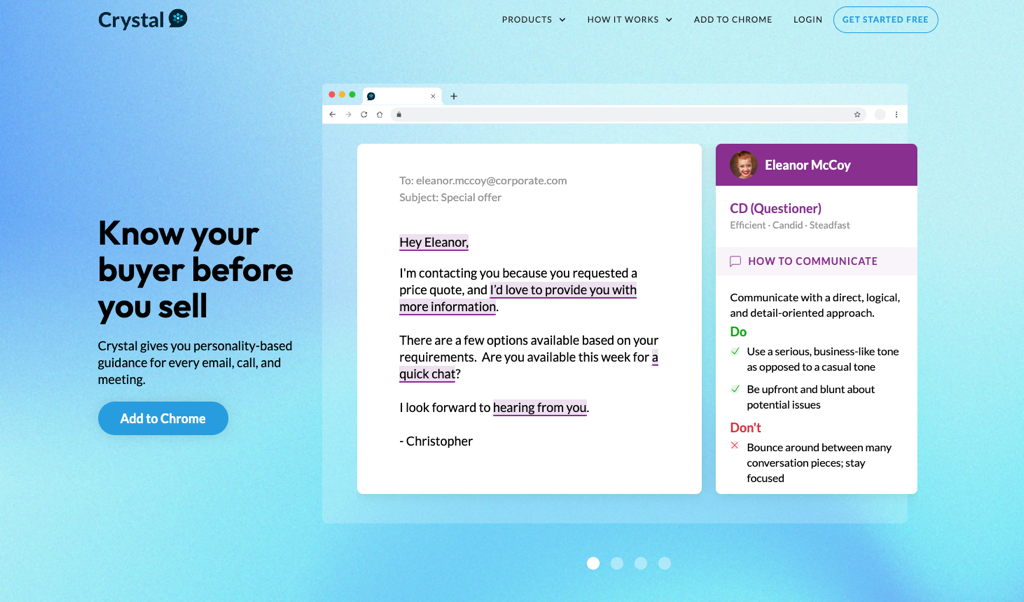 It won't come as a surprise that your prospects receive pitches from other businesses similar to yours. One of the best ways to stand out is by personalizing your outreach more than any other salesperson can.
Crystal is a helpful tool that gives you an advantage when it comes to understanding your prospect.
It generates personality insights for prospects and gives your team tips on how to interact with people. For example, it will tell you to use a business tone or to avoid sharing details upfront.
You can use this information to improve how you personalize your email and InMail templates, or adjust your cold call scripts. You'll be able to quickly build rapport with prospects and have more productive conversations.
Pricing: Available on request
Key features:
Browser extension lets you use Crystal when browsing LinkedIn

Provides a list of do's and don'ts

to take into calls

Writing assistant will make suggestions to your email or InMail prospecting templates
Which Tools Should You Prioritize
?
There's no single tool that will revolutionize your prospecting process, however the options we've looked at will all act as powerful levers to:
Quickly find qualified prospects to contact

Optimize how you send and personalize

sales outreach

Improve the way you communicate with prospects in meetings
The best sales teams will implement new tools into their process, and then measure how they improve performance.
For example, let's say you have a KPI that says your team needs to contact 50 cold prospects a week.
If you implement tools like Fundz to quickly identify qualified prospects and QuickMail to send cold emails on autopilot, you'll quickly through your initial KPI and know that it's time to set higher targets.
Test every new sales prospecting tool with a free trial, and measure how they change your expected results. In time, it'll be clear which tools have the most significant net benefit on your business.
In Conclusion
Optimizing your sales prospecting process enables your team to be more productive, reduce time spent on manual tasks, and focus on what matters most: having conversations with qualified prospects.
There are hundreds of powerful sales prospecting tools out there, but these six can all have a major positive impact on your process and results.
When you're ready to start discovering prospects at the right time and close more deals, make sure to try Fundz.