After a dip during the COVID-19 pandemic, businesses are once again upping the stakes when it comes to B2B sales and marketing. In the U.S. alone, companies are projected to spend more than $23 billion on B2B advertising and marketing.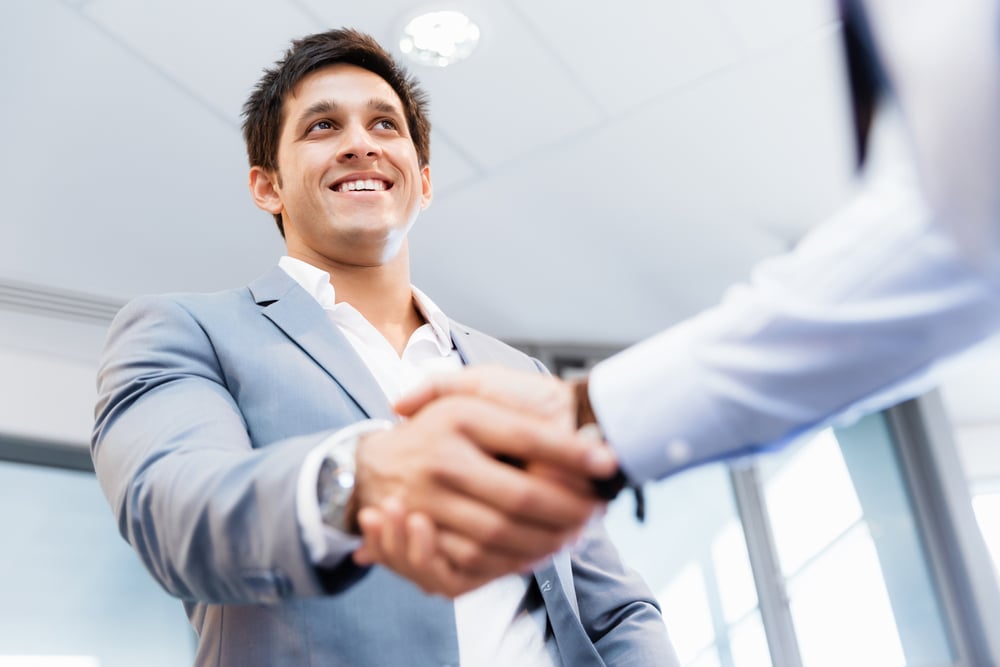 Businesses are looking for cutting-edge go-to-market solutions to understand their customers' rapidly evolving needs and spending habits. Not to mention out position the competition, qualify and engage high-intent leads, and deliver their unique, irresistible value proposition.
So, it's no surprise that innovative, disruptive, and best-in-class startups in the industry are having something of a moment. A recently-announced €180 million ($188 million) tech consolidation play is another sign of the times in this dynamic space.
The Merger
The deal plays out between Echobot, a sales intelligence platform, and Leadfeeder, a web-visitor intelligence platform. Both focus primarily on the European market but have a global reach with a considerable presence in the U.S. as well.
What is Echobot?
Echobot is a leading provider of European sales intelligence. Echobot was co-founded in 2011 by current CEO Bastian Karweg and is based in Karslruhe, Germany. Echobot mainly focuses its sales & marketing intelligence services in DACH, U.K. &, and European markets.
Echobot's mission is the "implementation of digital sales & marketing in every company." They provide a cloud-based software platform that uses A.I. and machine learning to help companies:
● Refine their target audience
● Generate more B2B prospects
● Close new customers
● Boost revenues and marketing ROI
Currently, Echobot has over 1,500 customer accounts on its books with globally-recognized brands like Siemens, Castrol, T-mobile, and Kimberley-Clark.
What is Leadfeeder?
Leadfeeder is a best-in-class web visitor intelligence platform. This Helsinki-based startup was co-founded in 2012 by current CEO and CTO, Pekka Koskinen and Herkko Kiljunen. Leadfeeder is focused on helping marketers analyze buyer intent and qualify leads in the B2B space.
The aim is to help marketers focus their efforts on high-quality, high-intent leads that will generate the highest ROI. Consequently, Leadfeeder calls itself a "B2B intent data platform." Their all-in-one lead acquisition and qualification platform offers:
● Lead generation
● Account-based marketing
● Website visitor tracking
● Sales prospecting
The platform also offers two-way integration with leading CRMs and marketing platforms.
In 10 years, Leadfeeder has experienced tremendous growth. It employs 140+ people across 20+ countries serving 60,000+ users.
The Merger: How it Happened
The merger was made possible by Great Hill Partners, a growth equity firm that invests in high-growth, disruptive companies. The Boston-based outfit specializes in targeting investments of $100 million to $500 million across the software, digital commerce, financial technology, healthcare, and digital infrastructure sectors.
The deal was first advised by G.P. Bullhound, a leading technology advisory and investment firm working with both Echobot and Leadfeeder.
To support the merger, Great Hill Partners invested a considerable sum of €180 million ($188 million). This influx of cash is meant to help the newly formed company:
● Accelerate growth.
● Accelerate continued product innovation.
● Scale-up go-to-market capabilities.
The organization will be headquartered in Germany but consists of a multi-national team of 250 employees spread across six offices in Europe and the U.S. Combined. It will have a total count of over 8,500 customer accounts.
Echobot CEO Bastian Karweg (B.K.) and Leadfeeder CEO Pekka Koskinen will head the newly formed group. Derek Schoettle, Chris Gaffney, and Greg Stewart from Great Hill Partners will sit on the board of directors.
Great Hill Partners has also committed another €50 million ($52 million) in additional funding for similar mergers.
The New Product
The goal of the merger is to create a ground-breaking new AI-powered sales intelligence solution that's the premier go-to-market platform for B2B marketing and sales.
The new product will integrate Leadfeeder's web visitor identification system with Echobot's data and prospecting solutions. The result will be a new, one-of-a-kind platform for businesses to identify and engage with high-intent prospects as well as provide them with incremental applications to improve their B2B marketing and sales processes.
The two CEOs at the head of this newly formed group put it best:
"It is our goal to be the leading sales intelligence and go-to-market platform to our core European and North American markets. Thanks to Great Hill, we have now assembled the best data, AI / ML, talent, and operating experience to achieve just that. We are increasingly seeing organizations looking to take advantage of their own data and third-party data, and then to augment this intelligence with better, more personalized outreach. The combination of Echobot and Leadfeeder is uniquely positioned to capitalize on a massive market opportunity at the early stages of adoption," - Bastian Karweg, CEO of Echobot.
"Integrating Leadfeeder's web visitor identification system with Echobot's data and prospecting solutions creates a unique platform upon which we can both enable organizations' to identify and engage high-intent prospects as well as introduce incremental applications that enhance B2B sales and marketing operations," - Pekka Koskinen, CEO of Leadfeeder.
Derek Shoettle, Growth Partner at Growth Hill Partners also had this to say on the merger: "Go-to-market is one of the fastest-growing areas of B2B software. Sales and marketing organizations need timely, accurate information and intelligent systems to identify and engage their prospects in an increasingly personalized, automated fashion. By bringing together Echobot and Leadfeeder, we can create the next-generation sales intelligence and go-to-market platform,"
For now, the companies will continue to operate independently for the most part. However, they are expected to steadily continue merging their operations and technology over the coming years. It also seems like the newly formed group has launched a recruitment drive for new talent to fuel its progress.
Conclusion
One of the primary tenets of a go-to-market strategy is to offer customers a value proposition they can't refuse. There has been a global trend of businesses looking for end-to-end solutions to bring together disparate processes across the sales and marketing discipline.
Startups, like Echobot and Leadfeeder, are finding that they can provide a value proposition that's more than a sum of its parts by combining forces. We will likely see more of these high-value mergers happen as competition in the space heats up.