The sales intelligence market is ever-expanding. Current projections are refreshingly healthy, with a 12.3% CAGR expected leading up to 2025. This puts the industry at a value of around $3.8 billion at the current forecast. Therefore, it's clear that more and more companies are taking marketing data more seriously.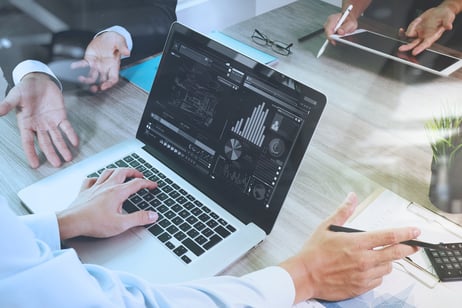 Much of this growth is occurring thanks to intelligence providers making disruptive partnership decisions. Leading sales intel platforms are enticing household brands and market research giants to help fine-tune their strategies. Business intel for sales is due to reach more than $24 billion in revenue this year alone. Therefore, it's a niche that's not only profitable long-term but lucrative in the here and now.
Partnerships
To better understand the market, it's worth drilling deeper into significant movements behind the scenes. Firstly, we should consider major partnerships between sales intel platforms that have emerged in recent years.
Demandbase, for example, is a prominent disruptor in the sales intelligence industry. The company has overseen huge growth across Europe in recent times - and it's partly thanks to strategic partnerships.
Brands such as Marketo have embraced Demandbase to help create aggregated data solutions, for example. Their integration allows for more transparent accountability and collaboration between sales teams and marketers. Beyond this, Demandbase has also proven helpful in helping Quarry to scale up tech marketing strategies.
LinkedIn, too, is another partnership-builder looming large in the sales intel scene. In 2019, they partnered with Lucidchart. LinkedIn's sales intel and outreach data combined with Lucidchart's visual workflow planning helped create new, exciting account marketing potential.
Crucially, while sales intel software can help almost any business with a marketing focus, partnerships help to create bold new products. The LinkedIn / Lucidchart deal, for example, brings together data drilling prowess with leading visualization standards. Partnerships in the intelligence market are helping to make intel software more accessible and more useful at the entry level.
Not only that, but such partnerships also help to propel the importance of intel to wider audiences.
Acquisitions
Larger corporations, of course, can benefit hugely from acquiring sales intel innovators outright. A key example in recent years is Oracle's acquisition of DataFox. The latter, experts in predictive forecasting, helped to provide Oracle with cloud AI data to help enhance marketing outreach.
Salesforce, too, is no stranger to acquiring significant players in the intel market. The software giant brought Tableau Software into their operation in the summer of 2019. This acquisition saw the company enhance its consumer journey potential with AI technology and clearer planning.
The period between 2018 and 2020 appeared to have been crucial for sales intel acquisitions. While global challenges have resulted in significant pivots cross-industries, it is clear that corporations are starting to take big data seriously. By 2025, we will, as a society, be crunching in excess of 181 zettabytes of data - time is ticking to develop management solutions.
Data is highly valuable in assisting marketers in tapping into customer pain points and gaining a competitive edge. With AI and machine learning looming large, big business is under pressure to tap into more data than ever. Consequently, it is understandable why sales intel acquisitions have scaled up recently.
Major corporations and large businesses will look for proven innovations in intelligence to simplify their data lakes. As mentioned, data is set to expand to an exceptional level by mid-decade. Rather than simply 'hire' or 'use' intelligence solutions ad hoc, absorbing platforms and brands outright may prove more valuable. Certainly, market predictions for mid-decade show that this is a niche unlikely to dissipate any time soon.
Software Products and Services
Of course, sales intelligence is at risk of going stale without innovations and ideas. Therefore, it's unsurprising to see more and more intelligence solutions emerging. What is more, business intelligence revenue alone reached more than $20 billion globally in 2020. Data management is, in itself, big business indeed.
As introduced, LinkedIn's emergence in the sales intel industry has been widely praised. Building on its existing framework as a professional social network, the brand's Sales Navigator taps into LinkedIn data. Therefore, marketers already have a head-start in accessing actionable data from a trusted source.
Other landmark intelligence software providers include the likes of prospect.io. This integration makes any existing process more efficient at processing sales data. Specifically, its in-browser capabilities allow for one-touch email marketing and data sourcing. In addition, this platform has grown popular thanks to its versatility with a myriad of third-party software.
Salesforce, of course, is another name that continues to make waves in the market. However, its Sales Cloud is more than a simple data pool and analytics tool. It's built as an end-to-end CRM, providing customer journey planning from start to finish. It's considered one of the more intensive intelligence solutions on the market.
Of course, given the size of the market at present and the projected CAGR, there are many more options available. Sales intel platforms scale up and down depending on the business and audience needs. As the market expands, it's only likely to see more and more sales intel solutions emerge.
Unbound Intelligence
The market for intelligence - in terms of sales - is constantly expanding. Therefore, it's unsurprising to see major corporations and brands investing amply in the software. This niche extends not only across SMEs but also to larger businesses. Ultimately, the need to collate and better understand our data will always be prescient.
As data grows, it's unlikely sales intel platforms will diminish in terms of popularity. Data is also likely to grow exponentially as people are born, use services, and share their lives online. This is all information that will prove crucial to better defining and pitching to customer journeys.
Sales intelligence is hardly a new concept. However, it is growing ever more innovative. With the emergence of machine learning, automation and delegation are at an all-time high. Therefore, efficiency, productivity, and potential revenue know no bounds!