B2B Sales Leads - Common Questions Answered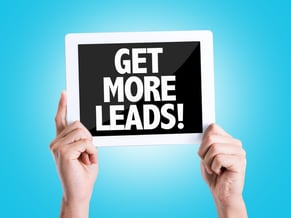 B2B sales leads are something that salespeople and marketers are always focused on. Some common questions include:
Here we'll try and answer these questions, starting with the meaning of b2b leads.
What Is The Meaning of B2B Leads?
To understand the meaning of a b2b lead, we first need to be clear on the two parts of this phrase. B2B means business to business. A lead is someone that has expressed some level of interest in your product or service. Therefore, a b2b lead is simply another professional that has expressed interest in your offerings for their business.
What Are The Best Sources of B2B Sales Leads?
Of course, every business is different so the best sources of B2B sales leads will differ for each company. That said, the six sources that are consistently rated at the top include:
Organic Search/SEO
Paid Ads
Telemarketing
Social Media
Email Marketing
Other
Organic Search/SEO is consistently rated at the top for both quality of leads and ROI, thus platforms such as HubSpot, which promote Inbound Marketing (pulling people in through content and social vs. pushing cold, outbound messages) are getting more and more of marketing budgets.
How Do I Generate Leads for B2B Sales?
Inbound Marketing is clearly a winner when it comes to generating b2b sales leads for teams. Of course, other methods can also be valuable, and these vary depending on the industry/niche, company size, etc.
Startup companies often embrace a variety of innovative, low-cost, flexible approaches to see what works best for them.
What is the Best B2B Sales Leads Database?
Some popular b2b data providers include D&B Hoovers, ZoomInfo, Data.com, DiscoverOrg and of course LinkedIn Sales Navigator. Specialty startup databases such as Fundz, which is a startup database of all companies that just received seed & VC funding in the U.S., are also becoming popular for startups and other businesses targeting recently funded startups.
How Do I Get B2B Leads?
While some organizations generate enough inbound leads for all, the reality is that most b2b sales and business development professionals across all company sizes still need to generate some, if not all, of their own leads.
Smart sales professionals today are improving traditional approaches by finding ways to monitor trigger events relevant to their business. For example, commercial real estate sales professionals may monitor new lease agreements, while executive changes is an example of a broader trigger event that people across many industries have leveraged to win new business.
Going forward, with more and more real-time data available and able to be utilized through innovative tools, increasing success in generating b2b sales leads will come from finding and acting on trigger events.
Where Do I Buy B2B Sales Leads?
Paid ads in Google, LinkedIn and Facebook are the most popular way of getting leads from paid sources. Since a lead by definition is someone that has expressed interest in your product or service, databases and lists are simply starting points to generate leads. While databases like the ones mentioned above are often good starting points because they focus on keeping the data accurate, buying static lists is often a waste of time and money.
See why thousands of people & millions in b2b sales have started with Fundz