Fundz
Pro

User Guide

Important: To view and export fundings outside of the U.S., please read #7 below.
News (Includes fundings both inside and outside of the U.S.)
1.) Setup/Compatibility
You can access your feed on a desktop or mobile device. To receive real-time updates and get the best experience when on a desktop, use a Chrome browser and make sure you've installed the Fundz Chrome Extension.
Once you've installed the Fundz Chrome extension on your desktop, you will see a red "D" shaped icon on the top right of your Google Chrome browser. Click on the icon and once you're logged in, you'll see a listing of recent fundings like in the picture below.
To turn your real-time notifications on or off at any time, simply move the notifications toggle button in the top right to on or off.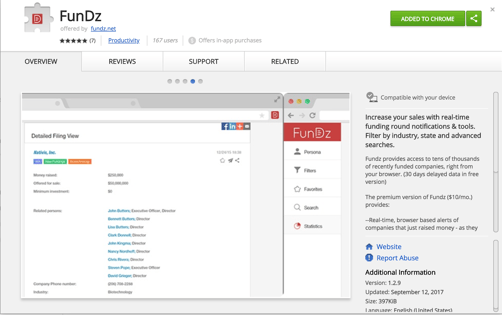 2.) Customizing Your Filters
When you first log in, you are directed to the Fundz Filings page. This page lists company reported filings of new funding events matching your filters. You can always get back here by clicking the Fundz red logo in the top left of any page. (Note: these filters are not for funding deals seen in the "News" tab.)
To filter the filings you see, click Filters on the left menu. You will see a page that looks like the screenshot below. Here, you filter the fundings you see by ranges, industries and locations.
Notes on the industries "Others" & "Retailing": The filings from organizations choosing these industries consist of both a fair amount of actual startups that raised funding, as well as filings from organizations you may not be interested in, such as investment firms, holding companies and limited partnerships.
When done changing your filters, be sure to click save persona filters at the bottom of the page after making any changes, or they will not be saved.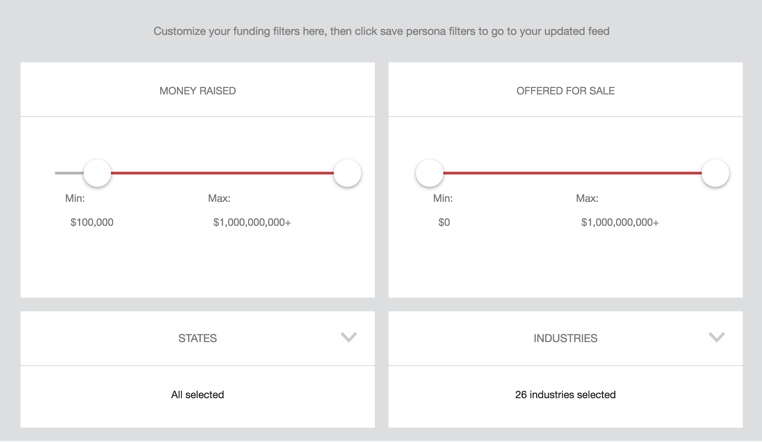 Near the bottom of the filters page, you will see a "Show Filings" section where you can select "New", "Amended" or "All". "New" is selected by default. Amended filings are not new filings, but rather amendments to previous filings.
3.) Search
Fundz Search lets search filings and quickly get all the recent fundings you are interested in by city, state, zip codes and industries.

4.) Export Deals
This section lets you export a list of deals from company issued filings. To export a list of deals from company issued news, see #7.
From the left hand navigation menu, click Export Deals.
First, make any desired changes to the industries, locations and date range selections. Second, click the "search" button, then wait for the results below. Once the results show up below, the "send to email" button will become active and you click this button to send the CSV file to your email.
Note: you can only export up to 500 results per search, to minimize processing time, but you can perform unlimited exports. Simply narrow the date range, location and/or industry range and then run subsequent searches to get all the information you need.

5.) Getting To Your Feed & Company Details Page
You can always get to your feed when logged in by clicking the Fundz logo in the top left. To get to the Company details page for any filing, just click on the company name in blue on the Filings page. This will bring you to a company details page, like this example.

6.) Researching & Contacting the Company
Fundz is integrated with company and contact info including related emails, if available. Screenshot example below: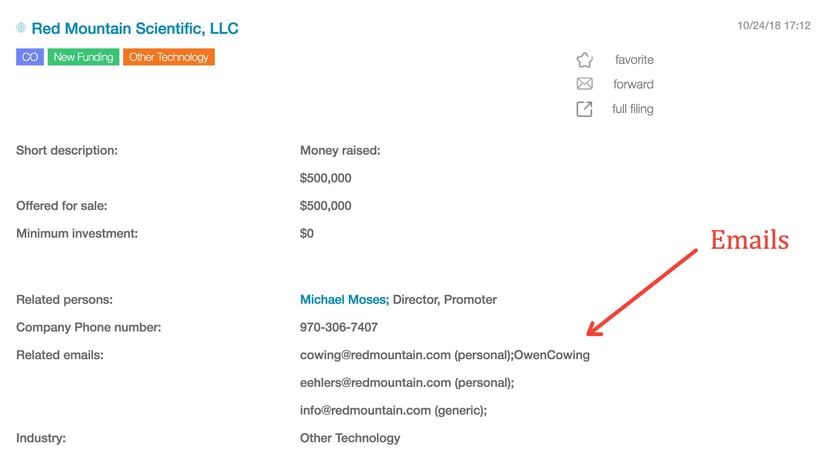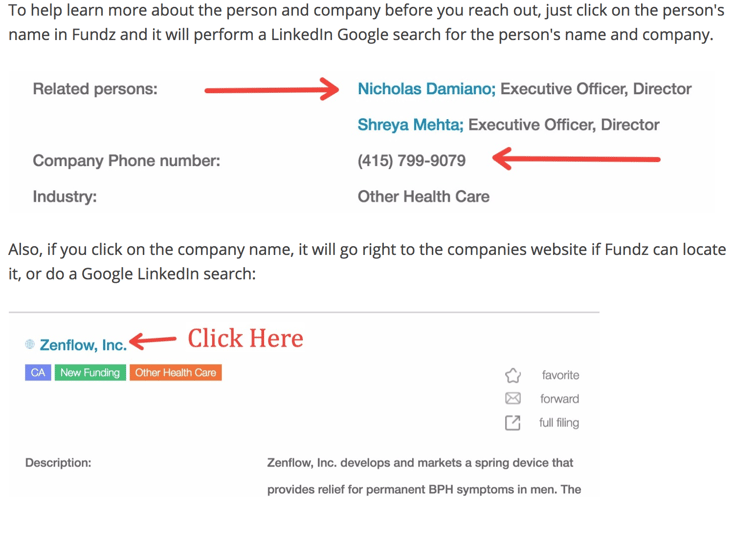 7.) News
The news section lets you view, perform full text searches on and export to CSV real-time funding news both by companies in the U.S. as well as outside the U.S.
This funding news is integrated with company contact info and domain/company information, as available.
To filter your search, simply enter any keyword or phrase (industry, location, round type, etc) then click the search button. To export any search, just click the export deals button right next to the search button.
How is the News section different from the other fundings that Fundz reports on, in the filings section?
First, the News section adds startup fundings from around in the world and not just in the U.S. Second, in the U.S.. companies will often issue news about a new funding before they make their government filing. This is why sometimes you will not find a company funding when using the advanced search page, which searches filings only and not news.
The news section now allows you to learn about new fundings from around the world as soon as possible, regardless of whether that information is made public first via government filings, "Filings" or company issues news, the "News" link the top.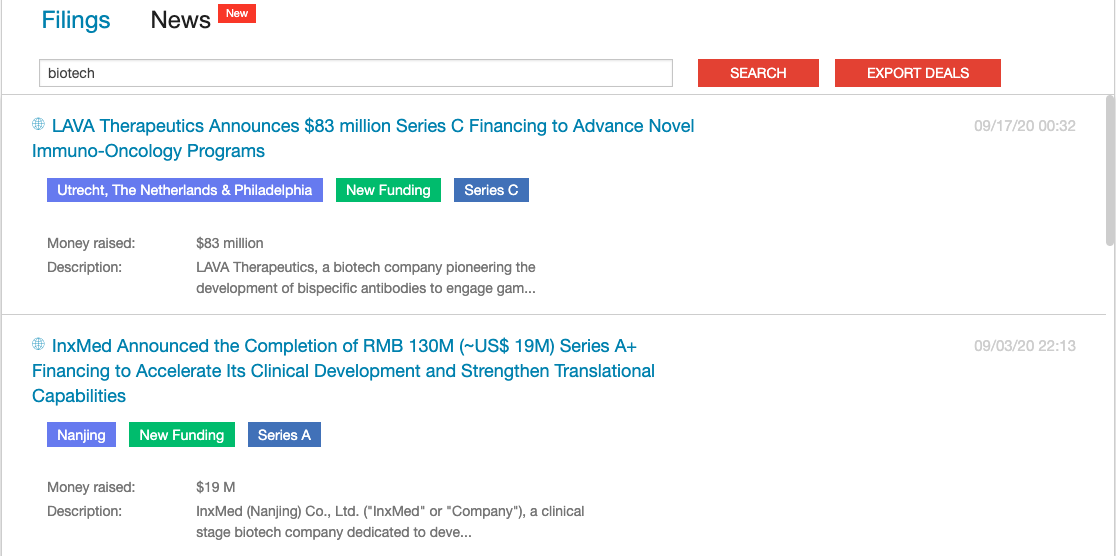 8.) Statistics (related to filings only)
Statistics is a tab on the left navigation column that automatically shows you the percentage of recent fundings by location and industry, for your specific preset filters. You can also select custom date ranges at the top.
Additionally, whenever you click into one of the pie charts, Fundz will list out all the fundings for the specified date range, for that location or industry.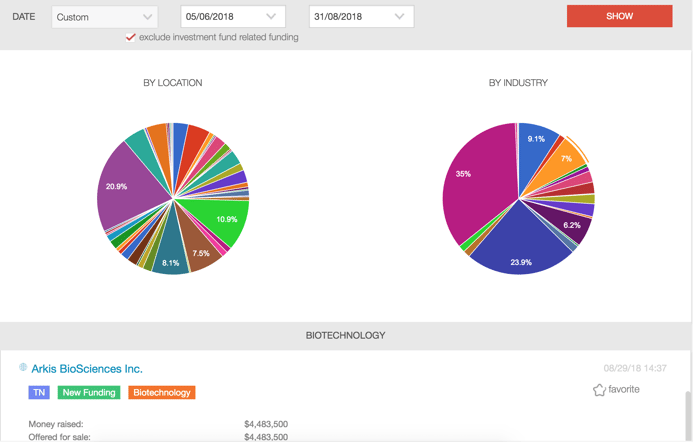 9.) Save Favorites & Add Notes (filings only)
Just click the star icon next to the word "favorite" on the right side of any filing. This will save it under Favorites on the left hand menu.
To add notes to any funding, just go to any detailed filing view and scroll to the bottom, there you will see a section where you can add notes. Be sure to mark as a favorite after you add your notes.

10.) Definitions
Money Raised: This number represents how much money in U.S. dollars the company actually raised.
Offered for Sale: This number represents how much money in U.S. dollars the company was looking to raise in the funding round.
Minimum investment: This number represents how much in U.S. dollars the company required others to invest as a minimum, to participate in the funding round.
11.) Additional Resources for B2B Sales Efforts with Fundz
1.) Recommended Article: "How to leverage a startup database to increase b2b sales leads."
2.) Below is an example email sequence that has been effective in capturing new business with Fundz.
email 1:
Subject: Congrats on the recent funding round! | (name of your company)
Hi (first name),
I help growing (name of industry) companies accelerate their (business goals) through utilization of (description of your product/service).
Usually when companies successfully raise funding, (achieving or improving) (above goal or challenge) is or soon will be a priority, so I thought it might make sense to reach out.
If you'd be open to connecting for a few minutes so I can learn a little about your business and help you determine if I might be able to help now or in the near future, just click the Book a Call button below. (Tools such as HubSpot Sales Starter or Sales Professional have this feature)
I'd love to learn more about your company. Again, congrats!
Best,
(your name)
-----Wait 2 days---
Email 2:
subject: re: email the other day
Hi (first name),
Not sure if you caught my email the other day. Again, just wanted to see if there was an interest in chatting for a few minutes about how (your company name) helps startups just like yours with (common challenge or goal). Let me know if I can help!
Thanks,
(your name)
---Wait 2 days--
Email 3:
Subject: Would still like to connect | (your name) with (your company)
Hi xxxxx,
I'd still be interested in connecting to learn if (your company) can help with reaching the goals you have in front of you associated with your recent round of funding.
What day/time works best for you?
Thanks,
xxxxxxx
---Wait 2 days--
Email 4:
Subject: Final attempt to connect
Hi (first name),
Sounds like you're all set, so will not bother you anymore. If I can help in the future, just let me know.
Thanks,
your name
Hopefully this is helpful for you to improve your outreach, connect rate and ultimately sales.
If you need additional help, just contact us at support@fundz.net
Our Quickly Growing Customer Base
Fundz has customers around the world, from small startups to professionals at leading organizations, such as: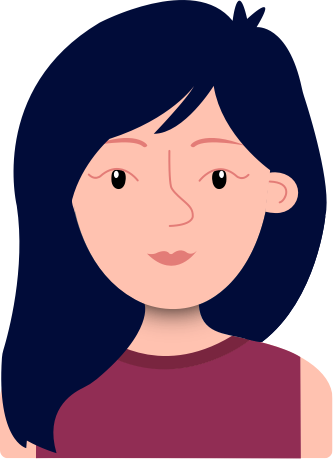 Fundz is terrific. It allows me to keep updated on new fundings from anywhere via Chrome extension! It provides me with valuable information that I have used in my sales process and helped me close more deals!
Julie R.
Fundz is amazing because I can save and filter territory-appropriate alerts so that I'm not wasting my time looking at funding outside of my region. This thing is awesome!!
Kristen K.
I'm really enjoying Fundz so far, and it's been exactly what I've been looking for in terms of finding startups with funding. Every other source is just incredibly expensive. I've already found a list of great companies to prospect using Fundz.
Josh Y.
You folks have a great service and provide it for a fantastic price!
Jen C.