Tech startups in Seattle have seen these as some of the largest tech related funding rounds in 2018.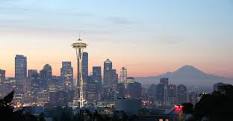 Convoy - $

177,324,953

.

Convoy uses the latest technology to connect shippers with nearby carriers and book jobs instantly.

Rover-

$124,999,962

. A Place for Rover, Inc. operates a community for dog lovers to connect owners with sitters for home dog stays.

Qumulo - $92,999,916. Qumulo develops data-aware scale-out NAS storage systems that provide users with real-time visibility into their data footprint.
Outreach - $64,999,962. Outreach, Inc. provides an account-based sales communication platform for sales development representatives, account executives, and success managers.
Nohla Therapeutics - $44,999,999.

Nohla Therapeutics Inc. develops and manufactures ex vivo expanded universal donor cellular therapies to treat patients with cancer and other life threatening illnesses.

Highspot - $34,999,998. Highspot

delivers the industry's most advanced sales enablement tools and software for improving marketing effectiveness and increasing sales.

Human - $21,217,678. Human

is a Seattle-based consumer technology company that builds products which put people's needs, relationships and experiences first.

Stratos Genomics - $20,156,451.

Stratos Genomics develops Sequencing by Expansion (SBX™), a single-molecule detection process that enables whole genome sequencing.

JetClosing - $18,961,869. JetClosing, Inc. develops a software application for the real estate closing process.

theMaven - $17,775,000. theMaven, Inc

. is a group media network. The Company operates a closed-

network platform of journalists, causes and independent media channels.