In looking at tech startups in the windy city, here are the largest technology and biotechnology related venture capital funding rounds so far in 2018, for Chicago.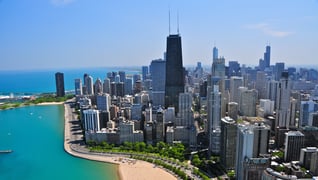 Luminary Media - $40,000,000. Luminary Media's

mission is to disseminate media and create events that nourish and support the creative life of our region and in the world.
CityBase - $

14,860,087

. CityBase is changing the way cities engage with their residents by making the local government and utilities more efficient and effective.
Nativ Mobile/Current -

$13,515,418. Current allows anyone to search and discover their favorite music and video content from a variety of major services.
Booksy Group - $13,207,093. Booksy Inc. develops and provides Booksy, a scheduling software for appointment-based businesses.
Purecycle Technologies - $10,850,020. PureCycle Technologies

' process offers the only virgin-like polypropylene resin with equal properties to virgin.

Spring Labs - $10,500,000.

Spring Labs is building a more transparent, efficient, and secure ecosystem to exchange credit and identity information using the blockchain.

SpringCM - $10,500,000.

SpringCM Inc. develops and delivers cloud-based document management software.

Spot Hero - $9,999,917. Find, book & save on both daily & monthly parking with convenient garages, lots & valets near your destination.
Logic Gate - $7,521,778. LogicGate

empowers you to customize your GRC processes to match your business.
dScout - $

7,499,979

.

dScout, Inc. provides a Web and mobile application service that enables users to engage audiences in sharing real world experiences.