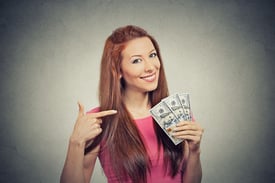 As a salesperson, I'm always trying to figure out ways to become more productive & successful and that means always being on the lookout for great sources of B2B sales leads. Always on the lookout for sales trigger events, such as a private placement, I was made aware of a recently funded companies app called Fundz, so I thought I'd give it a shot. I wasn't sure at first how well it would work out, but now I am a big fan having just made a sale in three hours! Fundz asked me to share my story, so here's how I did it:
1) When I signed up, I quickly noticed that there were a huge amount of recently funded startups out there in their startup database (who knew how many!), but that they were from all over the place. Since I only work in a certain territory and didn't want to have to wade through fundings across the country that were irrelevant to me, plus definitely needed the ability to search, I upgraded to the pro plan, which was only $10/month.
2) After setting my filters and uploading a list of zip codes, I came upon a certain company in my territory that looked like a great fit. I clicked on one of the Directors name, which did a Google search for that person's profile on LinkedIn. After checking out his profile and reading the company's profile LinkedIn, I did a little research to confirm the email of the person. This wasn't hard, since most emails are first initial, last name @company domain or full first name.fulllastname@companydomain. (There are tools like Hunter out there which are a help)
3) Then I simply called the person via the number listed on the Fundz company detail page and left a voice mail followed up by an email. Thanks to HubSpot's Sales Pro tool, in minutes I was able to create this highly personalized email template and also a series of automatically scheduled followups, in case the first was ignored or lost. This tool also has a great a "book a meeting" link which synced with my Google calendar, adding an element of helpulness & credibility to my outreach.
4) To make a long story short, within a few hours this company had purchased multiple products from my company. So for $10/month, $120/year, I just paid for Fundz many times over within just a few hours. So if you're wondering how to generate leads for b2b sales, give this a try!