The numbers are staggering. Over 22 million people in the U.S. lost their jobs over the last month. Thousands of businesses shut down and despite their best efforts, many will undoubtedly not return.
Yet, despite all the devastation, Wall Street has started to rally. Recent data from US venture capital firms also shows stability, though noticeable shifts.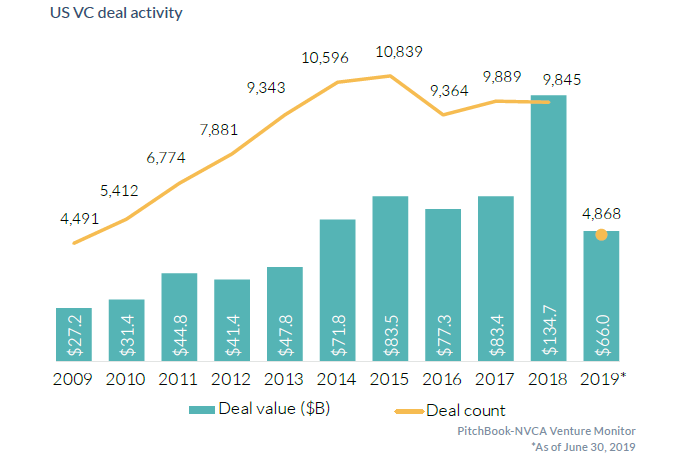 How was the VC Fundraising in the U.S.?
In total, 62 funds raised $21 billion in Q1 in the U.S. This compares to $51 billion raised for the full year of 2019.
However, it was also a story of the larger, most prestigious VC firms faring much better than upstarts. For example, Just five percent of money raised went to first-time funds. This continues a troubling trend for new vc funds. Only 8% of investment went to first time funds in 2019 while 11% went to first time funds in 2018.
Some notable U.S. Venture Capital Firms & their funding in Q1 include:
New venture capital firms continue to have a tough time. Just nine funds were launched by new managers, raising $1.1 billion last quarter. In each of the last three years, 49 or more new funds started.
Where Did U.S. Venture Capital Firms Invest?
Not surprisingly, life sciences related companies saw the biggest increase year over year. Including biotech, pharmaceutical and medical device companies, the group saw $7.1 billion invested by VC firms in the quarter, up 20% year over year.
Software companies still captured the most investment, with $9.9 billion invested. This amount is down $1 billion from the prior year.
Life Sciences VC investors for the quarter included:
Polaris Partners

New Enterprise Associates

Khosla Ventures

ARCH Venture Partners.
How Much Did VC Firms in the U.S. Invest?
VCs in the U.S. invested $34.2 billion last quarter, about flat with $35 billion a year earlier, although the money went into 27% fewer deals than a year earlier.
What About Angel & Seed Investments?
In addition to thousands of venture capital financings in the U.S., each year there are also approximately 5,000 angel & seed funding deals.
Angel & seed deal count for the first quarter was relatively unchanged compared to 2019, with nearly 1,000 deals completed, and more to be added to that number with the natural lag in announcements.
Record Early Stage Averages Continued
In Q1 2020, the median U.S. early stage deal size hit an all-time high of $6.7 million thanks to a record proportion of deals exceeding $10 million, comprising almost 40% of all early-stage VC deals. Early stage deals include Series A and Series B financings.
The median series A funding round is significantly less than the mean or average Series A funding, as "mega-rounds" continue to occur, especially with biotech startups.
How About International Startup Funding?
Startups in countries outside the U.S. generally had a much tougher time in Q1. For example, African startup funding saw a 57% decline. In India, there were 93 VC deals worth $1.85 billion, a five year low in venture capital funding.
However, there were exceptions. For example, Israeli startups managed to raise a record $2.74 billion in 139 deals during the first quarter.
Looking Ahead
Many venture capital investors will likely be continuing to invest a proportionally larger amount in health related companies for some time. Yes, there will be more being invested in companies directly related to the current crisis. But that's just the start. The impact of this unprecedented time will echo for years. People will be more focused on possible health related crises of the future. This will lead to more companies, more jobs & more investment.