When it comes to medical procedure and innovation, few companies offer a glimpse at the future quite like biomaterials startups. But what occurs within the biomaterials sphere? What are promising biomaterial startups for the future, and what awaits investors who start funding their ventures?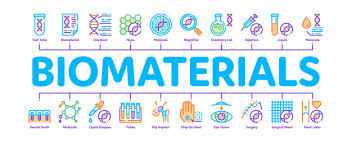 Biomaterials Startups in Brief
You may already be benefiting from biomaterials. These are artificial elements that can be supplied or engineered to help support weaker points in our bodies. For example, many people benefit from biomaterial prosthetic limbs, pacemakers, and more besides.
Biomaterials startups are looking beyond the current sphere to help improve the capability and efficiency of bodily enhancement.
Just as biotech startups continue to thrive, It is thought that interest in biomaterials ventures is set to explode to a value of more than $206 billion by 2024. That covers more than removable pieces, such as contact lenses. Biomaterial innovations, including implants, hybrid bio/artificial aids, and more, are growing in popularity in the US. This is clearly evidential from North America's 45% share of biomaterials in general at last capture (2018).
However, increasing interest in biomaterials in the East due to an aging population means that the sphere is growing in all corners of the globe. Hybrid solutions, which combine natural material with artificial design, offer just a slight insight into the full potential emerging.
What Are Some Successful Examples?
Successful examples of biomaterials ventures include the likes of Dimension Inx, who specialize in bioceramics for tissue regeneration. This innovation will likely help to support injury healing and extensive bone damage. The company specializes mainly in 3D printed biomaterial ink, which is also used in organ repair and cardio support.
The brand's hybrid polymer-ceramic system aims to bridge the gap in bone and organ patching. Dimension Inx is moving towards clearance with the FDA, and in the meantime, is focusing on which materials they can bring into hybrid products. They even suggest that they may be able to create entirely new materials.
Other ventures, such as Pertinax Pharma, help to protect medical equipment itself. In essence, the company helps to create microbial protection for materials and devices used in sensitive, hygienic settings.
Artoss is another firm pushing the envelope. This US company, operating since 2015, applies leading nanotechnology research to help analyze and treat bone conditions. Biomaterials, crucially, take the basics of science fiction and bring them into reality for the better.
Let's also consider Moderna, a company focusing on developing mRNA for cancer treatments. The company has already worked hard to help analyze the Zika virus, and it raised $1.9 billion at Series A alone.
What Does the Future Hold?
There are few other ways to look at biomaterials – they are the future of medical treatment and research. With projections suggesting that ventures will continue to add towards a multi-billion marketplace in the next four to five years, it's clear why VCs and Angels are showing keen interest.
Startups in biomaterials looking to grow will, just as any venture, be looking to gain funding across several investor rounds. Keen investors, meanwhile, may be able to find appealing, funded companies through startup databases such as Fundz.
SOURCES
https://www.kolabtree.com/blog/top-10-most-promising-biotech-startups-in-the-us/
https://www.ventureradar.com/startup/Biomaterials
https://getinthering.co/biomaterials-exploring-the-possibilities/
https://www.bonezonepub.com/2620-3d-painted-hyperelastic-bone-brings-new-material-to-orthopedics
https://www.lifegate.com/biomaterials-design-future
https://www.marketsandmarkets.com/Market-Reports/biomaterials-393.html
https://www.dimensioninx.com/biomaterials/products
https://www.startus-insights.com/innovators-guide/5-top-emerging-hybrid-materials-startups-impacting-the-industry/