Thanks to advances in technology, how we move from place to place is evolving. Transportation startups are taking advantage of this, helping to make getting from A to B that little bit smarter. But how are they changing the industry in general?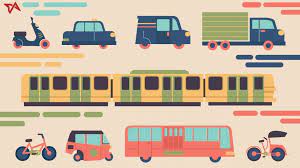 Mobility on the Rise
Statistics show that investment in mobility and transport is not only growing but is also diversifying. For example, AV sensor technology was the third most invested-in mobility resource between 2014 and 2019. However, e-hailing apps, such as Uber and Lyft, claimed the most funding interest, worth $11.4 billion in the five-year period.
However, it is interesting to see more niche mobility tech that is seeing growth. Voice recognition and mobility is on the rise to the tune of $600 million between 14 and 19. What's more, EV, ever-growing, claimed $3 billion in investment money in the same period. Despite Tesla's dominance in the market, it's clear electric road vehicles continue to capture VC imaginations.
Add this to the fact that VCs reportedly spent almost $12 billion on mobility innovation in Q1 2020, and it's clear the direction we are heading in.
However, this data is likely to keep changing. We're now deep into Q2 of 2021. What are emerging startups doing to change the game even further?
Startups Making Major Tracks
Let's consider a few different examples of major sphere challengers in the mobility industry.
Bellhop is an intriguing venture with roots in e-hailing. While Lyft and Uber may have the lion's share of interest here, this app service helps you compare them. Bellhop effectively enables you to find the best deal from an available cab across multiple services.
EVMatch, meanwhile, aims to monopolize the aforementioned electric boom. Specifically, EVMatch runs and shares data on a network of charging hubs drivers can find in public. Much in the vein that Uber helps private owners make money from their vehicles, this venture supports private point owners.
Therefore, EV charge point owners can join the wider network and share location data to make money. The aim, of course, is to help EV drivers find points close to them across the US.
StreetLightData is a further US venture making big waves. This company actively helps drivers ascertain local traffic information and congestion potential. How? By aggregating algorithms from smart devices, GPS and more on an anonymous basis. This technology can help with town and city planning, too.
No End in Sight
Transport and mobility innovations are likely to continue inspiring investors for years to come. No one is certain what the next big push will be, but EV certainly appears to be on many people's minds. Could Elon Musk have a challenge or two on the horizon?
VCs and investors keen to find out may find related startups in online databases such as Fundz. Our mobility is improving – and the sky's the limit.
Sources
https://hackernoon.com/12-companies-disrupting-the-transportation-industry-3bb9fc924712
https://startup.info/10-startups-that-are-revolutionizing-the-transportation-industry/
https://www.startus-insights.com/innovators-guide/5-top-smart-transportation-startups-impacting-smart-cities/
https://simpleflying.com/disruptive-travel-startups/
https://www.statista.com/statistics/1013576/global-investments-in-mobility-start-ups-by-technology/
https://thenextweb.com/news/vcs-spent-11-8-billion-on-mobility-startups-in-q1-2020-report-says
Topic: Startups