Fundz recently released our 2018 State of Startup Funding Report. Here are some key findings after analyzing over 8,000 deals from Fundz' startup database.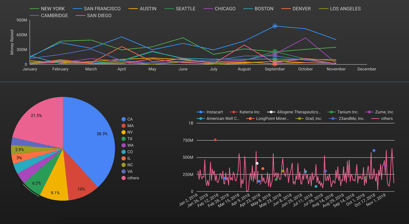 The overall environment for startup funding in the U.S. remains robust and consistent, with Q1, 2018 and Q3, 2018 seeing $12.96 and $13.18 billion in funded startups, respectively. Q2 led the way with $15.37 billion invested into these recently funded companies.
North Carolina continued its ascent. Last year, North Carolina raised over $1 billion in startup funding. In 2018, the state has already raised over $1.5 billion. We excluded the $1.25 billion round in 27 year old Epic Games which is owned Tencent Holdings in China.
Colorado continues to move up, making the top ten and ranking #2 in overall growth. Denver has raised over $800 million so far in 2018, while Boulder has almost hit $300 million. Cannabis related entities throughout the supply chain have made a strong contribution to this growth.
San Francisco and New York continue to lead the list of top cities.
Leading Fundings include 1.) Grocery delivery service Instacar, which raised nearly $1 billion in three massive rounds and 2.) Katerra, a high-tech construction company which pulled in over $800 million in February, led by Softbank's Vision Fund.
The total number of both companies and cities related to 2018 startup fundings increased slightly throughout the year.
Biotech remains red hot. After setting a record last year, the industry has already raised over $6.2 billion in the U.S. alone related to biotech startup fundings.
Would you like to search, set alerts & export lists of all funded startups in the U.S.?