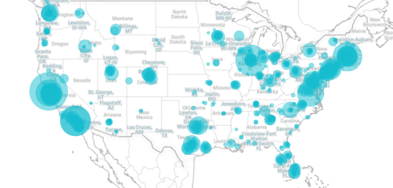 In February, 2019 there were 228 new filings of funding rounds in the U.S. from companies that were classified as "computers", "other technology", "telecommunications" or "biotechnology".
Some notable findings are summarized below:
In total, $1.65 billion was invested

, excluding mergers & acquisitions.

228 companies received funding, with 35 being biotech.

$217.5 million, or 13.2.% was invested in biotechnology
The average funding round in the U.S. was $6.6 million (USD).
The median funding round was $1.15 million.
California startups dominated with $790 million of the funding.

New York companies were 2nd with $192 million in funding rounds.

Massachusetts startup companies took third place with $158 million in investment.

Washington was fourth with $110 million.

Illinois rounded out the top 5 with $65.8 million.

The top 5 states took almost 80% of the tech & biotech related funding.
Topic : Startup Database