Online dating has come a long way from being a niche interest! The days of meeting online being unheard of are behind us thanks to the rise of apps such as Tinder. However, innovations from startups in this niche appear to be pushing human connectivity to the next level.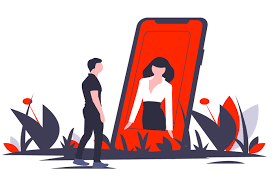 What Does the Market Look Like for Online Dating Startups?
Online dating and matchmaking are continually growing. By mid-decade, reports show that around 489 million people will be connected to matchmaking apps. This all adds up to an impressive revenue volume of about $4.7 billion by 2025. In 2022 alone, reports consider the market to grow to a staggering $3.9 billion.
While online dating still seems to be in the minority compared to 'traditional' matchmaking, the trends don't lie. People coming of age in the smartphone era will grow into dating via app with ease - there's a big boom yet to come.
In Europe, online dating apps are particularly market-penetrative. In fact, did you know that around 16% of web users in Belgium are projected to use dating apps and websites? That's the highest projected rate worldwide.
Who are the Fastest Movers in the Niche?
Online dating is one of the most exciting app niches worldwide. There are scores of prominent innovators in the field making moves across the US and UK - however, consider the EU. European Union ventures in the niche are working hard to blend emerging technology with current dating standards and expectations.
For example, one of the most exciting apps in the sphere in the EU is Meet 5. This German venture was previously known as Go Crush, and since founding in 2017, they've successfully funded to seed. The app service focuses mainly on dating safety - by encouraging larger groups to meet up.
Meet 5 reduces potential awkwardness and safety concerns by setting up dates between groups larger than two. Users can match up based on their mutual interests but don't need to worry about it being one on one right away.
Happn, meanwhile, helps to resolve the age-old problem of 'missed connections'. This French app innovator uses geolocation to help find users on the database people may have met in real life. The service has grown massively to serve more than 100 million users, and it's expanded across Europe into India, New York, and Montreal.
What's Next for Online Dating?
Many outside of online dating may wonder where things can go next - the sphere is bursting with ideas. Modern online dating apps focus on convenience, 'dating fatigue', and, above all, safety. This is no longer a niche aspect of everyday life - many people meet up and even marry on the back of these services. Therefore, it stands to reason that such apps can only continue to evolve.
Keep an eye on real-time data for online dating startups and related spheres via Fundz. You never know where the next big dating innovation may spring from!
SOURCES
https://www.eu-startups.com/2021/05/10-european-startup-dating-apps-to-find-your-partner-after-lockdown/
https://www.statista.com/outlook/dmo/eservices/dating-services/online-dating/worldwide
https://startupill.com/68-awesome-dating-startups-taking-2021-by-storm/
https://tracxn.com/d/trending-themes/Startups-in-Matchmaking-Platforms
https://explodingtopics.com/blog/dating-startups
Topic: Startups