The law is a tricky business. With near-unlimited precedents and a cast-iron constitution, the demand for flexible support is growing in the US. Thankfully, many startups are striving to change legal processes through technology. But how, exactly?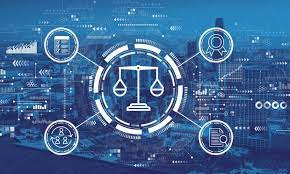 Legal Tech Startups: A Snapshot
Let us first consider the meaning of 'legal tech' in this scenario. Specifically, we refer to software or hardware that can help legal firms or people in need of representation.
For example, leading legal tech may be that which helps attorneys and law firms automate standardized paperwork. Alternatively, it may be a smart search engine to help people find suitable lawyers for their causes. What's more, data and identity security in this sphere are growing popular, too.
Let's consider, too, the growth in this sector. Statistics show that, as of 2019, North America plays host to more legal tech startups than any other global demographic. In addition to this, revenue growth is set to skyrocket by mid-decade.
The analysis predicts that, at present, the legal tech sphere is worth around $17.5 billion globally. By 2025, this is projected to grow to more than $25 billion. This, arguably, is thanks to increasing innovation in the sphere and spiking interest from investors.
With that in mind, what are specific innovators doing to help add to this trend?
Notable Innovators in US Legal Technology
Headquartered in Oakland, CA, Everlaw is an excellent example of legal tech to lead in with. Specifically, this venture presents the idea that law firms don't have to compete to help simplify the law.
Specifically, Everlaw's software presents a platform through which legal representatives and federal agents can work together. This management platform aims to help build a smoother consensus for how the law works in the US.
With much legal work remaining hugely complex for many reasons, Everlaw is taking a slightly controversial step. That is, in the sense that they are bringing rival firms together for the greater good.
Casetext is another US firm that is fighting for a simpler way to manage law. Specifically, the venture's software uses machine learning to help streamline and automate deeper research. With litigation and associated research eating up much of attorneys' time, Casetext aims to improve efficiency. It reportedly works with more than one million users per month.
Lastly, Wevorce is an interesting case in that it homes in on a critical niche in US litigation. Specifically, while using technology to improve proceeding efficiency, the company focuses on keeping divorces civil. Focusing mainly on a system of kindness, the company aims to change the way people see this side of family law for the better.
What Next for the Law?
Ultimately, the US legal system is unavoidably complex. Through machine learning, process streamlining, and more ventures are working hard to help break through decades of paperwork.
The next big name in legal tech startups may be ready for investors and other third parties to find online through databases such as Fundz. There's only one way to find out for sure.
SOURCES
https://www.law.com/legaltechnews/2020/11/04/for-legal-tech-startups-law-firm-investment-is-about-more-than-money/?slreturn=20210404094154
https://datafloq.com/read/leading-legaltech-startups-events/11329
https://tracxn.com/d/emerging-startups/legal-tech-startups-2020
https://www.lawtechnologytoday.org/2020/09/five-legal-tech-start-ups-to-look-out-for/
https://angel.co/company/casetext
https://angel.co/company/wevorce/people
https://www.statista.com/statistics/1156035/number-of-legal-tech-startups-by-region-worldwide/
Topic: Startups