Virtual reality, or VR, has become a massive business in the past decade. However, startups specializing in technology are not solely based in the west. In fact, there has been an impressive surge in Indian ventures taking up VR. Let's consider some of the most prominent VR players across India right now.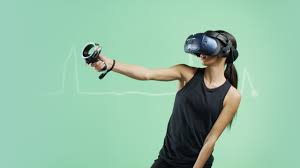 Why is Virtual Reality a Big Deal for Indian Startups?
Virtual reality and augmented reality offer different benefits to brands and customers across the globe. These immersive technologies allow people to explore different worlds, analyze products, and more. It is all inspiring - and with India's startup ecosystem is growing all the time, VR, in particular, is looming large.
With AR, too, India is starting to make a big name for itself. AR largely reached western consumers through apps and games such as Pokemon Go back in 2016. However, in the years since, Indian innovators have been thinking carefully about how to apply the technology elsewhere. Here are a handful of growing ventures cross-country.
Meraki
Meraki is a VR brand that's a trailblazer in India, mainly focusing on immersive storytelling. According to their own branding, their main focus is to 'blend art and technology' - therefore, creating a new style of entertainment.
Largely based in Indian projects at the time of writing, their immersive technology has caught eyes from across the globe. Most notably, they've built an immersive VR standard for sports spectatorship, with 360-degree IPL cricket being a popular draw.
What's interesting about Meraki is that they offer solutions to businesses and everyday viewers.
ImpactAll
ImpactAll, meanwhile, uses virtual reality to help enhance education and learning standards across India. They operate on a SaaS basis, helping teachers and students explore subjects on an interactive basis. For example, students can use ImpactAll's modules and technology to explore ancient lands instead of reading about them.
ImpactAll intends to extend worldwide - and with their immersive modules readily available for affordable VR devices, their tech is appealing. E-learning and EdTech are growing, and ImpactAll intends to blend several spheres together.
LoopReality / PerspectAI
LoopReality and PerspectAI, on an alternative slant, focuses on assessing talent and prospective hires. Providing a 20-minute immersive test that business owners can use to evaluate various psychological metrics in their interviewees.
LoopReality's VR standards are also rooted in AI and provide entertaining tests and measurements for users. Crucially, this venture uses the combined powers of AI and VR to help companies find the best possible hires. Traditional interviewing can only do so much. Crucially, LoopReality recognizes ways to make tests more accessible, fun, and intensive.
What's Next?
India is fervently catching up to the West regarding AR and VR innovation. The companies analyzed above, too, only represent a small subsection of what's to come.
Interested in virtual reality startups? Take a look at real-time data from Fundz to find out more about growing companies in the niches.
SOURCES USED
https://www.expresscomputer.in/features/5-creative-virtual-reality-startups-in-india/54430/
https://startuptalky.com/ar-startups-india/
https://tracxn.com/explore/Virtual-Reality-Startups-in-India
https://www.xrom.in/post/india-s-top-10-augmented-reality-virtual-reality-startups-2021-2
https://merakivr.com/about-us/
https://vocal.media/01/virtual-reality-startups-in-india-to-watch-out-for-in-2021
https://inc42.com/startups/loop-reality-vr-psychology-talent-assessment/
Topic: Virtual Reality Startups