How businesses communicate with one another is changing. That, of course, is mostly thanks to the ongoing restrictions imposed due to COVID-19. However, now is the time to start thinking about how B2B sales lead generation may change beyond the pandemic. What can we expect once lockdown ends, and will we face an entirely new normal on this front?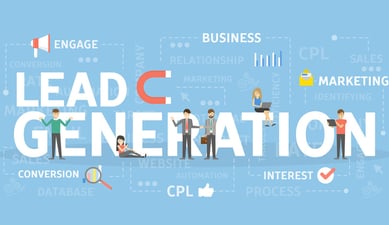 The Current B2B Lead Generation Situation
Contrary to some belief, B2B lead generation isn't ending just because the world is in a frenzy. If anything, it means that businesses are looking for more leads and engagement than ever before. It's clear that spending is increasing in this field, and not only that, where that money is heading to is changing drastically, too.
Recent statistics show that much business budgeting is transferring into content production. Not only that, but businesses have needed to stay on their toes by changing the way they actively communicate and collaborate with others. For example, the channels for face to face B2B lead building have moved entirely online.
At present, instead of letting leads fall by the wayside, businesses are looking at new ways to generate revenue. The best brands, of course, survive through adaptation. That means that, for example, marketers are adopting video conferencing in droves. While this type of communication may have been in the minority previously, lockdown is forcing people's hands.
An Early Digital Shift
The shift over to refined digital channels was always on the horizon. Zoom's emergence as the leading corporate video conferencing app was likely to take shape at some point. However, COVID-19 has forced these changes to emerge sooner than expected. This, especially for forward-thinking businesses, is not a bad thing.
Data shows that sales teams are treating digital channels such as social media outreach and B2B video conferencing with more respect. B2B sellers are turning to online channels out of necessity, rather than choice. Therefore, it's safe to say that, at least in the short term, this has become the 'new normal' for lead builders.
B2B works differently to B2C in that lead generation perhaps relies less on digital channels, at least traditionally. However, the lockdown has resulted in businesses and their marketers to rethink how they approach other companies altogether.
Therefore, it's safe to say that COVID-19 has done a lot for digital conferencing brands. If anything, it has helped to advertise their worth in a world which is getting smaller. It's another obvious case, too, of marketers taking face to face contact for granted. Now that physical meetings are on hiatus; there's no option but to load up Zoom or Microsoft Teams.
A Softer Approach
Another change in the B2B lead generation dynamic is the sales approach. Of course, you can fill endless articles with 'effective ways to generate leads.' No two strategies will ever be quite the same. However, in the time of pandemic, businesses have needed to start looking out for one another. That is, now is the time to focus on mutual needs.
Not only might the hard sell come off as insulting or insensitive at this time, it simply won't work. Businesses will be looking to build mutually beneficial relationships, more so than before. It is highly unlikely that you are going to convert anyone idly looking around. Now is the time to convert based on genuine relationship-building.
Many smaller firms are reaching out to one another to achieve mutual goals at this challenging time. That means that instead of leading in with promises of hypothetical gains, businesses are showing more empathy to one another. B2B marketers need to focus on the immediate needs of their prospects rather than their long-term goals.
It's safe to say that most small businesses and many startups will be feeling similar effects. This, crucially, is why the softer approach is gaining so much traction right now. While some companies will continue to trade as usual – and may even see spikes of interest – it has become commonplace for companies to reach out with mutual empathy and build relationships from there.
What's the Knock-on Effect?
So, we need to consider how COVID-19 will be affecting B2B leads for years to come. Crucially, the pandemic is a temporary measure. At the time of writing, there are signs of viral slowdown all over the world. Therefore, many experts deem it unlikely that we will be in this situation for, say, another two years.
Regardless, this whole situation is unprecedented across the board. The knock-on effect of COVID-19 on B2B lead generation and marketing is that we will likely use alternative channels and resources to generate revenue. As mentioned, more and more businesses are turning to digital channels with fervor.
Simple logic dictates that even when physical networking returns, many businesses will want to rely on these channels more than ever before. Now they know that reliable digital interaction is available, it's a resource many will tap into.
Beyond this, it's also likely that businesses will learn to treat one another with more respect. The pandemic is bringing business concerns and limitations into a stark new light. B2B lead building during this period is helping firms and marketers get a better grip on others' plight.
It is unlikely that this will alter the hard sell and traditional playbook quite so much in the years to come. However, it will provide a very interesting launching pad for companies of varying sizes.
Finding Startup B2B Leads in the Pandemic
Of course, many companies and investors will still have feelers out for startups during COVID-19. Now might be a good opportunity to generate b2b sales leads, for example, through a startup database. Fundz, for example, maybe a good source of information and mutual relationship-building. Crucially, as we all venture past COVID-19, it is important for all marketers to take a fresh look at their processes, and to consider how to keep things efficient and beneficial for all parties in a brave new world.
SOURCES
https://www.elevationb2b.com/blog/b2b-marketing-playbook-covid-19
https://www.mckinsey.com/business-functions/marketing-and-sales/our-insights/the-b2b-digital-inflection-point-how-sales-have-changed-during-covid-19#
https://www.marketingprofs.com/articles/2020/42856/b2b-marketing-after-covid-19-what-changes-and-what-doesnt
https://www.engagio.com/blog/account-based-marketing/how-covid-19-is-changing-the-future-of-b2b-marketing/