There is economic strain across the US right now. Texas, of course, is at the heart of it all. However, what some people may not realize is that Austin, in particular, is a hotbed for startups. But what do ventures in Austin have to offer, and what's making the city such an epicenter for innovation?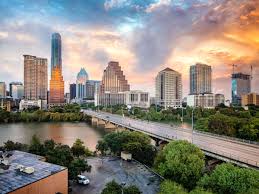 The New Silicon Valley?
Statistics show that anyone starting a venture in Texas will be among great company if they set up in Austin. Just look at Fundz' VC funding by City and you'll usually fund Austin in the top 10. The city scored highly in lists of top areas for business growth across the US. For example, both Inc. and CNBC have heaped praise on Austin through their individual rankings.
You only have to take a look at the city's emergent startups and companies for clear insight into the rate of growth. Just look at Fundz' weekly updated VC funding by City and you'll usually fund Austin in the top 10.
Growjo advises that the majority of innovative companies emerging from Austin are based in fintech and real estate. Growjo also states that Austin is in their top five cities with the fastest growing firms per capita. Only the Bay, Boulder, Boston, and Provo are growing quicker in terms of commercial attraction.
Who Are Austin's Biggest Startups?
Let's consider some of the businesses continuing to thrive in Austin amid uncertain times. RigUp, for example, is a marketplace innovator worth more than $452 million.
Healthcare innovations are on the rise in Austin, too. HNI Healthcare, for example, boasts more than $103 million in funding, with a healthy employee growth rate of 23%. Let's not ignore fintech – as Q2ebaking is an Austin powerhouse, with more than $151 million in funding, and almost 1200 employees at last count.
Big players making significant strides in Austin in 2020 also include Magnitude Software. The Austin analytics firm headhunted Paul Young from Google. He's now in charge of data integration for the firm.
Another company to consider is One Drop. This innovative diabetes management venture has raised $100 million – and not just from anywhere. The Austin firm has secured this healthy injection of money from Bayer, a global name in healthcare and pharmaceuticals.
Why is Austin So Business Friendly?
Much of Austin's business growth, many argue, can be attributed to its diversity. That could be as a result of the state's diverse makeup, as well as the University of Texas. Another could be that taxation is particularly low for businesses across the state.
Therefore, these elements go hand in hand. There is regular availability for innovators and specialists through graduate schemes. What's more, Texas remains a state that has the financial clout to inspire and spur on individual business growth.
With this in mind, venture capital firms or investors looking for Texas companies and ventures to link up with will likely find plenty of choices online.
Databases such as Fundz will give investors and interested parties the chance to keep track of recently funded startups in the area, with real-time updates of new fundings integrated with contact info, so they will have an advantage in winning the business over their competitors.
Startups are likely to continue building up and growing exponentially across Austin. While Silicon Valley has its brilliant innovators, you may only need look to the south for a healthy cross-section of emerging business acumen.
SOURCES
https://growjo.com/city/Austin
https://growjo.com/fastest-startups-per-capita
https://www.cnbc.com/2016/08/11/austin-is-top-place-for-startups-in-america-not-silicon-valley.html
https://www.bizjournals.com/austin/news/2018/12/20/inc-theres-no-better-place-to-start-a-business.html
https://www.bizjournals.com/austin/inno/stories/inno-events/2020/08/06/how-austins-cpg-startup-scene-is-navigating-the.html
https://www.bizjournals.com/austin/inno/stories/roundups/2020/08/03/the-top-austin-tech-and-startup-executive-hires.html
https://www.bizjournals.com/austin/inno/stories/fundings/2020/08/24/bayer-invests-in-one-drop.html
https://news.crunchbase.com/news/texas-q1-2019-report-lone-star-startups-raise-nearly-800m-in-q1/