If you have paid attention to technology news over the past few months, you may have heard of 5G. It is the next step in data connectivity, which is set to roll out worldwide. As such, it poses a lot of potential for startups and small businesses across the globe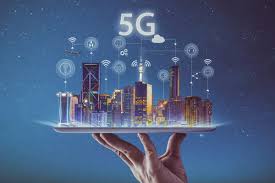 In this article, we're going to look at a stealth tech startup company that could be on the edge of a genuine revolution.
How Will 5G Change the World of Startups?
Before we leap into talk of stealth startups, let's focus on the 5G factor. 5G, as its name suggests, is the fifth generation of mobile data. Following on from 4G, this faster, more fluid data connectivity will help more of the world, and its various technologies, talk to one another. Two key elements of 5G connectivity will be the Internet of Things (IoT) upscaling and greater connection reliability, for example.
Therefore, it's understandable why businesses and consumers are excited. Many companies are looking to establish 5G radio access network solutions or RAN services. The RAN is the central data hub to which devices and solutions will connect.
Critically, a 5G RAN solution will be a piece of technology through which users can access faster, more reliable data. It's simple when you break it down!
5G will open up multiple exciting innovation opportunities for startups. Not only will it mean that connectivity and communications become quicker and more reliable, but it also means ethical startups and services can look at ways in which to enhance the world for the better through IoT adaptation. For example, startups will be able to look at common problems that are easier to solve through device to device connectivity.
Some startups are focusing on how to create and establish 5G RAN solutions in the years to come. One such startup running dark right now is Verana – an intriguing stealth startup we hope to learn more about in the months to come.
What is a Stealth Startup?
This is a term which refers to companies and entrepreneurial projects yet to go 'live' to the world. The danger many startups face when approaching PR and newswire is that they make their technology and innovations public. Publicity is crucial – but sometimes, giving the game away can be very damaging.
A stealth business or startup keeps its cards close to its chest. That means that they may have patents pending, or a minor profile online, but little else. It is, essentially, a secret project yet to be announced. That approach can help to keep projects safe from competitor knowledge, and still achieve investment along the way.
Verana Networks – A Tech Startup Company Set to Change the World?
Verana Networks is an emerging tech startup company that seems to be building up to something momentous. It's currently in what experts refer to as 'stealth mode'. That means that, while you'll be able to find out information about the company basics, quite what they have in mind for the future is under wraps. Will this work to their advantage?
What we do know about Verana Networks is that it's heading straight into the 5G business. At the time of writing, the company was funded to the tune of more than $9,000,000, close to its offered target.
Verana Networks describes itself as a telecommunications unit. Three people attached – Vedat Etuboglu, Amit Jain, and Santo Politi have public profiles on LinkedIn. Etuboglu and Jain are executive officers and directors, while Politi is also on-board as a director.
The company's LinkedIn profile offers a little more interesting data to mull over. The firm describes itself as in the process of 'building an innovative 5G radio access network solution'. That, it states, will pitch to leaders in wireless connectivity, meaning that the technology they could be working on might change the 5G radio network game.
Therefore, it is hardly surprising that they are keeping their plans secretive for now. At the time of writing, the company's website is yet to go live – meaning there are more questions to ask about how Verana will impact the 5G marketplace. They set up this year – 2020 – and appear to be pushing towards a launch thanks to VC interest.
Why Invest in Verana Networks?
Despite its mysterious nature, Verana Networks appears to have huge potential. You only have to see its investment numbers to understand that. As a tech startup company offering potentially game-changing technology for 5G, it's likely to continue to drive interest. Any investors and VCs curious about Verana, as well as other 5G radio network innovators, may wish to take a look at the Fundz' database of funded businesses.
SOURCES
https://smallbiztrends.com/2018/04/what-is-a-stealth-startup.html
https://www.sdxcentral.com/5g/definitions/radio-access-network/
https://www.sec.gov/Archives/edgar/data/1811357/000181135720000003/xslFormDX01/primary_doc.xml
https://www.qualcomm.com/invention/5g/what-is-5g
https://www.disruptignite.com/blog/5g-and-the-importance-of-timing-for-startups
https://www.verizon.com/about/our-company/5g/5g-radio-access-networks