Drones offer more than just a flighty diversion. They're extremely useful for photography, videography, and land surveying, too. In fact, many drone startups are continuing to innovate with drone technology well into the New 20s. Here are just a few of them worth watching right now.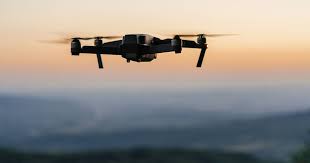 Medicine for All: Zipline
San Francisco startup Zipline is helping people access vaccines and medicines more efficiently than ever before. Their drone technology can carry up to 3lbs of medical supply and dispatch gently via parachute!
Worth more than $500 million at the time of writing, Zipline helps health workers and blood distributors alike. Controllable via app, the service has been running since 2014.
Get Off the Road: Volansi
Volansi, meanwhile, is an innovative Concord-based firm with designs on revolutionizing logistics. Their heavy-duty drone technology aims to deliver hefty products and supplies across large distances. With $75 million under their belt at the time of writing, the sky's the limit.
Volansi has received support from the likes of Y Combinator and Lightspeed. They have a variety of bespoke drones ready to pick up and go as you read this.
Robodrones Are Coming: Ware
Ware is another San Francisco firm looking to make drone technology more reliable. Their focus is mainly on artificial intelligence and machine learning. Their technology pivots directly to warehouse users - hence the name.
Specifically, Ware drones work to pick and count inventory so you won't have to. They count cycles automatically and record precise data on what's available back of the house. As of now, the venture is worth at least $2.5 million, with that figure likely to rise.
Airborne and Autonomous: Soar Robotics
Soar Robotics, on the other hand, takes a slightly broader approach. Soar Robotics is a West Hollywood firm designing AI drones to cater to a wealth of different industrial needs. Catering to warehouse logistics as well as simulated environments, the company suggests usage across telecommunications, too.
Soar raised an impressive $1 million in funding during 2020, indicating they have a strong following.
Keeping You Safe: Anduril
Anduril is an OC-based firm with designs on using drones for security. While other startups in our list thus far mainly focused on customer fulfillment, Anduril's technology is built for defense. That is, in that their drones can patrol weaponry assets and even detect natural disasters.
Anduril's technology is already inspiring many investors. It's received more than $770 million as of now, with Bedrock and Lux among the interested parties. Could their drones hold the key to greater peace of mind?
Startups Taking to The Skies
Innovators working with drones will likely focus on the AI side of design and build. And why not? The future lies in the skies, and with machine learning, companies could dispatch auto-drones for various purposes.
In the meantime, it is worth looking into real-time data for startups working to bring drone tech to the masses. Fundz may hold the key to your next sky-bound project - why not take a look?
SOURCES USED
https://tracxn.com/explore/Drones-Startups-in-United-States
https://www.startus-insights.com/innovators-guide/discover-5-drone-startups-you-should-watch-in-2021/
https://startupill.com/56-drone-startups-taking-2020-by-storm/
https://www.thedronegirl.com/2020/06/23/american-drone-companies/\