Keto is one of several diet movements in recent years that is helping to turn what we know about nutrition on its head. The keto or ketogenic diet reduces carbs and ups the fats. But how are Keto startups working to bring this movement to the American masses?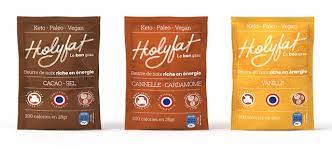 Keto in Brief
The ketogenic diet tips the balance in favor of fat. It is relatively similar to the Atkins diet in many ways, with the impetus being on reducing carbs. The idea is that your body goes into ketosis mode when relying on fats rather than carbs.
Many people find that this can help them manage blood sugar and even help stave off certain cancers. Some even find that it can help them lose weight, too!
With that in mind, let's look at a handful of startups in the US helping to make keto more appealing and accessible.
Making Measurements Affordable: Keto-Mojo
Keto-Mojo, based in St Helena, CA, has roots in saving keto measurers money. Specifically, Dorian Greenow, co-founder of the firm, found that ketone testing strips were extortionately priced for the technology. As such, Keto-Mojo produces test strips at 25% of the rate for individual strips - with a $60 base unit. The company made an impressive $16.5 million in 2018 alone.
Snack Happy: Catalina Snacks / Catalina Crunch
Catalina Snacks is a Wilmington-based firm that focuses on making everyday snacks more accessible to keto dieters. Specifically, their snacks are low on the carb and vegan, to boot.
Worth more than $4.8 million in funding, the company has grown enormously over the past few years. They're known mainly for their popular Catalina Crunch cereal, available in many US groceries. However, they've also expanded into sandwich cookies in recent times.
Make The Most of Your Meals: 4505 Meats
This San Fransisco firm entered the keto game as far back as 2009. Their income has since expanded enormously to around eight figures, cornering the niche in keto snacking.
The company primarily focuses on using excess meat offcuts to create healthy snacks for keto dieters. Specifically, it's co-founder Ryan Farr, a seasoned chef, who developed his own unique technique. Their pork rinds are made from skin that would otherwise be wasted.
Therefore, with 4505 Meats products hitting the shelves across US retailers, they are leading the way in waste control. Could this niche expand even further as the years roll on?
Keto Startups Are Here to Stay
It is safe to say that the keto movement is one that has weathered accusations of being 'just a fad'. It is proving to be useful for many people who manage diabetes and who struggle with carb-heavy diets.
What's more, the keto market for innovators has never been bigger. Some experts suggest now is the crunch time to build a keto enterprise.
Keep an eye on real data for keto startups via Fundz - people are always going to want something tasty to snack on!
SOURCES
https://www.inc.com/magazine/201905/coeli-carr/ketogenic-low-carb-diet-fat-burning-food-cookbook-businesses.html
https://www.businessinsider.in/a-startup-that-bets-on-packaged-keto-snacks-and-chocolates-raises-seed-funding/articleshow/70784578.cms
https://paleofoundation.com/7-steps-to-starting-a-new-keto-food-brand/
https://www.digitalfoodlab.com/keto-startups-a-world-of-fat/
https://www.foodnavigator-usa.com/Article/2020/08/11/Keto-friendly-Catalina-Snacks-hires-Joel-Warady-as-president-plans-new-product-launch-in-2021
https://www.businessinsider.com/keto-friendly-startup-uprising-foods-series-a-investor-pitch-deck-2021-1?r=US&IR=T
https://www.healthline.com/nutrition/ketogenic-diet-101