In terms of overall air travel, modern-day inflight entertainment is a relatively new idea. It wasn't that long ago that inflight entertainment consisted of a book and making conversation with fellow passengers. The central shared screen was a thing of the 70s and those small screens of today the 90s.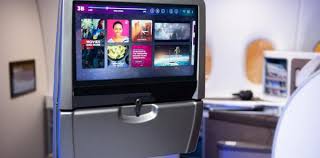 Because inflight entertainment is a young industry, it should be ripe for startups with imagination and drive.

A Growing Industry
Since 2015 the inflight entertainment market has been growing, and in 2018 the market was worth around $5.5bln. By 2026 market analysts expect the market to almost double to $9.92bln.
While there are only a handful of core players in the market, Lufthansa, Viasat, Panasonic, Safran, Thales, and Astronics, they rely on startups to keep them thriving. So, the industry is growing but not in new providers but in innovative ideas and solutions to improve on existing technologies. Inflight entertainment is, therefore, a healthy playing field for startups.
Entertainment needs connectivity
No longer is a movie or some music on a set of headphones considered real inflight entertainment. Today inflight connectivity is a must-have as part of inflight entertainment. There has always been communication between the aircraft and the ground, but this was once reserved for flight crews.
Over time and with the advent of the Internet and, more recently, WiFi connectivity, they have become a necessity in the air. The prime concern with passenger use connectivity has always been aircraft systems interference. There has been a lot of development in this field, and one private company, Smartsky Networks, is paving the way in 4G and ground to air WiFi connectivity.
With over $340m raised in funding to date, the startup has seen considerable growth working with small innovative solution providers. Smartsky is proof that smart money should be invested in aviation entertainment in various sectors of the industry.
They also demonstrate that small companies can indeed earn their wings with good earnings working with experts in the field.
Inflight Movies Still King
As technology advances and internet connectivity flies with us, passengers still want to kick back with a movie. One growing company that fully understands every aspect of inflight entertainment is Gogo. Without Gogo, many airlines in the US would be stuck for entertainment, and the Gogo Portal allows passengers access to more movies that it is possible to imagine.
Gogo is a growing business that has raised more than $450m of funding since its launch. With the two largest airlines in the US, American, and Delta, Gogo relies on investment to provide even more value for money from its systems. Working closely with airlines and innovative small technology providers, and creative thinkers, Gogo continues to innovate.
It is yet again proof that what looks like a locked-in industry has capacity for investment for growth that can yield steady returns.
How to find Inflight entertainment companies of interest
For investors and third parties looking for startups in inflight entertainment, databases such as Fundz could be a rewarding medium to long term proposition. While Covid19 may change the investment landscape, a little development in the inflight entertainment industry continues, and Fundz can help you find the startups involved.
Sources
https://www.fortunebusinessinsights.com/in-flight-entertainment-connectivity-market-102519
https://www.airport-technology.com/features/aviation-tech-startups/
https://simpleflying.com/category/inflight-connectivity/
https://simpleflying.com/zipair-free-wifi/
https://www.sitaonair.aero/News/Detail/The-mobile-services-molding-inflight-connectivity-s-future/