When we consider EV startups, Tesla pops up as an example of significant success in the field. However, even Elon Musk's firm has seen ups and downs over the years. Could a new venture be about to threaten the auto manufacturer's crown in the months and years to come?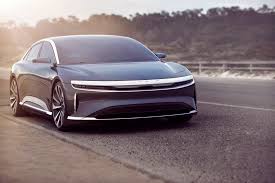 Who are Lucid Motors?
The idea of the electric car or vehicle (EV) being a poor alternative to traditional fuel options is one that's quickly sped away. Tesla has proven this – and Lucid Motors is one of the electric vehicles startups ready to show the world that there is more than one choice for carbon-friendly motoring.
Lucid Motors is an enterprise with roots in battery production. Having traded as Atieva from 2007 to 2016, the firm became Lucid, literally, shifting gear into EV production.
As of fall 2020, Lucid Motors is showing off its Lucid Air, an EV that can offer 832km per charge. This is thought to outstrip the capabilities of what the TSLA or Model S offers.
Lucid Motors is not only looking to change the EV game in terms of technology in their cars. They have set up an innovative customer journey with developers at ZeroLight, where it's easier than ever for shoppers to create and explore digital versions of their vehicles at home.
Will Tesla Feel Threatened by Newer Startups?
Many see Elon Musk's firm as the blueprint when it comes to EV startups. However, it has shown some volatility in value in its public offering. Electric cars, however, are growing ever more popular. It is thought that a record number of EVs hit the road in 2019, with a further 2.1 million buyers and motorists taking advantage.
That is a boost of roughly 6% from the year before, with a 30% increase over a three to four-year period. Therefore, one could argue that public interest in EVs is finally allowing Tesla to shine.
However, there is nothing to stop a little bit of healthy competition. Lucid is not stopping at its pioneering Air vehicle, which is also supposedly roomier than the Model S.
It's thought that Lucid Motors will be moving into the SUV market in the years to come. This is all before the Air even starts production, as it's unlikely we will be seeing new Air cars rolling off the production line until mid to late 2021 at the earliest.
However, electric motorists may wish to keep their eyes peeled for the 'Gravity' project. If Lucid is striving to fight against Tesla to offer a broader range of vehicles, now is the time to try and break ahead.
What's Next for EV?
Industry insiders believe that EV is going to come into its prime in the New 20s. That seems to be a safe bet given recent growth from 2016 through to 2019.
Therefore, investors and third-parties should undoubtedly take the time to look for green EV startups through databases such as Fundz. The future is greener – and that seems to be starting with our roads.
SOURCES
https://www.prnewswire.com/news-releases/lucid-motors-opens-studio--service-center-in-beverly-hills-301144928.html
https://www.prnewswire.co.uk/news-releases/lucid-motors-partners-with-zerolight-to-reshape-the-luxury-automotive-purchase-experience-824944112.html
https://www.cnbc.com/2020/09/09/electric-vehicle-start-up-lucid-unveils-air-sedan-to-take-on-tesla.html
https://www.iea.org/reports/global-ev-outlook-2020
https://uk.finance.yahoo.com/news/lucid-motors-ready-to-raise-the-bar-with-its-first-electric-car-the-lucid-air-050041154.html