VC Funding News and Startup News
Never miss an opportunity. Fundz Pro customers get access to a database of all startup fundings in the U.S. with real-time alerts, search, exporting & contact info. Learn More.
GET FUNDZ PRO FOR JUST $10/MONTH WATCH VIDEO ON FUNDZ PRO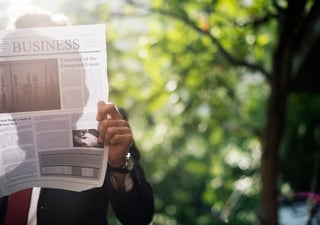 As you may already know, the world of startups and venture capital is constantly bustling with activity and brimming with new opportunities. In order to gain traction in the industry, venture capitalists need to have credibility. This means offering insightful advice, demonstrating quick and reliable decision-making, and a thorough understanding of current trends and circumstances.

That's why it's important for you to stay on top of the ever-changing landscape of VC developments and vc funding news. Knowledge is power, after all, which is how we've got you covered. We know that it can be tough to find the right resources to stay informed and move forward in the world of startups and venture capital. That's why we've comprised a comprehensive list of some of our favorite blogs and news sources to help you stay informed, to compliment Fundz' startup database of recently funded startups.
---
Startup News
TechCrunch
TechCrunch is a gem in the world of tech websites and startup news. It's dedicated to a broad range of topics, including startups and VC's — it consistently delivers current advancements and fluctuations in technology. It has its own section specifically geared towards startup advice and information. It also endorses an awesome assortment of events that boast some of the biggest tech brains in the industry.
Mashable
mashable.com »

Mashable has changed directions a few times in the last couple of years, but it's still one of the most reliable sources for tech news and digital culture. It offers videos and social media news, as well as entire sections dedicated to innovative technological leaps and new developments within startup businesses. Its homepage doesn't always feature the latest trends in tech, so it's helpful to search its specific sections. It's got a casual, humorous tone and never takes itself too seriously, making it both informative and entertaining.
The Verge
theverge.com »

The Verge is a tech-culture website that aims to explore the exponential evolution of technology in our daily lives. It covers the latest tech and science news, as well as the latest startup news. It's a little bit more underground but definitely worth checking out.

---
Venture Capital News

VentureBeat
venturebeat.com »

VentureBeat has been around since 2006, producing quality content and reporting on the latest news in technology, as well as cutting-edge innovations, research, tech funding news, and events. It's quirky, down-to-earth style makes it relatable and entertaining, offering support and information to the world of entrepreneurs and tech junkies alike.
Entrepreneur
Naturally, we included Entrepreneur on our list of venture capitalist news outlets. Although it tends to offer more in the way of advice and how-to's, we still consider it a valuable resource for new businesses. It has plenty of pointers from the pros on how to navigate the industry. It even offers comprehensive lists on some of the biggest early-stage investors, including how much they've spent in relation to startups.

Business Insider
businessinsider.com »

For anyone looking for Venture Capitalist news on the macro, Business Insider's Tech Insider is a great place to start. As one of the largest business sites on the internet, BI's plethora of information on all topics related to the overlap of business and technology is hard to beat. However, it's not as specific to niche topics in VC or startups as some of the aforementioned, so keep an open mind and take what you can from the bigger picture trends.

---
Startup and VC Blogs
Tomasz Tunguz
Tunguz, a co-author of Winning with Data and partner at Redpoint. He writes straightforward, succinct posts about the frequent questions facing new startups. He uses great infographics and the site is clean simplistic. The bottom of the homepage features posts by tag — you can easily find the topic you're looking for here.
Fred Wilson
Wilson, a venture capitalist since 1986 and partner at Union Square Ventures, offers a more personalized and holistic view on life as a VC. He offers advice and anecdotes about life and business, while using his humor and vulnerability to share insights about the industry. He also includes post about his day-to-day living as a father. One of the best parts of his blog is his die-hard consistency - Wilson posts new content every single day.

Andrew Chen
andrewchen.co »

Andrew Chen, Head of Rider Growth at Uber, and dynamic blogger, has been writing about his experiences for the past ten years. He's been an advisor to several booming tech companies and writes in-depth, easily digestible articles about a large range of topics in the industry. His use of personal quotes and interesting graphics keep his posts engaging and easy to follow. His quick-witted approach and smart articles leave readers informed and inspired.

Jalak Jobanputra
thebarefootvc.com »

Since the venture capitalist world still wants for female VC's, we included Jobanputra, a founding partner at Future\Perfect Ventures with an impressive portfolio, including a feature on the list of 100 Most Influential Finetech Leaders of 2016. She offers global speaking engagements, sharing her insights and empowering women in business. Her blog offers advice and personal experiences, as well as her adventures in the VC industry.

Hunter Walk
hunterwalk.com »

Hunter, a partner at Homebrew, offers helpful advice to young entrepreneurs ready to get their feet wet. For those new to the game, not many seasoned venture capitalist blogs are as applicable as this one. It can be difficult to make sense of certain articles when you have yet to personally experience the topic at hand. Hunter's blog shares practical tips and insights on how to dive into one's chosen industry and make a big splash, making him accessible to every reader. His mixture of optimism and realism make his writing both relatable and inspiring.


Investing time and energy (no pun intended) into learning about up and coming developments in the world of startups and VC is what we're all about. That's why we hope you take some time out of your day to check out our app in conjunction with some of these awesome sites. Doing so will further your knowledge and polish your expertise as a rockstar entrepreneur.

Topic: Series A Funding
Get real-time alerts on all new funding rounds in the U.S., search & export lists. Fundz Pro lets you learn about & connect first with just funded startups.
SIGN UP NOW FOR JUST $10/MONTH WATCH HOW