Every Startup that Closes and Receives Seed Funding
Never miss an opportunity. Fundz Pro customers get access to a database of all startup fundings in the U.S. with real-time alerts, search, exporting & contact info. Learn More.
GET FUNDZ PRO FOR JUST $10/MONTH WATCH VIDEO ON FUNDZ PRO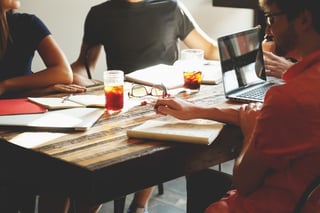 Unless you're already a multi-millionaire (or billionaire), it's vital that your new business secures seed funding and raises money to accelerate growth. Most of the questions we hear surround what that process looks like and how it actually works. In what follows, you'll see a very clear picture of what actually happens behind the scenes for a startup that secures and receives seed funding.

Everything starts with an idea, right? Long-term success, initial seed funding, and catching the eye of venture capitalists depends on several factors. These include the drive and vision of the individual introducing the idea, the resources necessary to make it into a reality, and the niche it fits into. Some early startups choose to fund themselves from their own capital by "bootstrapping", with the hope that they'll receive more funding once their company is established. Others simply don't have access to as many resources, which is where investors come in.
Getting Funded
In essence, anytime you accept funding from an outside source, you're offering a slice of your company in exchange - you're offering equity. Many funded companies know this well, as they offer shares of their project in the early stages in order to bring their vision to life. It can seem discouraging to be "giving up" parts of your company at first, but the bigger your company gets, the more valuable each share becomes — which means it makes sense to seek the support of investors. However, it's helpful to be as resourceful and discretionary as possible when it comes to investment — you don't want to end up owning the least amount of equity in the idea you originally came up with. Although your company will grow, the less you own, the less control you have over the direction it takes.

Investors accrue in stages or rounds, so it may take raising several rounds before a funded company has enough resources to implement their idea. Initially, there may be the founder functioning alone, who then opens up the opportunity to a trusted friend or colleague, a co-founder. The business is then typically split 50/50 and the founder receives an equity investment in return. There are a few approaches outside of that, separated into rounds. Sometimes an angel investors round (the founder's family, friends, and wealthy donors or entrepreneurs) doubles as the seed funding round. Hopefully, this is then followed by venture capitalists investing.

The venture capitalist round can be split into several series. "Series A Funding" refers to any company's first significant round working with VC's. It's followed by, "Series B" which refers to the series occurring after the business has made significant progress or gained a strong foothold in the market. Once a company has proved it can successfully compete in the market — it looks to develop more products with a higher market share. It can then be prepared for an IPO, assuming the company wants to go public. It also serves to further legitimize your business in the eyes of the government, implying your company is "safe" for the public to invest in.
How Companies Secure Seed Funding
Seed funding is basically made up of a startup's initial, early-stage investors. They contribute the resources necessary to create a prototype of the idea and successfully launch it. It can come from angel investors, or other wealthy individuals, as VC's and banks won't typically invest in newer, smaller companies as they are still too much of a risk. Eventually, companies will (hopefully) become successful enough to generate a reliable, marketable product that catches the attention of venture capitalists.

The first thing to consider when attempting to secure seed funding is how well you know yourself. Do you have a full, working understanding of your company's mission and the means to articulate your idea eloquently? When you're aiming to secure investors, you've got to know every last detail about your business in order to execute a stellar proposal. Think of it as an interview for your business - if you can't successfully articulate the why, how, and what of your business with confidence and conviction, you've got to head back to the drawing board. A proposal can be similar to a head coach. You could have the greatest team of athletes the world has ever seen (or most innovative idea this side of the Industrial Revolution) but if you don't know how to coach them or become a dynamic leader (or implement and present your big idea), you're going to have a long, disappointing streak of losing seasons ahead of you.

Aim for investors in your network or with mutual acquaintances. We all know how the world works - "it's not what you know, it's who you know." This is why it's important to expand your network and reach out to new people. It's going to be pretty difficult to get your foot in the door if you're constantly cold-calling investors. Begging for money is also a big turn-off — it signals a red flag to investors.

Stay confident and assertive in all of your business dealings. Yes, it's important to demonstrate humility, grace, and gratitude, but at the end of the day - it's your vision. You may make compromises along the way to arrive at the end goal, but remember that YOU are the investment. You are the driving force that's going to bring your dream to fruition. If something doesn't feel right, it's okay to opt out. Just keep in mind that you will have to make some sacrifices and give up more equity along the way than you might have hoped.

Navigating the world of seed funding and venture capitalism can be overwhelming. That's why we've got you covered. By using our new app, you'll have the ability to take advantage of the latest opportunities and be in-the-know about the newest companies involved in funding. You'll be alerted when companies close funding and how much they're investing.

It's easy to see that seed funding is a fundamental tenant of kickstarting any successful business. This means you've got to take advantage of those golden opportunities when they arise. With us, you're one step closer to making your personal vision a reality!