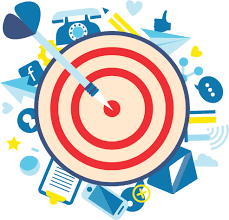 If you are interested in creating a continuously updated list of some of the most promising startups to market to, a good starting point is to understand which industries are leaders in startup creation, which companies are leaders in those industries and which companies are getting the venture capital funding.
First, let's look at the distribution of startups worldwide: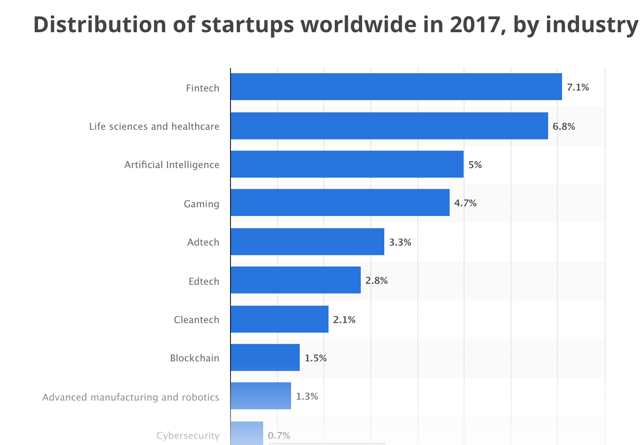 Source: Statista
Not surprisingly, A.I. and FinTech not only are leaders in startup creation, but are also seeing some of the biggest inflows of venture capital.
FinTech can broadly be defined as companies focusing on new technology and innovation to compete with traditional means of delivering financial services.
To target this industry, Forbes' FinTech 50 2018 is a good place to start. Here you can find leaders in various segments of the industry. From there, using a service such as Owler, you can see top competitors for these companies.
For targeting Artificial Intelligence (A.I.) related companies, in 2018 Fortune came out with a great piece on the top 100 companies leading the way in A.I. As above, you can quickly turn this list into hundreds of companies by finding their competitors. You can also leverage a startup database to speed up this process, with costs and capabilities varying considerably.
One thing to keep in mind is running out of money is consistently ranked as one of the top reasons startups fail, so having the resources to procure your product or service is often a challenge you'll encounter when targeting startups.
Additionally, in a world of global competition, a startup has often already selected one of your competitors who made contact with the company ahead of you.
One way to overcome this challenge is to keep access to a continually updated stream of recently funded companies.
By reaching out as soon as possible after a funding event, you will not only know that the company has capital, but as Harvard & Berkeley research shows, you will ultimately position yourself to have a much greater chance of winning the business, due to an implicit preference people have to buy good or services from the first salesperson encountered.
Fundz Pro lets you connect first with thousands of just funded startups.